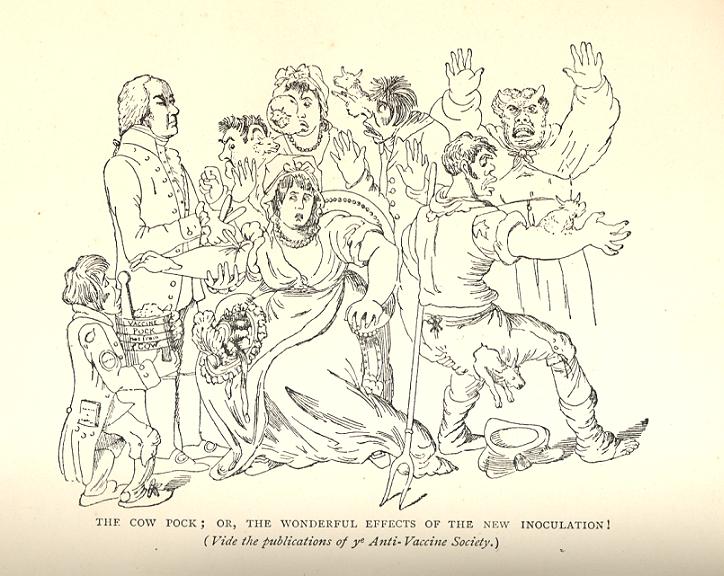 The outbreak of small-pox in 1800 was severe at Halifax. It got in amongst the population and took hold, as Akins wrote, "early in the autumn, and 182 persons had died of it between September, 1800, and the month of February following."27 Perkins wrote of this on March 10th, 1800, when a ship's captain in from Halifax reported that "there is a epidemic, said to be yellow fever, at Sydney, and many people sickly at Halifax, with colds, etc." On December 31st, he wrote, "the small pox still mortal in Halifax." This problem continued throughout the winter, such that on January 29th, 1801, Perkins, as one of Liverpool's chief magistrates, attended a meeting at the Court House "about the Small Pox ... General Inoculation ... some against it." Several houses were designated as "Pest Houses" where those suspected of small pox are to be placed; a white flag was to be hung at all infected places. On February 10th, 1801, we see where the members of the Perkins family were inoculated: "all in the left hand, between the thumb & forefinger, tho not in that looses skin, but on the hand, by making a small incision, and laying an infected thread into it about 3/8 of an inch in length. He [the doctor] then put a small square rag, doubled, and over that a bandage, to keep it in place. ..." March 16th, 1801: ... A considerable number of people attended [Elkanah Freeman's funeral, who died of small pox]. His wife is in a melancholia situation, being far advanced in her pregnancy, and a family of small children, seven daughters and one son. The son is now under the small pox, and has a bad kind of pock. Small pox continued to be a deadly problem through the year28, leading to this entry: "July 23rd, 1802: ... Such a time as never was known in this place since I [Perkins] have resided here for forty years. The most of that time the place has been remarkably healthy, except the Small pox, which carried off about 20 persons, but since last fall I conclude there has double that number died."
Such scourges of mankind, e.g., small pox and dysentery were to continue to bring death and misery to great numbers of people well along into the 19th century; but by 1800 there was to be a marked change in mortality rates. Such diseases became less virulent. This was due to either improved medical practices; or, more likely, due to the increased availability of safe food, safe housing and better sanitation. There was a steady improvement in infant mortality. From the study of the numbers drawn from the records of London, it has been shown that in the mid 18th century, one out of every 15 infants died shortly after birth, while, by 1800, it was one out of every 118.29
Allan Marble estimates that by 1784, the number of doctors in Nova Scotia had reached thirty-five.
"The situation in 1784, therefore, was that there were 35 physicians and surgeons in Nova Scotia, only one of them with a medical degree from a college. There was no legal registration required to practice medicine and surgery in this Province. There was no general hospital for civilians, and diagnosis and treatment was carried out without the use of a thermometer, a stethoscope, antiseptics, or anesthetics."30
At Liverpool, Perkins makes reference now and then to a resident doctor; at any one time, only the one, and a lot of times the community did not have one. In 1800, Perkins made reference to "the local doctor." (June 2nd.) In 1790 there was a Dr. A. Timothy Miller, mentioned by Perkins, on May 14th as having "quitted this place, disgusted with some people who refuse to pay him for inoculation." That October there was mention of a "Dr. Kendrick."31 And in March of 1803, there is mention of a "Doc. Webster."32 At Halifax, in 1801, Murdoch does an accounting of the military doctors, as follows: "James Boggs, garrison surgeon; W. J. Almon, surgeon to the ordnance and artillery; John Fraser and John W. Clarke, surgeon and assistant surgeon for the Royal Nova Scotia Regiment; and John Halliburton.33 Dr. Halliburton came up from New York with a number of other loyalists and was to be attached to His Majesty's Naval Hospital. A member of Council, at least in 1806, Dr. Halliburton "is sometimes prevented attending by urgent cases in his professional duty."34
We have listed earlier the amazing variety of home cures that Perkins tried, more amazing to think that these quack remedies were approved for use by the attending medical doctor, indeed, often suggested by him. By 1800, however, "these old quacks were disappearing"35 while scientific men came to take their place. The dawning of the 19th century brought men who understood the importance of scientific methodology. Superstition and ignorance was giving way as the scientific method took hold in all areas of human endeavour, including medicine. Edward Jenner (1749-1823; see note on small pox) was an example of this new breed of men. There were others: Astley Cooper (1768-1841) who with his work and studies "raised surgery from its primitive state to a science" (Chambers.); John Abernethy (1764-1831) who published in 1809 a four volume work Constitutional Origin and treatment of Local Diseases, the first treatise in English on morbid anatomy (1793); Benjamin Collins Brodie (1783-1826) who saw that there better ways to treat effected limbs rather than to resort immediately to amputation (Chambers); and Charles Bell who became famous for his neurological discoveries (Bell's Palsy). All of these men contributed to medicine during a time -- the very first part of the 19th century -- a time described as "exceptionally brilliant" for English medicine and surgery.36 It was years before these advancements were to take hold, and years again before they took hold in Nova Scotia. Sufficient to say that medicine for the first 25 years of the 19th century was still of the medieval sort. Some of the treatments extended to patients, such as bleeding, did more harm then ever it did any good.
We see that at Halifax in 1773 where theatrical productions were put on by the "Gentlemen of the army and the navy." Such productions were often for the benefit of the poor, two of which were performed at Willis' Hotel [Great Pontac].37 Its not likely that the theatre goers had any intimate knowledge of the poor in town; their social duty was to raise money on occasion and pass it to the Overseers of the Poor38 who went about spending it on the deserving poor. It seems that in the smaller communities, such as Liverpool, help for the poor happened on a more general basis. We see in 1774, where, at Liverpool, there was a "Town meeting for the poor. Freeman, Esq., moderator. We agreed to raise £15."39 At Liverpool there was also a committee such as there was at Halifax.40 Though the townspeople had their meeting and appointed men as "Overseers of the Poor," still there were incidences of private charity -- best really, as then a proper assessment might be made as to who was in need, and was deserving of help. In 1791 (February 16th), we see Perkins extending his hand (his diary shows he often did so) to others: "A number of people cutting and sledding wood for Mrs. Sarah Snow [Prince], as they have done before for Mrs. McLeod and Mrs. Draper, poor widows, which is laudable." Another example can be had by looking to his entry of January 18th, 1803, "I sent some wood in my cart to the sick widow McDonald, and sent her word I would give her some oil for the lamp."
In England, in 1795, a system to assist the poor was established, one, from what I can see, never caught on here in Nova Scotia. This was the Speenhamland system which was begun in 1795. It was instituted by the Magistrates of the village of Speenhamland, near Newbury, Berkshire. To the credit of the Magistrates, I should think, they came to the view that there should be a guarantee of a weekly income for the industrious poor. The magistrates set a scale, by which a larger or lesser allowance was given to a family according to its size and the prevailing price of corn. Sounds pretty good so far, but in operation it was a bit harsh: only the "industrious" poor were given consideration and unless the applicant had substantial connections to the village or the county, as the case may be, no consideration would be given at all. Nevertheless, the Speenhamland system established itself throughout most of rural England and it remained in force until the Poor Law Amendment Act of 1834.41
Though there was a system in place in England, the poor in Nova Scotia were probably better off than the poor of Great Britain. We need but take our cue from William Cobbett, "The Poor Man's Friend":
"... there were at least six pieces of legislation ... that were condemned by Cobbett as inimical to the interests of the poor: the acts by which more than three million acres of common and waste lands were enclosed in the period 1741-1801, lands on which the poor had traditionally pastured their cattle and gathered their fuel; the Combination Acts of 1799 and 1800 making it a criminal offense for workers to act collectively; the act of 1797, extended at various times, suspending payment in specie by the Bank of England, which stimulated inflation through the issue of unlimited amounts of paper money; corn laws, which kept up the price of bread, the chief item in the workman's diet, by forbidding the import of foreign grain at low prices and by providing a bounty for British grain that was exported; the game laws, which prevented a starving man from taking a hare, even on his own land, unless he had a freehold estate ...; the law of settlement, by which a laborer could be sent back to his home parish if he ever became a charge, for no matter how short a period, in another parish in which he was working."42
While not employing the Speenhamland system, Nova Scotia did, nonetheless, adopt certain of its aspects. As early as 1763 the legislature obliged freeholders43, "in townships of fifty families," to meet annually and appoint twelve among them who would be, "The Overseers of the Poor." At this meeting there would be determined the rate to be levied for the poor tax. The Overseers were empowered to collect from the freeholders and then to administer the funds. They would carefully scrutinize an applicant and dole out only what was needed. The townships were bound over, in 1768, "to relive natives of it" -- as opposed to drifters that show up in the township looking for handouts. It was the job of the overseers to determine if the poor individual or family was native to the community; and if they were, likely they would get help; if not, then the poor person was escorted to the border and told to go and not to come back. We see in the 1770 legislation that a person seeking relief had to have a legal settlement in the Town, otherwise he was obliged to return to the place where he did have such a legal settlement. Any legal settlement meant the person had to be residing in the community for over a year. The fathers, the taxpayers, were always on the lookout for newly arrived and unemployed people; and, usually, put the hustle on them so to get them out of town. Also we see, that before any municipal aid was to given, the person must turn to their own family: "fathers, grand-fathers, mothers, grand-mothers, children, or grand-children." By 1799, there was legislation governing poor houses throughout the province. In 1801, further legislation: An Act for the Better Management and Relief of the Poor of Halifax. Commissioners were appointed specifically by the act and were reportable to the legislature. The Commissioners named in the act, were: Richard John Uniacke, William Forsyth, Lawrence Hartshorne, John George Pike, William Taylor, Charles Morris, Charles Hill, William Sabatier, James Clarke, William Lyon, John Lawson, and James Fraser.
"[The Commissioner] shall have the immediate superintendence of the POOR-HOUSE, and shall take care to have the food, allotted for the paupers, regularly served; and the beds, bedding and clothing, kept in clean order; and shall direct what food shall be served to them, and also at what hours; and shall and may direct or order every pauper, capable of any work or labour, to be employed in such manner, and at such hours of the day, as he may think best, and may excuse from work such as he may find unfit, or too infirm therefor; and may order and direct such who, being able, shall refuse to work, or shall misbehave, to be punished by solidary confinement, or by stoppage of their allowance of food, until they become obedient, or by such other ways and means as the said Commissioners may direct and order for the general government of the house and paupers."
"That no rum, or other distilled spirituous liquors, shall be allowed to the paupers, or be bought, sold or drank, within the house and premises appropriated to the use of the poor; that the paupers shall be fed on soups, barley broth, stewed meat, wheaten, rye, oaten and Indian, bread, or cakes or puddings, and also on fish and vegetables, in such way and manner as the acting Commissioner may, from time to time, direct: and an account be kept of the cost of such meal, that the earnings of the paupers may be taxed accordingly."
"That the clothing for the paupers, in winter, shall be a warm, but coarse, jacket and trousers for each male, and a jacket and petticoat for each female, and also a strong cotton shirt or shift, with yarn stockings and leather buskins."
"That the men and boys shall be employed daily in picking oakum or rasping wood, or in such trades as can be taught and followed in the house, and the women and girls in sewing, mending, or making clothes, spinning or carding, knitting or weaving, or in such menial services about the house as the Acting Commissioner may from, time to time, direct." "That the Commissioners, or the major part of them, shall have power to apprentice or bind out the poor boys or girls under their charge, by indenture, until they arrive at age, to any person or persons of good repute within the province, on such terms and conditions as they might judge best."44

[NEXT: Pt. 4, Ch. 6 - "Early Government."]
(Now Available As A Book)