Robert Monckton

(1726-1782).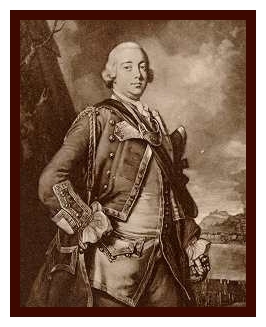 Monckton was a Yorkshireman. He was the second son of John Monckton, 1st Viscount Galway, and Lady Elizabeth Manners. At the age of 15 he was sent off to the army, 3rd Foot Guards.1 His unit, the following spring, sailed for the European battle theatre.
At this time, all the major European nations were at war. The various royal families were quarreling over who should be sitting on the Austrian throne. The War of the Austrian Succession had started in 1740 and had ended with the Treaty of Aix-la-Chapelle in 1748. One of the more notorious battles that had taken place during this war was the Battle of Dettingen; it took place on June the 27th, 1743, in an area that we now know as Germany. The Battle of Dettingen had the markings of a battle (like so many which we have all experienced) by which the winner gaged himself a winner, more from what was avoided than from what was gained. At Dettingen the English and the Austrians avoided destruction due to "the impetuosity of the French horse and the dogged obstinacy with which the English held their ground. There was, however, what appeared at first only to be a bit of a gain: the French determined to recross a river over which they had came, and, felt obliged, for no good reason the English could think of, to keep on driving their men and horses until they had gained their own border. Though not a classy fight on the part of the English, the effect was that the French evacuated Germany."2 Seventeen year old Monckton, as a very junior officer, was at the Battle of Dettingen. Another battle in which Monckton was involved was that which took place near a little hamlet in Belgium, Fontenoy; it unfolded on April 31st, 1745. The brother of the King of England, The Duke of Cumberland led the English army against the French military leader, Marshall Saxe. "The English troops, formed in a dense column, doggedly thrust themselves in spite of a terrible fire; but at the moment when the day seemed won, the French guns, rapidly concentrated in their front, tore the column in pieces and drove it back in a slow and orderly retreat."3
Before the year of 1745 was out, the English royal family realized it was in greater danger from the hostile forces coiling itself up at home then those arrayed in the fields of Europe: Cumberland with the bulk of his army was called home to deal with the Jocobite threat (see Culloden). Some of the English army, however, was left in place at Flanders and Monckton was among them.
Monckton had been commissioned a captain in the 34th Foot in June of 1744 and promoted again to a major in February of 1747. In 1751 (or 1752, I am not sure) Monckton was to be in England (for that matter he might have returned each winter during these years). In was during these two years that three events were to unfold for Monckton. He ran and was elected to parliament (not difficult since his family "owned a seat"); his father died; and he was made a lieutenant-colonel of the 47th Foot. I am not sure in what order these events occurred, or to what extend one event impacted on the other; but, likely in connection with his promotion to lieutenant-colonel, he was advised that he was to be stationed in a far off province of England, across the seas in Nova Scotia.4
Now, I should think, had he wanted to avoid service in Nova Scotia, that, Monckton might have begged off, or might have quit the army and turned to his family and go about establishing a political career. But I know little of Monckton's family and very little of their political aspirations; what I do know, is, that he did come to Nova Scotia in 1752, and, I suspect, that Monckton, this twenty-six old officer, came over in company with Pergrine Thomas Hopson whose entourage arrived at Halifax during August of 1752. Hopson was a senior officer, then 67 years of age, who had spent time in Nova Scotia; and, no doubt, they commiserated with one another during the long days and nights aboard the war vessel as the winds took her west over the wide Atlantic.
It would not appear that Monckton was to spend too much time at Halifax, initially. Hopson sent him off to what was then the frontier (see map, between 6 & 5), to command Fort Lawrence, an English fort which had been built south of the river Missaguash on the Isthmus of Chignecto; where opposite, just north of the Missaguash, within sight and on a rise, there existed a French fort, Fort Beausejour. North America was like a giant chess board, and, Fort Lawrence and Fort Beausejour were just two of its many pieces. Monckton took up his position at the isthmus5 in August of 1752. In June of 1753, Hobson having sent his second in command, Charles Lawrence, to establish Lunenburg called Monckton to his side at Halifax. It was at this time that Monckton was appointed as a member of the governing Council at Halifax.
At the first of November, 1753, Governor Hopson, due to medical reasons, was to take his leave of Halifax and sailed for England. Charles Lawrence was then to take over as the chief administrator of Nova Scotia; and, from what I can see, that left Monckton the second most senior officer in Nova Scotia. Lawrence had returned from Lunenburg in September of that year (1753) thinking that the settlers at Lunenburg were OK. However, in December of 1753, a message came through to Halifax that there was a rebellion going on at Lunenburg and that troops had to be sent down to quell it. Monckton, during the course of an emergency Council meeting, volunteered to go down with 200 troops and deal with the problem. Monckton handled the difficulty in a courteous and efficient manner and things at Lunenburg were soon returned to a regular state of affairs. It is a telling distinction between the two men, Lawrence and Monckton, when we read in the DCB, "having disarmed the settlers peaceably and traced the source of the rumours that had caused the trouble, Monckton then advocated forgiveness. Lawrence would not accept this counsel and informed Monckton rather ominously: '... tho the merciful part is always the most agreeable (particularly with foreigners unacquainted with our laws and customs) in disturbances of this nature, yet it is seldom the most effectual."6
Arriving back at Halifax, not too much of the new year was to pass before Monckton was sent off to Annapolis Royal. (I imagine that there was more then just a bit of trouble between these officers, between Lawrence and Monckton.) And so there was Monckton, in command of Fort Anne, located in the oldest community of Nova Scotia, Annapolis Royal; and, there he was when the fateful year of 1755 arrived, a year, during which, Monckton was to play a very significant role in the growing fight between the English and French.
April 14th, 1755: Governors of the British colonies (Dinwiddle of Virginia; Dobbs, North Carolina; Morris, Pennsylvania; Sharpe, Maryland; Delancy, New York; and Shirley, Massachusetts) got their meeting underway at Alexandria on the Potomac (known in history as the Council at Alexandria).7 It was determined that the French were to be attacked -- notwithstanding that the two countries were at peace -- at four points at once: General Braddock and his regulars were to attack Fort Duquesne (Pittsburgh); Governor William Shirley, Fort Niagara; Colonel William Johnson, Crown Point; and Colonel Monckton, Fort Beausejour in Acadia. Two thousand provincials were mustered at Boston; they were formed up in two battalions; one under John Winslow and the other, under George Scott. The works were then sent off to report to Monckton in Nova Scotia.8 I deal with this, and the other events of 1755, in an other part of my work, "The Taking of Beausejour." Enough for our purposes here to say, that on June 16th, 1755, the French surrendered Beausejour and it was thereafter, being renamed by Monckton, to be known as Fort Cumberland.
The British had geared up for a long campaign. Governor Lawrence, in the result, was to have at his disposal an army of approximately 2,500 men9 provisioned and paid up for the balance of the year. This fact combined with another, the early fall of Fort Beausejour, got Lawrence to thinking. Now, would be an appropriate time to effectively deal with a long outstanding problem; now, was the time to deal with it, once and for all. Lawrence, operating out of Halifax, determined to instruct Monckton to break off a number of his troops and to send them under one of his two brigadiers (it turned out to be Winslow) to another part of Acadia, Grand Pre. He ordered transport ships up from Boston. The Acadians were to be gathered together at several points throughout the province, loaded into ships and sent away; to be dispersed amongst the English colonists, south, along the Atlantic seaboard. Once the commanders had seen to the deportation, then, the Acadian homes and all of their possessions, other then what the Acadians were permitted to carry away with them, were to be put to the torch.10 Four commanders were given their instructions by Lawrence (who, incidently, proceeded on just his own authority): John Handfield at Annapolis Royal; John Winslow at Grand Pre; Alexander Murray at Piziquid; and, Monckton at the Isthmus (who would also see to Tatamagouche and Cobequid). (See map.) This is a fascinating story, and one I deal with in another part to which I have already referred.
Monckton, as did all the area commanders, carried out Lawrence's orders during the summer and fall of 1755. These events are burnt into the history of Nova Scotia and into the personal histories of hundreds of thousands of descendants of the dispersed Acadians the world over. In 1755, no one was around to complain of these inhumane actions against the Acadians, except these poor peasants themselves; those that carried out the deportation likely thought little of it. The perpetrators simply moved on to participate in the other momentous events of the Seven Years War which then was about to officially unfold; and which culminated in France losing her claims which she had made to vast tracks of land in North America.
Of the several military objectives of 1755, as were determined at the Council at Alexandria, only that of Monckton's, the taking of Fort Beausejour, was achieved. He was thereafter much respected in military circles for this accomplishment. Before the year was out he and Lawrence were to receive their official titles: Monckton was named as the Lieutenant-Governor of Nova Scotia to act under the newly appointed governor, Charles Lawrence (prior to this time Lawrence had been but a mere military administrator).
The years of 1756 and 1757, though I know little of his exact movements, had to be busy ones for Lieutenant-Governor Monckton. By June of 1756, war had been officially declared in Europe: and, so, France and England were at it once again, hammer and tong. In Nova Scotia the Indian raids picked up particularly at Lunenburg and at the isthmus.11 A sizable English fleet during these years was operating out of Halifax in order to keep Louisbourg in check. In June of 1757, the Earl of Loudoun arrived at Halifax from New York with a fleet of transports laden with troops. The object was to take Louisbourg; but for a number of reasons the attack was called off for 1757.12
In 1758, Lawrence was to go off with Amherst to lay Siege to Louisbourg. Monckton, who must have dearly wanted to participate in the huge undertaking13, was obliged to keep an eye on the rest of the province. With the capitulation of Louisbourg on July 26th, 1758, the British forces then turned to methodically expurge Acadia, clearing out the French inhabitants and destroying all they could find so that these poor tormented beings could not easily return. Wolfe was despatched up the coast with the simple objective of causing unmitigated havoc all the way up to the Gaspe. Monckton was sent on a like mission up the St. John River. Monckton went with a force of nearly 2,300 men14 and carried out "a cautious, deliberate expedition which destroyed houses, cattle, and crops for some 70 miles up the river."15
During the winter of 1758/59 Monckton was in New York perfecting the plans for the next offensive. Monckton was to join Wolfe as one of his brigadiers (together with Murray and Townshend) in the assault against Quebec. Monckton commanded the forces which made the unsuccessful attempt to land on the Beauport shore on July 31st. He also commanded the forces during the night landing at Anse au Foulon, and, that next day, on September the 13th, 1759, commanded the British right on the plains of Abraham. In the conflict Monckton "received a ball through his lungs."16 The wound could not however have been too serious as shortly after the capitulation of Quebec Monckton was to "assume command of the city and its environs." During this time he showed much concern for the civilian population meting out severe punishment to any British soldier who abused his position.
Monckton was with the British troops that retired down the St Lawrence that fall, in 1758. He was to arrive at New York. He was now a colonel of the 17th Foot. In the spring of 1760 he was made the commander of the British troops in the "southern provinces." In 1761, he was promoted major-general and was to become the governor and commander-in-chief in the province of New York, this for the purposes of organizing an attack on the French islands in the Caribbean. 17 The troops, then no longer needed in great numbers at that place, were brought down from Montreal and were staged on Staten Island. On February 4th, 1762, Monckton's attack on the French island of Martinique met with success. By June of that year Monckton was back at New York to assume his governorship. A year later, in June of 1763 he was called to London to answer charges of oppression which had been laid by a dismissed officer. (At a subsequent court martial the charges were dismissed and Monckton was exonerated.)
Monckton's return to England, during June of 1763, was to end his involvement in the North American theatre; he had been there, it will be recalled, on active service since 1752 when he had first arrived at Halifax. There was, of course, no further need for an extensive military presence in North America, for, in 1763, the Seven Years War was formally brought to an end with the signing of the Treaty Of Paris. Though it seems, after the forgoing recital of Monckton's extensive involvement in this war, which for the British was principally a North American war -- Monckton must have been then ready for the pasture; but, in 1763, he was yet only 37 years old. Monckton, however, was to live and remain active in England for another 20 years. I am unable, however, to give much in the way of details of these years in Monckton's life. What I see from the DCB is that he was appointed, in June of 1765, the "governor of Berwick-upon-Tweed." Five years later, in 1770, still on the military roles, Monckton was named a lieutenant-general. At some point he got involved in the tea trade and was to put money into the east India Company, the fortunes of which was to give him, as for the rest of investors, some considerable grief. Because of his interest in the eastern trade, he lobbied for a command in India; but, for whatever reason that was not to come about. In the process he was offered the supreme command in America; but he declined. In 1774, he ran and was elected in the family seat of "Pontefract." In 1778, we see that Monckton was the Governor of Portsmouth, and represented that borough in parliament until his death in 1782.
Robert Monckton was buried at London, undoubtedly with full military honours, in St Mary's Church, Kensington. He left no wife, having never married, though, strangely, it is reported "he raised and was survived by three sons and a daughter?"18
_______________________________
FOOTNOTES:

[1] See Webster's biographical note contained in The Forts of Chignecto and see DCB's entry.
[2] Green, History of the English People, vol. IX, p. 203.
[3] Ibid., p. 206.
[4] There is some variance on these points between Webster and that which is set out in the DCB. Monckton had to have mixed feelings in 1752. Nova Scotia where was that? His father, Viscount Galway, was to die that year. The death of his father opened up a seat in parliament for him; but, it would appear he preferred to go off to Nova Scotia then to return home and deal with the family. The feeling I have, is, at this point, for whatever reason, Robert Monckton, this 26 year old lieutenant-colonel in the British army, was a bothered man as he sorted out his equipage in his quarters aboard the English man-of-war which was to bring him to Nova Scotia in the summer of 1752.
[5] During this time (August 1752 to June 1753) Monckton and the commander at the French fort "exchanged notes, deserters, and runaway horses." (DCB, vol. iv, p. 540.)
[6] See DCB, vol. iv, p. 540.
[7] Parkman, Montcalm and Wolfe (vol. 1), pp. 198-201.
[8] Ibid., pp. 203 & 255.
[9] The make up was 2,000 provincial troops from New England and 270 British regulars.
[10] Up to this point in time, in 1755, the British never had a strong enough military presence in Nova Scotia to deliver the threats that they had made periodically to the French Acadian Inhabitants to ship them off to other lands; and the Acadians knew of this weakness. The farther away the Acadians were from the guns at Annapolis Royal the more brazen they were. The most difficult Acadians to deal with were those at the isthmus (and this did prove to be the case) but Monckton's forces were generally up to the job. The fresh forces under Winslow would enable the British to effectively deal with the inhabitants at Grand Pre (one of the more populous communities), and, while so positioned would act as a reserve which the commanders at either Annapolis Royal (Handfield) or at Piziquid (Murray) could call on if they became overwhelmed with their suppression of the Acadians in their respective territories. As it turned out, the deportations at Grand Pre, Annapolis Royal and Piziquid were carried out, nearly, without a shot. Monckton, on the other hand, due to the French commander Boishebert and his spirited followers, was to have his hands full.
[11] The British experienced so much difficulty with Indian raids at Fort Monckton (Fort Gasperaux) at Baie Verte that during September of 1756 they abandon it, and burnt it.
[12] Loudoun had been appointed as the commander in chief of the English forces in North America. He was an unfortunate choice -- "a man with excellent connections (a friend of Lord Halifax, the minister for the colonies), but not well qualified for this difficult and responsible post." (Von Ruville's biography on Pitt (London: Heinemann, 1907) vol. 2, p. 41.)
[13] The land army which was assembled at Halifax and deployed at Louisbourg (15,000 men, 10,000 of which were regulars) was placed under Colonel Jeffrey Amherst, "an energetic but prudent commander, distinguished for obstinate tenacity, who was not likely to agree to the premature abandonment of any enterprise. ... With him was associated, as a kind of counterpoise to his prudence, the impetuous Colonel James Wolfe ..." (Von Ruville's biography on Pitt, vol. 2, p. 175.) Of course, not all the British soldiers located in Nova Scotia went off to Louisbourg. "Colonel Monckton was to remain at Halifax with 1,600 Regulars and a company of Rangers to ensure the safety of Nova Scotia." (Hitsman, in his article in The Canadian Historical Review, Vol. XXXV, no. 4, Dec., 1954, fn at p. 318.) And so, was the diarist John Knox who was in Annapolis Royal -- much to his disappointment, as, history, in 1758, was being made at Louisbourg.
[14] This force included the 2nd battalion Royal American regiment (60th Foot).
[15] DCB. Most of the Acadians managed to escape and were pushed further on; many ending up along the banks of the Miramichi River, there to camp out for the duration of the war in the utmost most misery.
[16] That Monckton was at Wolfe's side at the time of Wolfe's death, as Benjamin West depicted, might be doubted; because, at the time, Monckton, wounded or not, would have been in an entirely different part of the field and very much in the thick of the battle. While it is reported that they would heartily disagree at times, Wolfe thought much of Monckton, having "bequeathed his camp equipage to Monckton." (Hart, The Fall of New France, p. 170.)
[18] DCB.