Captain Alexander Murray
(1715-1762)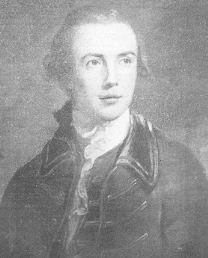 Alexander Murray was part of the British landed gentry. He was born on his family estate at Cringletie in Peeblesshire, Scotland. He spent his boyhood there, but for most all of his adult life he was overseas in the service of his king. As a member of the upper class, he had no difficulty in joining the officer class and advancing himself in ever higher positions of command in the British army. The most important years of his career were spent in Nova Scotia.
Murray joined the 17th Foot as a commissioned ensign in 1739; promoted lieutenant in the 6th foot in 1740; and by 1742 he was a captain in the 45th Foot. In June of 1742, his regiment was sent off to Gibraltar for garrison duty. Thus, he was with the "Gibraltar troops," when, on April 21st, 1746, they (1219 English regulars) came to relieve the colonial militia which had held Louisbourg since its capitulation in 1745. Murray was to continue on at Louisbourg until it was given up and returned to the French by the terms of the Treaty of Aix-la-Chapelle (1748) which had brought The War of the Austrian Succession to an end. When the troops came down from Louisbourg to Halifax in July of 1749, Murray was in England, either on leave or on special duty.1 In any event, Murray rejoined his regiment at Halifax in December of 1749. From the DCB's entry we might trace his movements from 1749 through to that fateful year of 1755:
"He remained with it [45th Foot] in the colony [Nova Scotia] for almost ten years, during which time he built a house at Halifax and succeeded to the family estates at Cringletie on his father's death in September 1755. At first he commanded at Fort Sackville (at the head of Bedford Basin), but in September 1751 he was given command at Fort Edward (Windsor, N.S.), where he remained for most of the seven years, except for a tour of duty at Halifax in 1753."2
It was in 1755 that Murray was to play his most important role in our history, as he was the officer in charge at Pizquid and superintended the deportation of the Acadians thereabout. It might be noted, that it was in 1755 that Murray was promoted to Major just as he was seeing his four ships off in October of 1755, loaded with 1,100 Acadians.3
In command of the grenadiers, Murray was to take part in the Siege of Louisbourg, 1758. He stayed on at Louisbourg until the following spring when he accompanied Wolfe up the St. Lawrence. After the taking of Quebec in 1759, Murray returned back down river and wintered over at Louisbourg. In 1760 he joined the 55th at Staten Island. From Staten Island he went with his regiment in the campaign against Martinique in 1762. It was while he was on campaign in Martinique that he came down with "camp fever"; and, shortly thereafter, on 19th of March, 1762, at the age of 47, Alexander Murray died.
_______________________________
FOOTNOTES:

[1] He married his wife, Marianne, in 1749. Maybe he was in Scotland collecting up his bride in 1749, I do not know the details. They were to eventually settle down in Halifax. We read: "During the winter of 1758-1759 his wife gave birth to a son at Louisbourg, and was named after his godfather, James Wolfe. The family have ever since been called "Wolfe-Murray." [From a footnote found in The Journal of Jeffery Amherst (Toronto: Ryerson Press, 1931) at p. 63.]
[2] It was while at Fort Edward, we see Murray writing his wife who is at Halifax. April 10th, 1755: "I have not been off the Hill (Fort) since you went away excepting" a small trip to buy some "skins" and another time to "dine with the Indians." (Duncanson, Newport p. 4.)
[3] Murray was a tough realist, like so many of the Scottish people we have come to know; not at all the sentimentalist as was his fellow commanding officer at Grand Pre, John Winslow. Not that he relished the job of rounding up Acadians; but he had no hesitation in carrying out the orders that he had received from his superior at Halifax, Charles Lawrence (who, incidently, had come over with Murray as part of the "Gibraltar troops" in 1746). In June of 1755 we see where he denied the Acadians the use of their boats, so necessary in those days for communication and for fishing; further, he required the Acadians in the area of Minas to hand in their arms, which, of course, the Acadians needed for protection and for the hunting of game. (See, Brebner, New England's Outpost, p. 213.)