Jeffrey Amherst 1 (1717-97).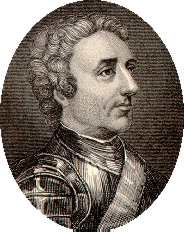 He was born at Sevenoaks, in 1717, of "an ancient Kentish family." Beginning as a page to the Duke of Dorset, Amherst joined the army in 1731, and, in 1741, was appointed aide-de-camp2 to General John Ligonier (1680-1770). During the War of the Austrian Succession (1740-1748) Amherst was to see action including that at Fontenoy (1745). By the war's end, Amherst was but a middling army officer with little chance for advancement. This situation, however, in 1756, with the outbreak of The Seven Years War, was to change. Placed on the staff of the Duke of Cumberland, Amherst was again sent to Europe. His duties seemed to have been in the area of procurement.
Our interest in Amherst comes about because he led the British attack in 1758 on Louisbourg. He was called on to do so, while engaged in Germany, a call that came right out of the blue. In 1757, England was to see William Pitt come to its head as its first prime minister. Pitt, taking full control of England's war effort, determined to make North America its principal place of operations. He, as was everyone in England, was unhappy with England's performance during the first two years of the war. Pitt became convinced that part of the problem was that England's army did not have the right leadership. He recalled the North American commander, Lord Loudoun, and determined to dig deep for Loudon's replacement, at least in respect to the intended attack on Louisbourg. He wanted a man that would carry out his, Pitt's, instructions; a man who would carry through, no matter the odds. Now, at this time, the head of the army was John Ligonier. Ligonier was about the only one in the old guard that Pitt trusted and admired: Pitt consulted the old general. Ligonier recommended his protege who was then but doing commissary duties in Flanders.
Amherst had no idea that he was being considered for a such a high posting. It was in the middle of January at his camp in Germany when a letter came to him from one of the powerful lords in England, Lord Holdernesse. It opened with the words, "His majesty seems to be very much pleased with the distinct and satisfactory account you give of the proceedings of his army in Germany. ... I find it is His Majesty's intention to employ you henceforth in a more considerable and extensive commission than you are at present engaged in ..." He was then advised that the bearer of the letter was to be his replacement and that he should immediately repair to the coast and to board a ship which had been especially sent to carry him to England. We can only imagine how Amherst must have felt. He was not at all sure what his king had in mind, he did understand that it meant service in America.
Amherst immediately struck out for a port near the mouth of the Elbe. This was at the end of January and the port was frozen in. Though anxious to get to London in order to see what was in store for him, Amherst could not get underway until mid February. He landed at Harwich on the 25th and set out in a post chaise arriving in London on the 26th. A couple of days after that he was invited into the august presence of the "Lords of the Treasury." Amherst was still very much in the dark, however, it was not for him to be asking questions of the lords who sat in their robes before him. To some of those in power, Amherst was unknown, but a mere snip of a military man; and, it seems plain, that at this point the decision had yet to be made that Amherst should lead one of England's armies. The Lords asked him a series of questions: not so much about his military past but more to quiz him of his understanding of the larger picture: questions concerning the most recent treaty with France and what he thought of the affairs in Europe. As his biographer3 observed, "the questions addressed to him were not those which would be put to a minor officer." In time the chamber fell silent and then after a few whispers between their lordships, Amherst was politely informed that that was all for the day and that he should keep himself available for a further call. Amherst, as might be imagined, throughout all of this, kept his composure -- that of a disciplined military officer.
Within days, a letter was delivered to Amherst at his temporary quarters in London. It was from the prime minister, Mr Pitt himself, the introduction of which read as follows: "Mr. Secretary Pitt presents his compliments to Major-General Amherst and sends him herewith His Majesty's commission to be Commander-in-chief at the siege of Louisbourg."
I write elsewhere of the 1758 Siege of Louisbourg, enough to say here, that the success of this operation was to be the making of Jeffrey Amherst. It led immediately to the command of all of England's armies in North America. England was to concentrate most all of its efforts for the duration of The Seven Years War in North America; and, after four years of fighting, outside of a few islands, and as part of the terms of peace, Treaty of Paris (1763), France was to give up its North American possessions. Thereafter, North America, indeed the world, was to be dominated by English policy and the English language.
For a very brief statement on the character of Amherst, we turn to Walpole -- who else? Amherst "was a man of indomitable perseverance and courage, but slow and methodical in his movements. Provident, conciliating and cool, Amherst disposed his operations with steadiness, neither precipitating nor delaying beyond the due point, and comprehending the whole under a due authority which he knew how to assume."
After the war, in 1763, Amherst was appointed Governor of Virginia, a sinecure position; then, subsequently, of Guernsey. In 1776, he was raised to the peerage as a baron. In 1778, he was made commander-in-chief of the army; in 1778, a Field Marshall. In 1797, Baron Amherst of Montreal, died; doubtlessly, on his country estate, Sevenoaks, in England; much honoured by his fellow countrymen.
_______________________________
FOOTNOTES:

[1] See portrait of Amherst by Sir Joshua Reynolds (1723-92) which we have scanned in, the original plate print is to be found in Sir Gilbert Parker's