Thus we see William Wordsworth in a happy state; he has income and leisure; and two female Devotees who attend to his minutest requirements. This state was to generally continue for the rest of his days, days which were broken up into two principal activities: the one, wondering the pathways overseen by the imposing hills of his beloved Lake Country; and the other, in composing poetry about that which he sees around him.

The Wordsworth household, consisting of brother, sister and wife was soon to grow.55 On June 18th, 1803, the first child came along, John. Richard (William's older brother) and Dorothy were to stand together as godparents at the little church nearby in what was rather an insular ceremony. Before the summer was out, on August 14th, leaving mother and child at home, Dorothy and William, were off for a tour of Scotland.56 Their bosom friend, Coleridge, was to join them. All went well for a couple of weeks, when Coleridge left his companions and returned on foot by himself to his home (Greta Hall) arriving there on September 15th. It seems that it was during this trip that Wordsworth was to finally let go at Coleridge for his opium habit.57 The Wordsworths knew of Coleridge's weakness for drugs, but they said nothing; I guess they might have thought that Coleridge's wife, Sarah said enough for all. But for some reason, Wordsworth, on the first part of their Scottish trip, lost his patience with Coleridge. It was the first real rent in the Coleridge/Wordsworth friendship; it was downhill thereafter; by 1812 this rupture was to become "profound and complete."

Coleridge's problem was known to family and close friends. Coleridge excused himself, saying simply that he was not well and needed the opium for pain relief. His wife was beside herself, and, was at this point making appeals to her brother-in-law, Southey. (Coleridge and Southey had married two of five beautiful sisters, the Fricker sisters. Coleridge married Sara (1770-1845) and Southey married Edith (1774-1837).) In any event, on September 7th, 1803, the Southeys moved into Greta Hall. Robert Southey, thereafter, was to be the principal support of Sara Coleridge and her children. But these events I take up in greater detail when I come to my biographical sketch of Coleridge.

On February 6th, 1804, Wordsworth's younger brother, John, age 33, a captain of an India Merchant Ship, Earl of Abergavenny, who had spent a considerable amount of time with William and Dorothy, especially in 1800, much loved, lost his life when his ship was wrecked off the south coast of England, Weymouth. All on board were lost. John was to be described as "a poet in everything but words." He was "the adored friend of everyone who knew him."58

Though the sad news of John's death shocked them all, the normal state of happiness of the Wordsworth household was to soon return. On August 16th, 1804, the very year they were to lose John, Wordsworth's second child, Dora was born. Dora was followed, on June 16th, 1806, by Thomas, the third child born to the Wordsworths, so to join three year old John and two year old Dora. Notwithstanding that parts of the household, at times, were noisy, William continued on with what was his occupation, the writing of poetry. His inventory of poems had built up considerably, such that, in May of 1807, Wordsworth's poems are published in two volumes. Things were looking much better, and, needing more room for their growing family, in June of 1808, the Wordsworths moved into their new home, Allan Bank, Grasmere.59 Another reason that they took a larger place is that it was expected that Coleridge would come to live with them; which, apparently, he did. During the weekends, Allan Bank was to become a very busy abode, indeed. At times there was as many as seven children (three visiting Coleridges and four Wordsworths). Sara Hutchinson, who was now, it would appear part of the Wordsworth household (Mrs. Wordsworth's sister, a lady whom Coleridge was much interested in), was to remark that when Coleridge played with the children, S.T.C. made "enough racket for twenty."60 By June 1810, however, Coleridge, fond of his comforts left Allen Bank (the Wordsworth residence, apparently, was usually in a bit of a rough state; though it never seem to bother them). Coleridge's principal interest, however, it seems plain, while at the Wordsworths, was that he was to be in the good company of Sara Hutchinson. Sara, for her own reasons (I suggest that it was simply because she just could not take Coleridge anymore) had left Allan Bank to return, I think, to her brother's farm in Yorkshire. Coleridge was thus to move back in with his wife at Greta Hall; it was a cohabitation which was to last only about five months. Coleridge took advantage of an offer coming from friends of his, the Montagus -- who were just then visiting -- to return to London in their carriage and reside with them. Though we will never know exactly what transpired, Coleridge in his conversations on the long ride to London with Montagu determined that Wordsworth had been bad-mouthing him (Coleridge) behind his back. Thus, the breach in the Coleridge/Wordsworth relationship that can be traced back to 1803 when they had travelled to Scotland together, in 1810, opened up, such that their relationship was never thereafter to be the same. Over the next two years, the quarrel between the two poets became a cause célèbre.61

The year 1812 was to prove to be another sad year for the Wordsworths. First off they came to hear that Coleridge actually was back in the Lake District, for what was to be a rare visit with his family. Greta Hall was but thirteen miles from Allan Bank. Surely, Coleridge would come down to pay them a visit and renew their relationship. The Wordsworths waited expectantly at Grasmere; but Coleridge did not show. The sorrow to the Wordsworths that the relationship that they had with Coleridge had come to an end, was, however, totally eclipsed, when two of the Wordsworth children, that year, in 1812, were to die: four year old Catherine62 on June 4th, and six year old Thomas on December 1st. There were then left, at this point, to recount, three children: nine year old John, eight year old Dora, and two year old William.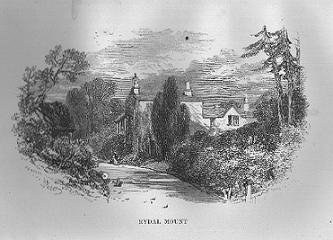 In March of 1813, Wordsworth, through the influence of the powerful Lowther family receives an appointment as the Collector of Stamps for Westmorland; with it came £400 per year.63 This additional money allowed the Wordsworths to make a move that they had contemplated since they first took up residence at Allan Bank five years earlier. They had continually complained about the smoking chimneys at Allan Bank to its landlord but nothing apparently was done about the problem. The very month that Wordsworth received his appointment as the Collector of Stamps, the family moved to Rydal Mount64. It was "two miles away on the Ambleside road, [and] which he rented from the widowed Lady Fleming. The house had superb views, was surrounded by a magnificent wild garden of the kind Dorothy loved, and was a "gentleman's house." It remained Wordsworth's home until his death 38 years later in 1850."65
Throughout these years, Wordsworth continued to write poetry. Indeed, in March of 1815, Wordsworth's "first collected Edition of his works" was to appear. The Wordsworth home was always open to friends and admirers. Thomas de Quincey, would have been a regular visitor66, for, as of 1809, he was a resident of Grasmere, indeed he was to move into "Dove Cottage."67 With his growing popularity, visitors would regularly come up from London. Charles Lamb together with his sister, would come up on holidays. So, too, would Crabb Robinson (Robinson and Wordsworth were to become the best of friends). Other luminaries of the age arrived at Rydal Mount, including Walter Scott and William Godwin. One memorable visit made by Godwin, was that made during April 27th & 28th, 1816. While there at Rydal Mount, Wordsworth and Godwin were to have "a fearful quarrel about Waterloo." Godwin, like his followers (Hazlitt, Byron and Shelley), saw it as a catastrophe for progress: whereas Wordsworth and Southey saw it as the putting down of the monstrous ambitions of one man and his deluded supporters) -- Godwin quit Wordsworth, as Robinson was to report, "with very bitter and hostile feelings."68
As we have seen Wordsworth began his continental travels early. Leaving university behind, but twenty years of age, he made a tour of the continent with his friend Robert Jones. Wordsworth loved to travel and did so throughout the whole of his life. He made a number of trips to Scotland, there to visit Scott. He traveled to the continent during the years: 1820, 1823, and 1828. His trip of 1820 was to run on for three or four months (July-November). On this trip he had with him: Dorothy, Mary, Mr. and Mrs Monkhouse, and Crabb Robinson. When in Paris Wordsworth paid a visit to Annette and Caroline (by then married). His 1828 trip, Wordsworth was to tour the Rhine with Dora (then 24 years of age) and, interestingly, with Coleridge. During 1837, Wordsworth was to make his last continental tour. He was then to travel, again, with his friend, Crabb Robinson. In Italy they paid a visit to the graves of Keats who died at age 26, and Shelley who died at age 30. Keats and Shelley were very much alive to the social and political questions of the time, and, dying young, were to do so with Rousseauian beliefs yet in their hearts. Like Wordsworth and Coleridge, in their time, Keats and Shelley made imagination the supreme gift so that "what the Imagination seizes as beauty must be truth." There, stood Wordsworth and Robinson, in an Italian grave yard, Wordsworth 67 years of age, Robinson, 62. While Keats and Shelley died with romantic hopes; Wordsworth and Robinson, growing old had gradually traded their romantic beliefs for the practical realities of the world. A retrospective story of the romantic poets of the early 19th century might be told with this grave side scene. But I must break away from this sad reverie and write a few words about the relationship of these two men: Wordsworth and Robinson.