Very early in Byron's life, the little girls about him made his heart go pitter-patter. For instance there is, when he was but a boy of eight, the record of his first love affair. It amounted to a passionate attachment to Mary Duff, a distant cousin he met at dancing-school either in Aberdeen or Banff. The attachment that gets more attention, however, is the one that Byron had for his cousin, Mary Chaworth of Annesley Hall, to whom we have already made reference. In 1803, the 15 year old Byron, made his first visit to his ancestral home, Newstead Abby. He had determined to skip the fall term at Harrow, and lodged himself at the gate-house with Owen Mealey, the steward. His infatuation for Mary Chaworth ended when he overheard her mocking his lameness.34 We read, too, that during this time that Lord Grey -- remember Lord Grey, he was the one that held the lease on Newstead Abbey, but only to Byron's age of majority -- Lord Grey made "some sort of sexual advance" that shocked the young Byron and led to "an abrupt and decisive break between the two." Byron's discovery of the pleasures or displeasures of sex, however, come about at an earlier point of time. When Byron was but a boy of eleven, there was in his household, a housekeeper, May Gray. Ms. Gray, it was found out, used to slip into bed with the young lord. The Chancery Solicitor who had taken Lord Byron under his wing, John Hanson, came to learn of Ms. Gray's proclivities and promptly saw to her dismissal.

After the death of his mother that August, Byron stayed on at Newstead until December when he returned to London; though, before the month was out, he was back at Newstead with friends. In January of 1812, Byron again travelled to London. This time it was for the opening of Parliament (being a lord, he had a seat in the upper chamber). On March 10, 1812, Childe Harold, Cantos I and II, were offered for public sale by John Murray. "Within three days, the first edition of 500 copies sells out."35 Byron's prospects were looking up. He also was in for quite a sum of money, as Byron that year had entered into an agreement to sell Newstead.36 Thus it is, in 1812, that George Gordon Byron was widely known as a handsome lord with money. Enter, all in the month of March: Lady Caroline Lamb, Lady Jane Oxford and Annabella Milbanke.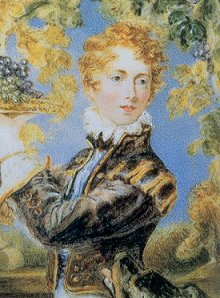 Lady Caroline Lamb (1785-1828) was the wife of William Lamb who was to become known as Viscount William Melbourne (1779-1848).37 Lady Caroline was the daughter of the Earl of Bessborough and Henrietta Ponsonby, and the niece of the Duchess of Devonshire. "As a child she was a tomboy - and a spirit of recklessness and disdain for convention never left her."38 (The portrait to our left was done by Thomas Phillips, date unknown.) At the time of their first meeting, in March of 1812, Byron was 24 years old; Caroline was 27 years old, married and the mother of an autistic son. They met at a function in a grand room of one of those great homes of aristocratic England, Holland House.39 Byron used these words to describe Caroline: "She was tall and very thin, with short, curly blonde hair and hazel eyes."40 It was not long after this first meeting when the pair were alone with a little time on their hands: we might imagine Byron slowly unbuttoning one of Caroline's pageboy outfits.
"They became lovers and shocked London with their affair through much of April and May 1812. Byron had long believed women were truly incapable of understanding male thoughts and desires. With Caroline, he was forced to abandon this notion. They read together, discussed poetry - and argued fiercely. His supposed flirtations with other women and her open affection for her husband and other admirers caused most of the fighting. Some arguments ended 'without any verbal explanation', Byron told a friend. He was particularly jealous of her waltzing with other men. And since Byron could not dance with his club-foot, Caroline now sat with him, no longer the life of her parties. When she was not invited to a party he attended, she would wait out in the street for him. If he needed money, she told him, he could pawn her jewels. ..."41
Byron left a lifelong track record: he loved to pursue women but once he realized his goal of having them completely he then grew bored and became irritated with them. This familiar course defines the short affair he had with Caroline Lamb. To quote his biographer, Nichol: "... after the first excitement, he began to grow weary of her talk about herself, and could not praise her indifferent verses; 'he grew moody, and she fretful, when their mutual egotisms jarred.'"42 He, too, was getting pressure from his friends such as John Hobhouse. Shocked by the open affair of Byron and a married lady of high standing, they urged him to return to Newstead Abbey and forget Caroline. Leaving Caroline in the lurch, Byron took his friends' advice and rode up to Newstead. Caroline wrote him there, letter after letter which Byron systematically ignored. Needing to attend to business, by July, Byron was back at London. Finding out that he was back, Caroline arrived at Byron's rooms. Hobhouse was there at the time and wrote of the event in his diary:
"Wednesday July 29. Went to Byron's in expectation of going to Harrow, a scheme he had resolved on to avoid the threatened visit of a Lady - at 12 o'clock just as we were going, several thundering raps were heard at the door & we saw a crowd collected about the door & opposite to it - immediately a person in a most strange disguise walked up stairs - it turned out to be the Lady in question from Brocket43.... I did think that to leave my friend in such a situation, when.... every soul in the house servants & all knew of the person in disguise, and not to endeavor to prevent the catastrophe of an elopement which seemed inevitable, would be unjustifiable - accordingly I stayed in the sitting room whilst the Lady was in the bed room pulling off her disguise - under which she had a page's dress.... at last she was prevailed upon to put on a habit, bonnet & shoes - belonging to a servant of the house and, after much entreaty did come out into the sitting room. ..."44
In August, Caroline left her family. The call went out to Byron and he sought her out in Kensington from where he returned her to her family at Brocket Hall. Though now somewhat of a prisoner (I suppose) at Brocket Hall, Caroline continued to write letters threatening Byron with revenge; and at one point, in a yard at Brocket, Caroline Lamb burned effigies of Byron and copies of his letters, while neighborhood children danced around the bonfire. In January of 1813, Caroline managed to carry off a much valued painting of Byron and did so by forging Byron's writing in a letter directing his publisher, John Murray to give the painting to Lady Caroline. Caroline's theft of the portrait upset Byron which of course was Caroline's objective. Caroline kept up these antics for a considerable period of time. Later in the year, 1813, both Byron and Caroline were at Lady Heathcote's ...
"On 5 July, they met again at a waltzing party at Lady Heathcote's. Caroline remembered his earlier pleas for her to sit with him instead of dancing. She walked up to him and asked, 'I conclude I may waltz now.' Byron replied: 'With every body in turn - you always did it better than anyone. I shall have a pleasure in seeing you.' Later, he said to her sarcastically, 'I have been admiring your dexterity.' Caroline picked up a table knife, 'not intending anything', she later wrote. Byron was amused and contemptuous. 'Do, my dear. If you mean to act a Roman's part,' he told her, 'mind which way you strike with your knife - be it at your own heart, not mine - you have struck there already.' Caroline cried out, 'Byron!' and fled in distress. When some ladies tried to take the knife from her, she cut her hand."45
Byron continued to be the object of Caroline's scorn for a considerable period of time. It might have passed in a shorter time, except that Byron was bedding one of Caroline's friends, Lady Jane Oxford, an affair which Caroline came to know about, and which accounts -- together with her natural proclivities -- for Caroline's extreme reactions. At some point earlier, the Oxfords had befriended Byron. (His relationship with the Oxfords, I note parenthetically, drew Byron into the circle of the Princess of Wales, such that he was a regular visitor at Kensington Palace.) I am not sure of the exact circumstances; but it seems clear that Lady Oxford's affair46 with Byron started in October of 1812, a point in time after he had broken things off with Caroline Lamb. Lady Oxford did not help matters much and goaded Byron on in his dealings with Caroline. Caroline during this withdrawal period had written Byron asking for a lock of Byron's hair. The letter, as was the case with others were read jointly by Byron and Jane. A lock of hair was sent to Caroline, not of his but rather of Lady Oxford's; it being determined that there was little difference in the colour of Jane's hair when compared to that of Byron's. The affair between Byron and Lady Oxford lasted but a few months.

A closing note on Caroline Lamb: she continued, to one degree or another, to be a problem for Byron until about 1815, when Caroline's attention was finally diverted. It was then that she and her mother travelled over to Europe, as her brother, Frederick Ponsonby, had been wounded at Waterloo; Caroline and her mother planned to be at Brussels to nurse him. For Caroline, as it certainly was for Byron (he was to have hundreds), what was wanted was to have a number of love affairs. Her political husband (highly successful) was to receive appointments which included stays at Paris and Brussels where there were stationed a great number of young handsome military officers. Her most famous conquest was the Duke of Wellington. Caroline became more and more distraught as her last years sped by. She separated from Lord Melbourne in 1825, though he continued to remain close, indeed, he was at her bedside when she died in 1828 at the age of 43. Lord Melbourne survived Caroline for twenty years; never married again; and went on to be the prime minister of Great Britain.

It is now time to pass on to Anne Isabella Milbanke (1792-1860), she was most always referred to as Annabella. She has her place in history as the wife of Byron. She was an heiress and a cousin of Caroline's husband, William Lamb. Annabella is one of the mysteries of Byron's life; it is reported that he was not in love with her, and there was no money to be gained by Byron with the match. Annabella was not, it would appear swooped off her feet by Byron; but, like so many woman to come into his orbit, in time, succumbed to Byron's sexual charms.47 "In his endeavours to corrupt my mind he has sought to make me smile first at Vice, saying 'There is nothing to which a woman may not be reconciled by repetition or familiarity.' There is no Vice with which he has not endeavoured in this manner to familiarize me." This much we know: in 1813, Byron proposed to Annabella and she refused him. In September of 1814, however, a further marriage proposal was accepted by Annabella. In January of 1815, Byron married Annabella, and in December their daughter, Augusta Ada48, was born; a month later, in January of 1816, the pair parted for good.49

It was on the 25th of March, 1812, that Byron met Annabella Milbanke at Brocket Hall, a place that is central to our story of Byron during this part of his life; it is where the Melbournes live, near Hatfield in Hertfordshire. Lady Elizabeth Melbourne, was Annabella's father's sister. It just so happens -- there is some suggestion that Lady Elizabeth arranged it -- that Annabella was at Melbourne House when Byron came to visit. I am not sure how things progressed to the point, but on October 12th, Byron proposed marriage which Annabella rejected, a rejection which likely came more from Annabella's family than herself. The pair, however, kept up correspondence. Annabella's family gradually warmed up to Byron, such that in April of 1814, Byron received a formal invitation to visit Seaham Hall from Sir Ralph Milbanke, Annabella's father. Written correspondence between the two picked up through the summer. In August, Byron received a cryptic letter from Annabella in which she acknowledges an "imperfect" attachment to him. On September 9th, Byron posted a marriage proposal to Annabella. On the 19th he received Annabella's acceptance. The fiancés are then seen to be writing daily to one another. Though Annabella wished for a large wedding, Byron insisted on a private ceremony. When Byron learns that a potential agreement of purchase and sale for Newstead fell through, he proposed to Annabella that they postpone the wedding. Byron's insistence that they will be poor until Newstead is sold leaves her unconcerned. On January 2nd, 1815, the pair were bound over on their marital vows in a private ceremony in the first floor drawing room at Seaham Hall.50 Lord and Lady Byron spent their honeymoon at the Noel estate, Halnaby.

I do not know how long the wedded bliss lasted. By February, Byron's financial affairs were such that Byron thought it best to be in London. They eventually moved into residence at Piccadilly Terrace and were living mostly on Lady Byron's marriage settlement from her parents. That spring Annabella met Byron's half-sister, Augusta, for the first time. Augusta was Byron's -- I would say -- closest friend, we will come to her shortly. His finances were in a very precarious state. Creditors were stepping up the pressure. Legal writs and processes were coming at him with regularity; and he feared the next step was not far away -- distrains and arrests. Though Byron's properties were then worth over £100,000, he was unable to find buyers to pay his price. Things were that disparate that Byron sold his library. Byron was at this point drinking heavily.51 Byron's rages led Annabella to believe him temporarily insane. In September, Byron wrote Augusta telling her that he believes Annabella has been searching through his papers and had broken open his writing desk. In November, Augusta, in response to Annabella's alarming letters, arrived at Piccadilly Terrace to help manage Byron's moods. On December 10th, Annabella delivered a baby girl, Augusta Ada. In January of 1816, things were such between Byron and his wife that he proposed that they break up the expensive house in London, with Annabella and the baby moving, "temporarily" to her parents' house in Kirkby Mallory.52 Annabella and the baby made the move; and when Annabella's family heard about what was going on they obliged their daughter to consult their solicitors; soon after that formal separation papers were drawn and by March formal terms were agreed upon.

The question that now comes to be asked, is: What role did Byron's half-sister play in the breakdown of his marriage; or, more generally, what was the nature of the relationship that Byron had with his half-sister, Augusta Leigh (1783-1851). We first mentioned Augusta when dealing with Byron's early life. We saw where Byron was born in 1788, the son of John ("Mad Jack") Byron. Byron was the product of his father's second marriage. John's first wife died shortly after giving birth, in France, in 1784, to a daughter, Augusta. Now I do not know where Augusta was during the years that Byron grew into manhood; it seems Augusta was missing from the picture. With both her mother and father being dead, Augusta, it would appear, was brought up by her mother's family.53

We pick up on Augusta's life at her age 20. It was in October of 1804 that General Charles Leigh objected to his son's marriage to Augusta based on the smallness of her income, £350 a year left her by her grandmother Lady Holderness. During October and November of 1804 we see Byron and Augusta exchanging letters in which they commiserate over their respective troubles: for him the difficulties he is having with his mother; and her, the troubles with the Leighs.54 The Leigh family was to eventually get over their objections to this marriage of first cousins. On August 17th, 1807, Augusta married Colonel George Leigh, the son of General Charles Leigh and Frances Byron (sister of John Byron, Augusta's and Byron's father). Byron did not see much of Augusta after her marriage, for, maybe a five year period. There seems to be no correspondence between the two, even after his return from Greece in July of 1811. It is difficult to think that he did not see Augusta at Newstead just after his mother died on August 1st, 1811. In any event, only in 1813, do we see Byron and his half-sister coming together to commiserate as they did eight years previously. Byron had just passed a year full of problems, 1812. You will remember, this was the year that Byron was trying to extricate himself from the clutches of Caroline Lamb; the year, after dropping Caroline, that he took up with Lady Oxford; the year that he first met Annabella Milbanke.

In 1813, Augusta Leigh was living with her husband at Six Mile Bottom, north of London, very near Cambridge. It was in June of that year that Augusta arrived at London for a three week visit. She came again to London on August 5th and by the 20th she was back at Six Mile Bottom. In mid-December, Augusta was again in London and after a stay of a few days was brought back to Six Mile Bottom by Byron who returned to London on December 27th. On January 17th, 1814, Byron and Augusta had set out for Newstead. On January 22nd, Byron celebrated his 26th birthday. Augusta Leigh gave birth to a daughter on April 14th, 1814. The child was named Elizabeth Medora after Byron's famous heroine in The Corsair.55 In May, Byron sent Augusta £3000 to settle her husband's debts. In August of 1814, Byron, Augusta, and the Leigh children travelled to Newstead. Augusta tried to arrange a marriage for him with Lady Charlotte Leveson Gower. It will be remembered that Byron married Annabella on January 2nd, 1815.

Well what are we to make of this recitation of the times and events in respect to the relationship between Byron and his half-sister. I think it was but a matter of a sister moving close to her brother during a time he was having troubles; though there are those who would say that the two had an incestuous relationship; but, really, there is little proof of it. Ms Hellam, in her analysis writes:
"Byron began to woo his half-sister Augusta Leigh in August of 1813. On April 15, 1814 Augusta gave birth to Elizabeth Medora who is believed to be the child of Byron's and Augusta's incestuous relationship. To end rumors that circulated about the two of them, Augusta urged Byron to marry. Annabella, due to their correspondence for the past eight months and previous romantic history, seemed the likely candidate. In September of 1814 Byron proposes and Annabella surprisingly accepts."56
After the marriage, in February, the wedded pair visited Six Mile Bottom, where Annabella and Augusta meet for the first time.57 In July, 1815, Byron signs a new will stipulating that after the payment of Annabella's marriage settlement, the remainder of his estate would go to Augusta and her children.58 Augusta, it would appear, continued to help her brother as he went through the marriage breakup. She spent time with Byron that November in response to Annabella's alarming charges that Byron had gone mad. Augusta went to London to be with Byron. He was in a bad mood and lashing out at anyone, even Augusta.59

Byron took the separation from his wife with great difficulty. Leigh Hunt saw him at this time and observed that Byron became ill; "his face was jaundiced with bile; he felt the attacks of the public severely; and, to crown all, he had an execution in [on] his house. I [Hunt] was struck with the real trouble he manifested, compared with what the public thought of it. The adherence of his old friends was also touching."60 Trelawny recollects: "As to the oft-vexed question of the Poet's separation from his wife ... he treated women as things devoid of soul or sense; he would not eat, pray, walk, nor talk, with them. ... who would have marvelled that a lady tenderly reared and richly endowed, pious, learned, and prudent, deluded into marrying such a man, should have thought him mad or worse, and sought safety by flight? Within certain degrees of affinity marriages are forbidden; so they should be where there is no natural affinity of feelings, habits tastes, or sympathies."61

On April 8th, 1816, Byron, Augusta Leigh, and Hobhouse (who had by then moved in with Byron) attend a party at Lady Jersey's where they meet Benjamin Constant. Some of the fashionable set cut both Byron and Augusta ... On the 13th, Annabella snubs Augusta, by having her solicitor respond to a private note. Byron is furious; it is more than he can take. On the 23rd, he is on a carriage headed for Dover; on the 25th he sails for Ostend, Belgium.62 On May 4th, 1816, Byron stands on the field of Waterloo, so bloodied near a year ago. We can but only image, Byron turning east, away from England and the bloody fields; and, then, off to Switzerland and Italy, there to take up a new life with a new circle of poetic friends.