Memoirs, Or Shadows Of What Has Been


By Peter Landry

TOC



Chapter Thirty-Six: New Office & New Wife, 1985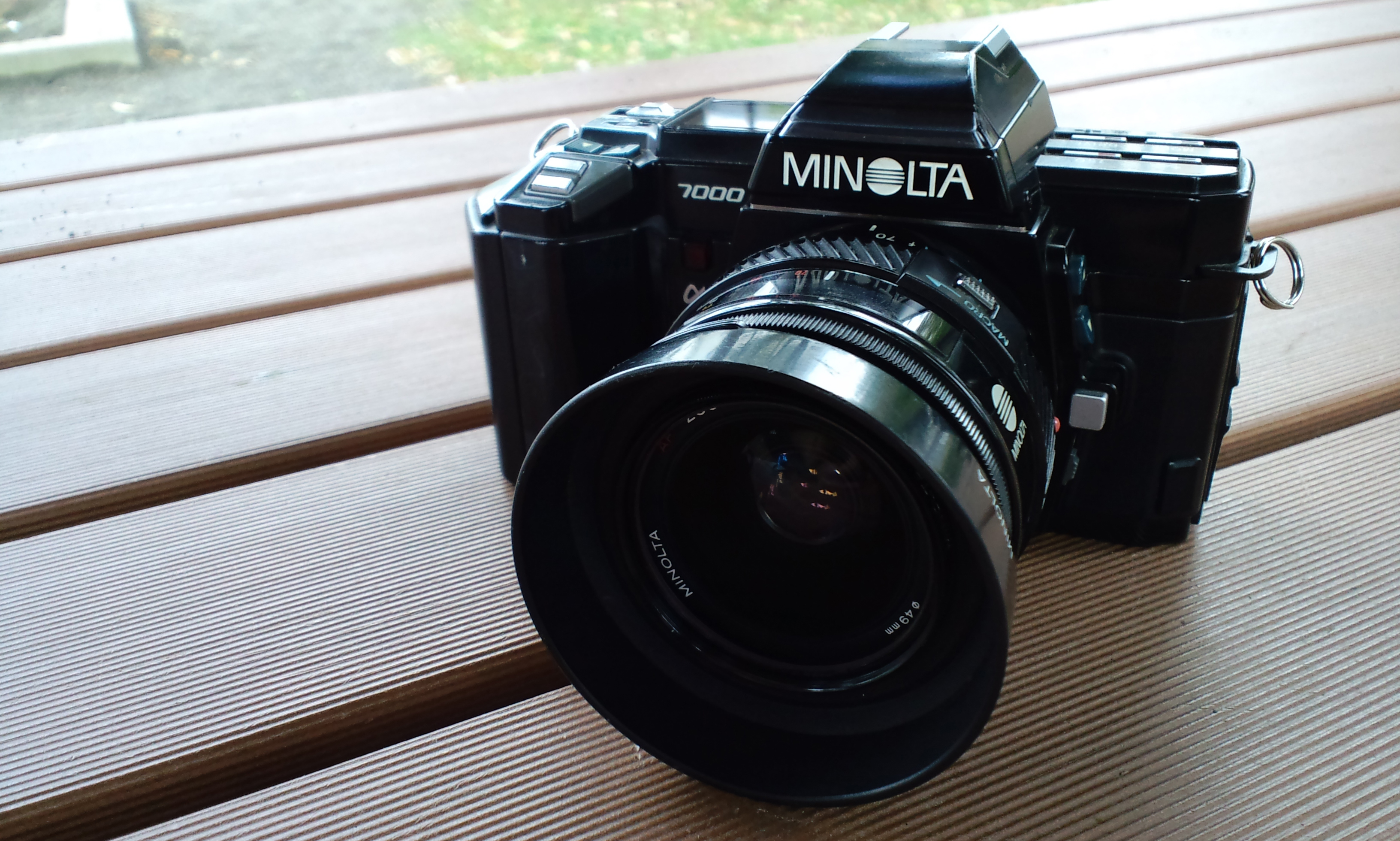 Beginning in 1965, and from there through the years, I shot with 35 mm film. Up to this point, I shot with a rangefinder, a Yashica Lynx. One of the reasons I was able to get such great shots of my family through the years, was because I had a good camera in my hands. It was in 1985 that Minolta released its Maxxum 7000 (shown to the right). According to what I read on the 'net, it was the world's first autofocus single-lens reflex camera. To achieve this the company had to develop special motorised lenses. I purchased a Minolta 7000; it was a great camera; for the following 20 years I shot with it. With the turn of the century, there came along digital cameras. They were too new; and the quality of the photo, at first, did not compare with what one could get with film. I waited. In 2005, or thereabouts, Minolta brought out its digital Maxxum 7000. At considerable expense, I bought it. Within a year or two I was having mechanical difficulties with it. I was going to ship it off to Minolta for repair, only to be told that Minolta went out of the camera business; and, I was stuck with an expensive door stop (I was very upset with Minolta, but there was not much I could do about it). I turned to Nikon, but I am running way ahead of my story.
In the spring of 1985, Coca-Cola changed its formula and released a New Coke. Within three months, after an alleged outcry from the consumers, Coke went back to its old formula. Much was made of this in the regular news. I have always had the suspicion that the whole deal was a hoax, a huge advertising scheme. While we are on the subject: has it ever struck anybody, how amazing it is, that a huge world wide profitable business has developed in the selling of carbonated sugar water. I see these huge Coca-Cola trucks pulled over on a city street (must cost a fortune to wheel this stuff around), And Think -- God, People are gullible, if not plain stupid! Kids at an early age end up craving this carbonated sugar water, and, because, their unthinking parents put a can of pop in their little hands: rotten teeth and fat kids ensue.
Other memorable events on the developing computer scene in 1985: Microsoft Corporation released the first version of Windows, Windows 1.0; Steve Jobs resigned from Apple Computer, after which he founded NeXT.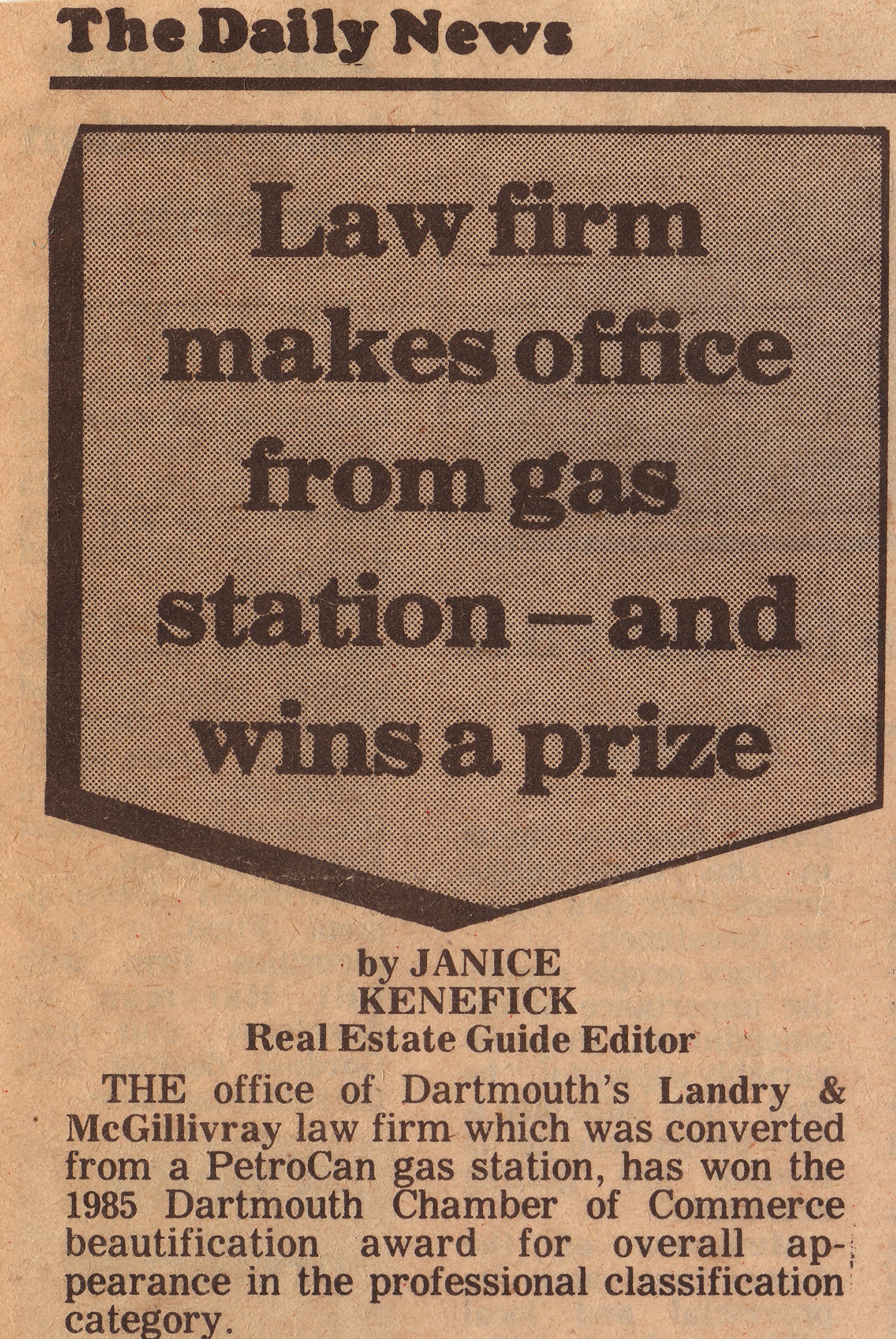 During October of 1985, our law firm moved into new premises at 28 Ochterloney, Dartmouth. We bought and then renovated a gas station. The firm won a prize for the work, The Dartmouth Chamber of Commerce Beautification prize, 1985. The event was written up in the paper. The article shows that the firm then consisted of Peter Landry, Maurice McGillivary, Michael LeBlanc, Norman Hill, Tim Gabriel, Don Presse and Carol McGillivray (the first four identified as partners). In the group shot made for the paper (for some reason P is missing) there is shown a staff of eight, among them being Nancy Spicer (she was in time to become a lawyer), Patricia Bourbonniere, Karen Stocking, Betty Ann Dauphinee and Shirley Clarke.
That winter (1984/5) was spent at Mader's Cove. Though I had the occasional visitor, I spent the winter alone. Much of the time it was a wintry wonderland. On my little estate, in behind, there were red pines which had all been planted in rows years before. I trimmed-out the lower, dead branches in this little forest of mine; so, one could walk among the pines. I recollect going out and around my little patch of wilderness, just after a fresh fall of snow. Trails were laid down by the little critters. And there were other disturbances which told stories. There, see, there is a little trail left by a traveling critter; it ends, overlaid with the impression, of a set, of hawk wings spread wide. Stirred snow in the center of things was evidence that a skirmish had occurred. Beyond the markings in the snow, there was a small feather or two: no sign of the mouse.
That April I went off to Florida to visit my mother, who, through these years, spent time there for a few weeks in the winter. It was a resort near Lauderdale and called, Rainbow by the Sea. I bunked out with her. It was nice to be with her and her friends but I was looking for different company.
In July of 1985, after a courtship of only eight months, I married Linda Tanner at Little Harbour, Pictou. I had my misgivings that it would ever work out; it did not; by 1990, after a turbulent few years, we were divorced.
Two of the memorable movies of 1985 were: Back to the Future and Out Of Africa. Back to the Future was the highest grossing film of 1985; it starred Michael J. Fox and Christopher Lloyd. Out Of Africa starred Meryl Streep and Robert Redford.
Three popular Canadian TV shows, having been running since the the late 1950s, were winding down: The Friendly Giant (1958–1985), Front Page Challenge (1957–1995) and The Wayne and Shuster Show (1958–1989).
As for the popular songs: I Want to Know What Love Is, Foreigner; Everybody Wants to Rule the World, Tears For Fears; Money for Nothing, Dire Straits; We Built This City, Starship; We Are the World, U.S.A. For Africa; and, One Night In Bangkok, Murray Head.