Memoirs, Or Shadows Of What Has Been


By Peter Landry

TOC



Chapter Sixteen, Fredericton II, 1965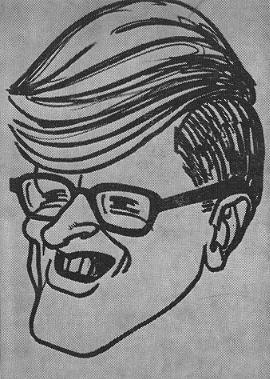 In the background through the years 1960 to 1975, the Vietnam War raged, causing sorrow and death in the country of Vietnam; and in America, much political turmoil. We can give a few details of the Vietnam War that took place in 1965. The trouble in Vietnam had been going on for years. The American involvement likely started in 1950 when President Truman sent military advisers to Vietnam. Eisenhower did the same. Kennedy, in 1961 sent, 18,000 military "advisers." At some point after that, the American "advisers" turned into combat troops. It was in 1965 that the Americans ratcheted up the war when, in July, President Johnson ordered that the troops in South Vietnam to go from 75,000 to 125,000, and to more than double the number of men drafted per month - from 17,000 to 35,000. That November the first major engagement of the war between regular United States and North Vietnamese forces began with the Battle of the Ia Drang. Through to the end of the war, Americans protested their country`s involvement in Vietnam. For example, that November, tens of thousands of them picketed the White House, then marched on the Washington Monument. What they did not know, was that the Pentagon, at that time, had advised President Johnson that if there was to be a sweep operation with a view to clearing out the Viet Cong forces, during the next year, what would be necessary to succeed would be to increase the number of American troops in Vietnam from 120,000 to 400,000. We shall see how all this turns out as the decade unfolds. We will return to the Vietnam War and paint in its various parts in the chapters to come.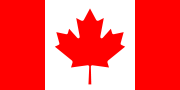 For a more general background: In January the world lost one of its great historic leaders with the death of Winston Churchill. In February, a new red and white maple leaf design was adopted as the flag of Canada. On March 23rd, in a mission called Gemini 3, NASA launched the United States' first 2-person crew (Gus Grissom, John Young) into Earth orbit. Then on June 3rd, 1965, NASA Astronaut Ed White went for America's First Spacewalk. Back on earth, in August, the Watts Riots broke out in LA which lasted for 6 days. Singapore was allowed to give up its status as a colony of England and claimed for itself sovereign independence. And, Oh! Yes, 1965 was the year that the Pillsbury Doughboy made his appearance on TV.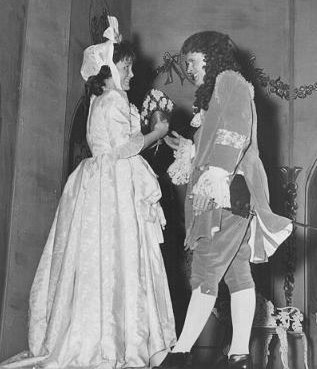 I was in dramatic productions at high school and university. When I went into the work-a-day world I joined drama clubs both at Dartmouth (1961) and Truro (1962). I didn't get involved in Bathurst, probably because I could not find a club. In Fredericton there was an semi-professional group (as they liked to call themselves), The Company Of Ten. They worked out of the Fredericton Playhouse which was built in 1964, a gift to New Brunswick from Lord Beaverbrook. One of the stage productions in 1965 was The Provoked Wife. It was staged three times: February 26th, 27th and March 1st, 1965. There you see me on the left with Sharon Pollock, the leading lady. I see from a 'net search that Sharon went on to make quite a name for herself in Canadian theatre, more as a writer of plays. As for The Provoked Wife: it was a restoration play, circa 1700, and concerned itself with an unhappily married Lady Brute and her adventures. I played one of the men she dallied with, Constant. From the paper: "Favourites of the evening were 'Heartfree' played by Robert Hardy, and 'Constant' played by Peter Landry. These two young men worked well as a team. Heartfree's facial expressions were especially good and Constant's voice was perfect for his part."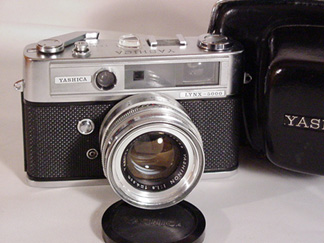 The caricature you see, above right, was drawn by our display man at the store in support of a sales event, The Assistant Manager's Sale. It was blown up into large cards hung throughout the store. It may have been when the Zellers store was being totally renovated and a piece added on. All through the construction we kept the store open and no sales were lost; a feather for my hat. The new Zellers store had increased lines, including a restaurant and a camera counter. My merchandising education was now advancing in a number of different directions. The fact that we now carried a full line of cameras, naturally increased my personal interest in cameras. With permission, I brought different cameras home on weekends to experiment with them. In the very early years I had a camera, nothing fancy, likely a Kodak Brownie. Things were to change in 1965 which led to a better photographic record of my life thereafter. I purchased a 35mm, Yashica Lynx; it was a rangefinder (versus a SLR which I eventually acquired).
That November I was on my way home in my Rambler 220 which I had bought in Bathurst, when, she appeared before my eyes. I could see her clearly through the showroom windows of the American Motors dealer in Fredericton. She was dressed in yellow and everything about her was polished. It was love at first sight; I could not pass her up. Within days I owned her: a 1965 2 door hardtop AMC Ambassador. I took out a term loan for $3,668.32 at 6% to be paid back over 3 years. This was definitely a luxury, a top of the line model from a top notch car manufacturer. Of all my cars through the years, the Ambassador was the car I most enjoyed driving. Every edge of her, inside and out, was chromed, even the brake peddle. She had a snappy V8.
As for movies for the year 1965: two come to mind. The plot line of the Sound of Music concerned itself with a woman who left an Austrian convent to become a governess to the children of a widowed Naval officer. It stared Julie Andrews and Christopher Plummer. The second is Boris Pasternak's Doctor Zhivago; it portrayed the life of a Russian doctor/poet who, although married, falls for a political activist's wife and experiences hardships during the Bolshevik Revolution. It stared Omar Sharif and Julie Christie.
Three of the songs I recollect: I Know A Place by Petula Clark, I Got You (I Feel Good) by James Brown, and California Girls by the Beach Boys.