Memoirs, Or Shadows Of What Has Been


By Peter Landry

TOC



Chapter Thirty-Five, Maders Cove, 1984

On January 1st, with a view to stopping the monopoly, the Bell System in the United States was broken up. There then came into being seven independent Regional Bell Operations, or, as they came to be known: "Baby Bells." The breakup led to competition in long distance telecommunications. Of course, this resulted in significantly reducing long distance rates; it also raised local residential service rates, which were formerly subsidized by long distance revenues.

On February 29th, the 64 year old Canadian Prime Minister, Pierre Trudeau announced his retirement; he had been the prime minister of Canada for nearly 16 years. Though, like many Canadians, I was charmed, in the beginning (c. 1970) by his charismatic personality and his revolutionary ideas of the 1960s, in time, I came to recognize the subterfuge of those who chase political office. As for Trudeau: he was worse than many of them and I came to intensely dislike the man with his socialistic views and his free spending of our tax dollars. By 1984, he knew the jig was up: "A worsening economy, burgeoning national debt, and growing public antipathy towards Trudeau's perceived arrogance caused his poll numbers to fall." He will always be known for his Trudeauisms: "Just Watch Me", the "Trudeau Salute," and "Fuddle Duddle."

The Prime-Ministerial baton was passed on to another Liberal, John Turner, who, without election, became Canada's 17th Prime Minister. Within weeks, a federal election was called. On September 4th, the Liberals were swept from power in a massive Tory landslide.
"The Liberals were cut down to 40 seats, the fewest in the party's history until 2011, against 211 for the Progressive Conservatives [led by Brian Mulroney]. They [the Liberals] were decimated in Quebec, falling to 17 seats, all but four in and around Montreal. Eleven members of Turner's cabinet were defeated. At the time, it was the worst defeat ever suffered for a governing party in the federal parliament. Turner stepped down as prime minister on September 17. The election having been called just over a week after his being sworn in, Turner held the office of prime minister for two months and seventeen days, the second-shortest stint in Canadian history, ahead of only Sir Charles Tupper, who took office after dissolution of parliament. Turner, along with Tupper and later Kim Campbell, were the only PMs to have never faced a parliament and never implement any legislative initiatives." (http://en.wikipedia.org/wiki/John_Turner)
That November, the United States carried out a presidential election. Ronald Reagan defeated Walter Mondale with 59% of the popular vote, one of the highest.

By 1984, researchers in the United States were defining the AIDS virus. AIDS is caused by the human immunodeficiency virus (HIV). It is theorized that the AIDS virus detected in humans originated in non-human primates in Sub-Saharan Africa and was transferred to humans during the late 19th or early 20th century.

That October, the world learned of the famine in Ethiopia. Thousands of people were dying of starvation with millions of other lives at risk. (See the theories of Malthus.) Certain governments of the world made funds available to help combat the famine; and, that November, at London, Band Aid (assembled by Bob Geldof) recorded the charity single "Do They Know It's Christmas?" Released on December 3rd, it raised additional funds to help these starving Africans.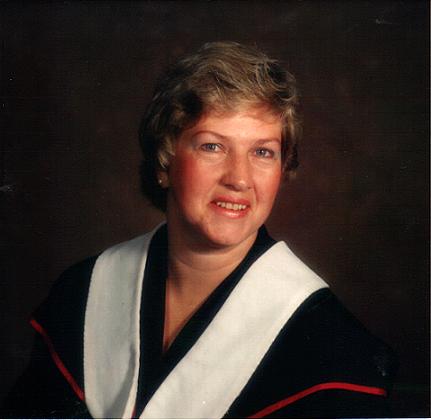 Louise graduated from St Mary's University. She had undertaken a part-time programme over a number of years. By 1984, Louise had her degree; the youngest, Dana was 20. Our spousal relationship had filtered down to a brother and sister relationship. And while there were no battles or incriminations exchanged, there were long periods of silence. Counseling was undertaken, but with no positive results. I conveyed our condo over to her exclusively, and a formal Separation Agreement was entered into which provided monthly sums to go to Louise so she could maintain her life style.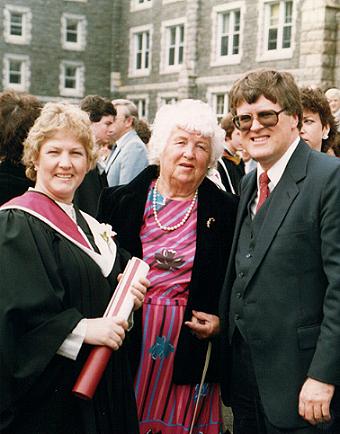 I built a small home for myself at Maders Cove in Lunenburg County. It was no place to meet the ladies and it was an hours plus drive from Halifax. With my separation from Louise, I had become a single male, age, 43, I certainly had my eye out. For a number years I had been a family man with children and a wife; through the sixties and seventies the sexual revolution had occurred, but it did not serve me. Now, it was time for me to get in on this revolution, except, by 1984, it had been considerably muted on account of sexually transmitted diseases; it was a scary world out there.
That fall, I took trip in the company of Christine; we went to visit one her friends in Bermuda and spent a few days, the two of us on two mopeds, sightseeing on this very British island.
In October, through an arrangement with a mutual Air Canada friend, I went out on a blind date with Linda Tanner; it was a Halloween party at one of her friends. Within a week end or two we spent a night at Maders Cove. The following summer, with misgivings, I married her. We shall have more to say about that event in the next chapter.
As for the Movies in 1984:
Ghostbusters starring Bill Murray and Dan Aykroyd; it is a riot of a movie picture. Then there was Amadeus, a wonderful movie. A Passage to India was another, written and directed by David Lean and based on the 1924 novel by E. M. Forster. A Passage to India, we might add was the final film of Lean's career. It received eleven nominations for an Academy Award, including Best Picture, Best Director, and Best Actress for Judy Davis; it won for the Best Original Score for Peggy Ashcroft (at the age of 77) and Maurice Jarre.
As for the music of 1984:
What's Love Got to Do With It, Tina Turner; Owner of a Lonely Heart, Yes; Karma Chameleon, Culture Club; Dancing In the Dark, Bruce Springsteen; Girls Just Want to Have Fun, Cyndi Lauper; I Guess That's Why They Call It the Blues, Elton John; Uptown Girl, Billy Joel; Hard Habit to Break, Chicago; To All the Girls I've Loved Before, Julio Iglesias or Willie Nelson; I Want a New Drug, Huey Lewis and The News; and I'm So Excited, The Pointer Sisters.