Memoirs, Or Shadows Of What Has Been


By Peter Landry

TOC



Chapter Thirty: Joseph, Louis and The J&L, 1979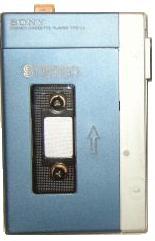 By 1979, IBM with its big blue and expensive machines, was losing its computer market dominance; eaten into by the developing personal computers, such as the Apple and the Commodore PET. IBM therefore started work on their own P.C. This computer had to be a state-of-the-art machine in order to compete, but had to be produced very quickly due to the amazing growth of competitors. It was therefore decided to use many third party parts to reduce development time, and Bill Gates (Microsoft) was commissioned to write the Operating System. It took a couple of years, but, on 12 August, 1981, the finished product came on the market: the IBM PC. We should mention, too, that VisiCalc made its appearance, the first commercial spreadsheet program. In 1979, Philips demonstrated the Compact Disc, publicly, for the first time. Also Sony brought out its Walkman. It changed the music listening habits by allowing people to carry music with them and listen to music through lightweight headphones. In the meantime, two men associated with Duke University, Tom Truscott and Jim Ellis, were experimenting with something called "usenet." Truscott and Ellis conceived of a simple program to automate the transfer of files between any two computers using telephone modems.
That May, the UK had a new prime minister, the country's first female prime minister, Margaret Thatcher. In 1979, the presidents of Egypt and Israel, Anwar Sadat and Menachem Begin, signed the U.S.-brokered Camp David peace treaty. Sinai, taken by Israel in one of the many wars in the region, was returned to Egypt over the next following three years.
In 1979, the smallpox virus was effectively eradicated, making smallpox, as of that date, the only human disease driven to extinction. The One Child Policy was implemented in China in this year; the policy, between 1979 and 2010, prevented about 400 million births. That July, Sweden outlawed corporal punishment in the home. From one study, we read about the effect after three decades: "The Swedish corporal punishment law has been very effective in shaping a social consensus regarding the rejection of corporal punishment in childrearing. However, the law's implementation and the attitude shift that accompanied it cannot be viewed in isolation from the social context in which it developed." (http://www.nospank.net/durrant.htm)
In 1979, the Premier of Nova Scotia was John Buchanan; was so, from 1978 to 1990; his political friends sent him to the federal senate in 1990. Buchanan was elected four times in a row as the Province's Premier, a feat matched only by Robert L. Stanfield. Buchanan's influence was great; his legacy maligned. Loved by all, his inability to say "No" drove the province into penury from which we may never emerge. (Harry Flemming, in his column in the Halifax Daily News, 22 February, 2001.) Not convinced? See what Frank McKenna, who had been Premier of New Brunswick, had to say. "Very simply, you in Nova Scotia had the worst government I have ever witnessed in this country." McKenna, a Liberal, was referring to the government of John Buchanan, a Conservative. In an 1996 article McKenna observed that the Buchanan years were marked by high unemployment, a single-year deficit of $617,000,000, and piling up of an $8,000,000,000 debt, were examples of "an abject abdication of responsibility." (Halifax Chronicle-Herald, 2 December 1996.)
A mention should be given to René Lévesque, the Premier of Quebec through the years, 1976-1985. Lévesque made sounds throughout his entire career on how Quebec should separate from the rest of Canada and become an independent sovereign nation. But the more interesting political story was in federal politics. That June, Joe Clark became Canada's 16th and youngest Prime Minister; he led a minority government. Clark, as Prime Minister, did not last long, as in the following year, on March 3rd, 1980, Pierre Trudeau, who Clarke had replaced, won the election and was returned to his Canadian throne.
Since I have now mentioned Trudeau, I shall give my short view of the man, a view shared by many (one either liked Trudeau, or disliked him, there was no in between). He was smart and well educated, however, he had a sharp tongue and a monumental ego. He was the Prime Minister of Canada from 1968 to 1984, except for that eight month period when Clarke led the country. Some consider Trudeau's economic policies to have been his weak point (see wikipedia's note on Trudeau). "Inflation and unemployment marred much of his tenure as prime minister. When Trudeau took office in 1968 Canada had a debt of $18 billion (24% of GDP) which was largely left over from World War II, when he left office in 1984, that debt stood at $200 billion (46% of GDP) ..." For many the image of Trudeau was that of "a well-to-do hippie and draft dodger." Historian Michael Bliss put it this way, Pierre Trudeau was "one of the most admired and most disliked of all Canadian prime ministers."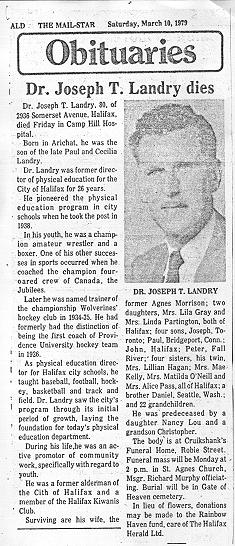 Louise's father, Louis Theriault died at the first of the year, January 22nd; he succumbed to lung cancer (he was a heavy smoker all his life). Then, within a few weeks, on March 9th, my father at the age of 81 died; he had been suffering from Parkinson's disease during the last couple of years (he led a healthy life: did not smoke or drink and was very conscious of his diet, in his younger years he was a well-known athlete and taught physical education through the years).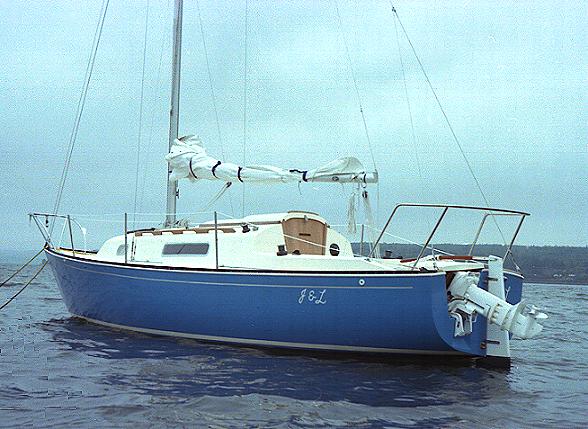 That spring we fell in love with a sail boat: a Hinterhoeller, Niagara 26: Length, 26'8"; Beam, 8'4'; Draft, 4'. So, I came to be a sailor, a typical calling for Nova Scotians over the years. It did not require much of a crew, one could manage the boat single-handedly, though most of the time I had a small crew, Louise, Lisa, Kara and Dana. Incidentally, the girls and I had a discussion as to what our sailboat should be named; we determined to call her the "J&L" after their grand-fathers: Joseph and Louis.
United Nations Secretary General Kurt Waldheim heralds the start of the International Year of the Child. Many musicians donated to the Music for UNICEF Concert fund including ABBA, who wrote the song Chiquitita, to commemorate the event. A couple of other memorable songs of 1979: Logical Song by Super Tramp, We Are Family by Sister Sledge and Sara by Fleetwood Mac.
On December 6th, the world premiere for Star Trek was held at the Smithsonian Institution in Washington, D.C. The movie follows the adventures of James T. Kirk and the crew of an exploration space vessel of the 23rd century, the Starship, Enterprise. Through the next thirty plus years there appeared ten more feature films and six television series. In addition, of course, there was to be dozens of games, hundreds of novels, a themed attraction in Las Vegas and at least two traveling museum exhibits of props. It became a cult phenomenon. Other movies in 1979? Well, there was Alien, another landmark of the science fiction genre. A mining ship, investigating a suspected SOS, lands on a distant planet. The crew discovers some strange creatures and investigates. "The success of Alien spawned a media franchise of novels, comic books, video games, and toys, as well as three sequel and two prequel films." (wikipedia) Two other movies which we must mention before moving on: Kramer vs. Kramer Best Picture, Best Director (Robert Benton), Best Actor (Dustin Hoffman) and Best Supporting Actress (Meryl Streep). The other, All That Jazz. It starred Roy Scheider and Jessica Lange. It won four Academy Awards (Best Art Direction, Best Costume Design, Best Editing, Best Original Score) and was nominated for a further five.