Memoirs, Or Shadows Of What Has Been


By Peter Landry

TOC



Chapter Thirty-One: Skiing & Sailing, 1980

In the month of May, 1980, Terry Fox ran through Nova Scotia. I am not sure when he arrived at Halifax, likely the end of May; at that time I was a judge, an Assessment Appeal Court Judge. (I heard real property owners complain about their tax bills.) While taking my exit from City Hall, where my little court was located, I walked through the parade square. That day there was some commotion, and there, coming up from Barrington Street and into the Parade Square towards a little group of political greeters, was Terry Fox, running along on his one leg with his characteristic "hip-hop," from his good leg to the artificial leg and back to his good leg again. He was in a sweat, his running shorts and sweat shirt were wet and slightly soiled; his face grimaced every-time he came down on his artificial leg. To tell you frankly, I did not know a thing about him as he ran by me; soon, I and many other Canadians were to know about Terry Fox and his, "Marathon Of Hope."

It was on April 12th, 1980, that Terry Fox began his marathon. When he began, Fox was only twenty-two years old. He had cancer, and, indeed, died from it in 1981. He had bone cancer; his right leg had been removed in 1977. With but one leg, Fox embarked on a cross-Canada run to raise money for cancer research. He intended to run across Canada, east to west. The Marathon began when Fox dipped his right and only leg in the Atlantic Ocean near St. John's, Newfoundland. His track included Halifax. After 143 days and 3,339 miles, his cancer returned; he had to give up. His "Marathon Of Hope" come to an end, for him, just outside of Thunder Bay. For his family and friends, however, it did not come to an end. Yearly, since his death, marathons have been staged once a year in many of the communities across Canada; it is reported, that in the last thirty years, $500 million has been raised in the name of: "Terry Fox." It was, and is, a wonderful thing, though I often wonder how all these millions have been spent?

That summer, former California Governor and actor, Ronald Reagan became the republican nominee for the U.S. Presidency. A little later that summer, Jimmy Carter defeated Senator Edward Kennedy to win renomination for the democrats at New York City. The 1980 presidential election unfolded that November; Ronald Reagan beat the incumbent, making Jimmy Carter a one term president.

The first serious crack in the communist regimes of eastern Europe showed up. That August, Lech Walesa guided the Gdansk Shipyard workers in the first of many strikes. These strikes led to the Gdansk Agreement. It provided for the first, in the communist block, free organization not controlled by government: "Solidarnosc" (Solidarity).

I mentioned in an earlier chapter how my first computer was a TRS-80. Well, I believe it was this year (maybe 1981) when I brought it home. I bought it at a Radio Shack store. The TRS-80 was one of three ("The Trinity") home computers that were making quite an impression in the market: Apple, Commodore and Tandy. The TRS-80 included everything you need to have a real computer of your very own; and, just for $500, an unheard of price for a computer. It had the computer box, monitor with attached keyboard and a cassette deck for loading and saving data. Yes, these were the days when one saved and loaded data and programs on cassette tapes. Floppy disk drives did not come into common use until years later. I learned to code in "Basic." I actually developed a spread sheet program, and, with it, prepared the budgets for the law firm. There was other programmes you could run, indeed, by 1980, the TRS-80 had the largest available selection of software in the microcomputer market.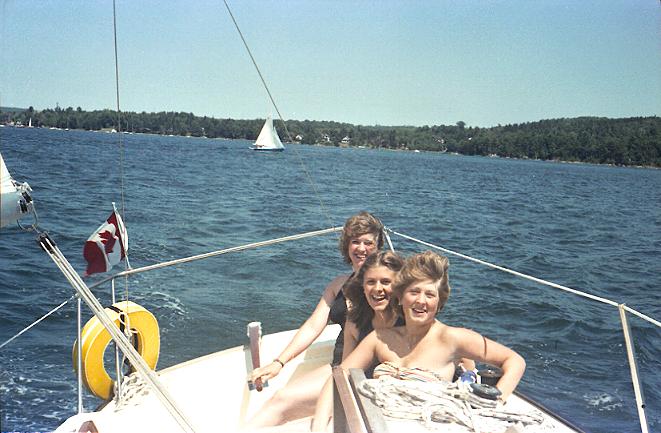 As one will see from the pictures: the family went cross-country skiing in the winter and sailing in the summer, usually all together. We sailed the J&L out of the Bedford Basin Yacht Club, up the Bedford Basin and on to McNabs Island (day runs). Sometimes we would sail away for days on end (usually St. Margarets Bay and Mahone Bay). We never got into bad blows, this because we kept a close eye on the weather forecasts as all sailors will do; plus, we had a Marine radio (VHS) on board (I had to be tested and secured a license in order to be a radio operator). Though we sailed over the deep Atlantic waters, the J&L never gave us any problems and she always delivered us to our destinations, safely. It was a great boat and I and the family have many fond memories of her.
Did a little travelling this year with Louise, which I but touch upon. During February we spent time in the Bahamas. That October we explored Quebec City. Maybe some day we can give details of these trips, including pictures.
It was in 1980 that Pac-Man (the best-selling arcade game of all time) was released. We had the game. I managed to eat a few dots, but then something came a long and ate me. One had to have good reflexes to play these sorts of games; kids are generally very good at playing such games.
In 1980, a number of personalities (better remembered by the older crowd) died. Among them: Alfred Hitchcock (b. 1899), British suspense film director; Steve McQueen (b. 1930), an American actor; John Lennon (b. 1940), of The Beatles fame, murdered in New York City; Colonel Sanders (b. 1890), American fast food entrepreneur, and; Marshall McLuhan (b. 1911), Canadian author and professor.
On November 21, 1980, a then-record number of viewers (for an entertainment program) tune into the U.S. TV soap opera Dallas to learn who shot lead character J.R. Ewing. The "Who shot J.R.?" event is an international obsession. As for other TV shows that were in full swing: M*A*S*H, Magnum P.I., The Jeffersons, and Little House On the Prairie.
At the theatres a number of memorable movies were showing: There was Nine to Five with Jane Fonda, Lily Tomlin and Dolly Parton. Then there was Ordinary People starring Donald Sutherland, Mary Tyler Moore, Timothy Hutton, Judd Hirsch and Elizabeth McGovern. It won four Academy Awards: best picture, best director (Robert Redford), best supporting actor (Hutton) and for Writing (Alvin Sargent). One of the more obscure movies is that which made its appearance in 1980, Breaker Morant, this one I really liked. It was made in Australia and revolved around the court martial of a soldier. It starred the British actor Edward Woodward as Harry "Breaker" Morant. The Shining is a 1980 psychological horror film produced and directed by Stanley Kubrick, co-written with novelist Diane Johnson, and starring Jack Nicholson, Shelley Duvall, and Danny Lloyd. The film is based on the novel of the same name by Stephen King. A writer, Jack Torrance, takes a job as an off-season caretaker at an isolated hotel. His young son possesses psychic abilities and is able to see things from the past and future, such as the ghosts who inhabit the hotel. Soon after settling in, the family is trapped in the hotel by a snowstorm, and Jack gradually becomes influenced by a supernatural presence; he descends into madness and attempts to murder his wife and son.
As for songs of 1980: Here are five that I recall: Rock With You by Michael Jackson, Lost In Love by Air Supply, Sara by Fleetwood Mac, Sailing by Christopher Cross and Cool Change by the Little River Band. I particularly remember Sailing and Cool Change, as we often would have them blasting from the audio recorder as we breezed along in the J&L.