Memoirs, Or Shadows Of What Has Been


By Peter Landry

TOC



Chapter Twenty, Back To Nova Scotia, 1969

In July of 1969, in an attempt to appease the French speaking people mainly to be found in the province of Quebec, the federal government made the French language equal to English throughout the Canadian national government. The move effectively cut many English speaking people, whether qualified or not, out of the running when it came to securing a good paying federal job.

It was also in July when Edward M. Kennedy drove off a bridge after attending a party on Chappaquiddick Island. Mary Jo Kopechne, a former campaign aide to his assassinated brother, Robert, died in the early morning hours of July 19th in the submerged car. In August, at Los Angeles, a gang of deranged persons inspired by their leader, Charles Manson, forced their way into the house occupied by movie actress Sharon Tate, wife of famed director Roman Polanski. A number of her friends were with her at the time and all were brutally killed. The murderers were strangers to the victims. More than 100 stab wounds were found on the victims. At the time Sharon Tate was eight and a half months pregnant.

That September, the first automatic teller machine in the United States was installed at New York. So too, in 1969, George Smith and Willard Boyle invented the first CCDs or Charge Coupled Devices at Bell Labs. The device was able to hold a charge corresponding to the variable shades of light cast upon it. CCDs, in the coming years, found their way into cameras, scanners and fax machines.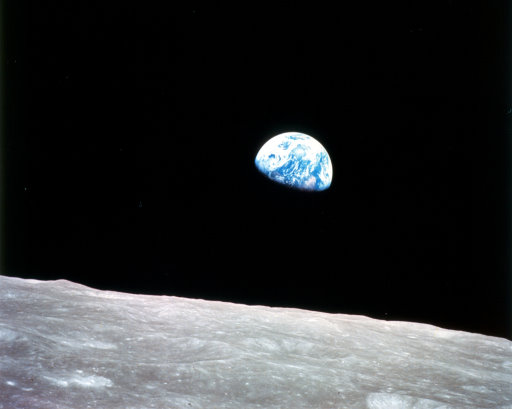 In 1961, President Kennedy, with a view to making it the leader in the "Space Race," announced that before the decade was out that the United States would put a man on the moon. Most people thought that the young president was being a bit rash. However, the U.S. spent the money, a huge sum, especially after Kennedy was assassinated in 1963, and did indeed put men on the moon and brought them back home. It was on July 16th, that Apollo 11 (Neil Armstrong, Buzz Aldrin, Michael Collins) shot off the earth toward the first landing on the Moon. Four days later the lunar module Eagle landed on the lunar surface. Millions of people around the world watched as Neil Armstrong took his historic first steps on the Moon. We were then living in Windsor Junction and I remember Louise, the girls and I watching the moment on TV. By July 24th the astronauts had returned to earth. From then on, the earth was looked upon as a small oasis of life in the void and people started to understand how precarious life on earth, is.
In the last chapter we saw how I had made the decision to leave Zellers and strike out in another direction. I was going to go to law school, but I was not sure how I was to go about that. I went over and talked to the chairman of the admissions committee. I would be welcomed at the school but there were certain academic requirements before my admission could be considered. All I had at that point was one year at St. Marys, and a poor one at that. I was advised that my application would be considered if I put in two years of academic work with marks above average. OK, So it was first back to St. Marys. Without running too far ahead of my story, I decided to get the two years done and come out with a degree, and, with marks that would get me into law school. Now, I had but five credits towards a Commerce Degree; I needed another 15 credits if I were to polish it off in two years. Students were only allowed to take five courses in the run of a semester. So, it would take three years at that pace. Determined I was; I took the full fifteen courses within two years and entered law school in the fall of 1971 with a B. Com. degree, completed with marks sufficient to get me in. The extra five credit courses were completed by taking two courses per summer and an overload of six courses in my last year at St. Marys which required permission. It was in the summer of 1969 that I took the first two credit courses. (I should say that I did not make things easy for myself, as I majored in economics. I pretty much maintained a B+ average, but the Law Admissions Committee, it turned out, was more impressed with a B+ in economics than an A in, say, sociology, it being what was then known as one of the "Micky Mouse" courses.)
Through all of this, while I had some money to fall back on, I would need a job which would allow me the time to pursue my studies and make enough money to keep the family going. (Louise did not go and get a job; her job was to give the backup necessary for a busy husband and three small children; it all worked out very well.) Though I considered selling real estate, I settled into the business of selling life insurance for Occidental Life and did so straight through to when I finally setup a law practice in 1974.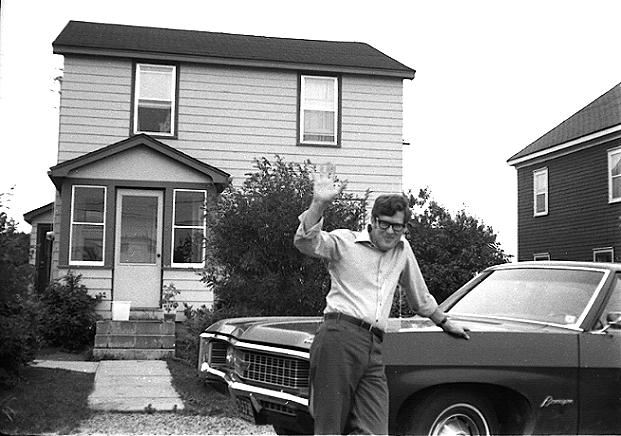 Let me now come back a bit to the first of 1969. It was January and we needed a place in which to live. We expected the moving company to deliver our furniture from Cobourg which they did at a cost of $713.40. We did not have a lot of time to look for a suitable place before our furniture arrived. I am not sure how we discovered our place in Windsor Junction, but it suited us and the rent was only $75 a month. Windsor Junction is on the outskirts of Halifax. It was/is a railroad junction and the trains ran right by our place. The neighbours were friendly, an elementary school nearby, and our back lane led to a lake which the kids practically lived in during the summer months. That June I bought a 1969 Chevrolet, new, for $4,024. I was allowed $1,624 for a trade in value AMC Ambassador. I paid the difference of $2,400 together with tax of $168 and for "Inspection & Registration," $2. I thought it best to have a car which I could totally rely on, as my life insurance business would take me over the roads, often at night.
As I have already mentioned I took up the selling of life insurance for Occidental Life (better known these days as Transamerica Life). One of the first persons that I looked up on coming back to Halifax was my old insurance agent, Ted Butler. Back when I first got married I purchased a term policy from him. I remember being quite impressed with his views on life insurance -- "Buy Term And Invest The Difference." Most agents did not want to sell a prospect, term insurance; premiums were low and often the commissions were also low. Agents who replace whole life with the much less expensive term were known as "Twisters" in the trade, and not much liked. Unlike the other companies, Occidental paid the same commission whether an agent sold term or whole life. Ted Butler went against the stream and made up for it, in sales volume. Ted taught me the spiel and I was soon selling term at a pretty respectable volume. The important point is that I sold most of the policies during the evenings by going to people's houses. A large part of my business came from the navy sailors. I learned to explain the benefits normally available to them through the navy and usually succeeded topping up their coverage with a $100,000 term (20 year decreasing) policy with Occidental for $7 or $8 dollars a month which I arranged to have automatically deducted from their pay (allotment); I sold a lot of insurance that way, I still get a small renewals check even to this day (2011). I often have thought that I might have been financially better off these days if I had stuck to the selling of insurance.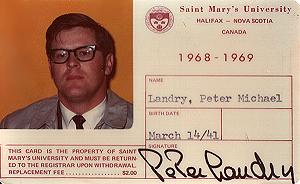 My daily schedule was to get up early and bring to school with me, often, two brown paper bags which Louise got together for me; one for lunch the other for supper, thus allowing me to inexpensively make my evening appointments. During the days I attended classes. (I am sure my fellow students thought me odd, as I often wore a business suit, so to be ready for the appointment, or two, which I had lined up for later in the day.) While at the university I was either attending class, in the library studying, or working the phone which I commandeered in one of the faculty lounges -- nobody ever questioned me. There were a lot of winter days when I left home in the dark and arrived back home in the dark.
In August the Woodstock Festival was held in upstate New York. It was billed as "3 Days of Peace & Music." During the sometimes rainy weekend, thirty-two acts performed outdoors in front of 500,000 concert-goers. Some of the performers were: Arlo Guthrie; Joan Baez; Santana; Grateful Dead; Creedence Clearwater Revival; Janis Joplin; The Who; Jefferson Airplane; Joe Cocker; Blood, Sweat & Tears; Crosby, Stills & Nash; and Jimi Hendrix: no wonder it is widely regarded as one of the greatest moments in popular music history. Though, I hasten to add, with the exception of Creedence Clearwater Revival and Blood, Sweat & Tears, I did not care much for these musicians: Joplin and Hendrix, I could not stand, but then again I wasn't doing drugs.
As to the rest of the entertainment scene (not that I had much time for it), that June, John Lennon and Yoko Ono conducted their Bed-In at the Queen Elizabeth Hotel in Montreal. Midnight Cowboy came to the screen. It showed the struggles of a naive male prostitute and his sickly friend as they try to survive on the streets of New York City. It starred Dustin Hoffman and Jon Voight. Then there was Butch Cassidy and the Sundance Kid starring Paul Newman and Robert Redford. That fall Monty Python's Flying Circus first appeared on BBC. So too, 1969 was the year when Sesame Street came to the National Educational Television network.
Among the musical hits being played at the time was Sittin On The Dock Of The Bay by Otis Redding, Proud Mary by Creedence Clearwater Revival, Son Of A Preacher Man by Dusty Springfield and Aquarius/Let The Sunshine In by the 5th Dimension.
Sorry, still no pictures, but there are lots to come in the future chapters.