Memoirs, Or Shadows Of What Has Been


By Peter Landry

TOC



Chapter Twenty-One, Camping & Fun With The Kids, 1970

On January 21st, 1970, Pan American Airways announced it has scheduled 747 service from John F. Kennedy International Airport to London Heathrow Airport. That March the Concorde made its first supersonic flight. As we have observed in a previous chapter, these were years when university students were showing their displeasure with racism, the Vietnam War and government administrations. On May 4th, 1970, four students at Kent State University in Ohio were killed and 9 wounded by Ohio State National Guardsmen, at a protest against the incursion into Cambodia.

It was in 1970, when Canada faced events in Quebec which were to be decisive as to whether the country was going to hold together: it was to be a constitutional showdown. It has come to be known as the "October Crisis."

The Front de libération du Québec ("Quebec Liberation Front", commonly known as the FLQ) was "a left-wing nationalist and socialist paramilitary group in Quebec." The FLQ was founded in the early 1960s, it supported the Quebec sovereignty movement. "It was responsible for over 160 violent incidents which killed eight people and injured many more." For example, the FLQ was responsible for the bombing of the Montreal Stock Exchange in 1969.

The "October Crisis" of 1970 unfolded as follows: On October 5th, at Montreal, the FLQ kidnapped James Cross, a British diplomat who was on official duty in Canada. The kidnappers's then demanded the release of all its imprisoned members. The next day the Canadian government rejected all their demands. On October 10th, at Montreal, a second kidnapping took place; Quebec Minister of Labour, Pierre Laporte was taken by the FLQ. At the time, Canada had for its Prime Minister, Pierre Trudeau, a no nonsense sort of a guy (in time I came to thoroughly dislike him). On October 16th, the federal Cabinet under Trudeau's chairmanship advised the Governor General to invoke the War Measures Act and was doing so under the requests of the Premier of Quebec and the Mayor of Montreal. Before the day was out the provisions of this act came into force. Without warrants, hundreds of suspected FLQ members and sympathizers were taken into custody.

The War Measures Act was enacted in 1914. It came into being because of WWI. It allowed the government to assume sweeping emergency powers in the event of "war, invasion or insurrection, real or apprehended." The act was invoked three times in Canadian history: during the First World War, the Second World War, and the 1970 October crisis. We should say, incidentally, in 1988, that the War Measures Act was replaced with the Emergencies Act. This, from a civil rights point of view, was a big improvement. The replacement act put some halters on the Prime Minister: The declaration of an emergency by the Cabinet must be reviewed by Parliament; and, Any temporary laws made under the Act are subject to the Charter of Rights and Freedoms. Interesting if one follows this through: section 33 of The Canadian Charter allows that the "Parliament or a Provincial legislature May Abrogate Certain Sections of This Charter." The certain sections include "section 2 or sections 7 to 15 of this Charter."

What we are talking about here, folks, is freedom of conscience and religion; freedom of thought, belief, opinion and expression, including freedom of the press and other media of communication; freedom of peaceful assembly; and freedom of association. That was just section 2, then there is section 7 through to 15: Life, Liberty and Security of the Person; Search or Seizure; the right not to be arbitrarily detained or imprisoned; Rights On Arrest; Presumption of Innocence; and, so on. Government continues to be a great threat to the citizenry of Canada.

The "October Crisis" pretty much played itself out by the end of the year. On October 17th Pierre Laporte was found murdered in south Montreal. At the first of December James Cross was released by the FLQ after being held hostage for 60 days. This came about as a result of negotiations. In return for Cross' release they allowed five of the principals to take safe passage to Cuba. There were three others, the suspected killers of Pierre Laporte, who were arrested.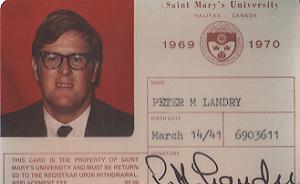 Coming back to more personal matters: In 1970 I was slugging it out as a full time student at Saint Marys working on a Bachelor of Commerce Degree. While my schedule was tight and many days were very long, things changed for the summer months. That Summer, 1970, I was not attending school for at least half of it; so, I took the time to be with the family. I see where we carefully set a schedule: Cape Breton, Digby (July 1st -7th), Fundy (Wk of July 7th), Kejim. (May 24th wkend; Aug 13th-17th), PEI (Jun 27th-Jul 2nd), Sherwood Forest (June 4th wkend; wkend Aug 20th) & Hubbards. Played with the kids all summer long.
In 1970, Coca-Cola first introduced their slogan: "It's The Real Thing." And the first use of a computer floppy disc. Alvin Toffler published his book Future Shock. Toffler was described as a sociologist and futurist. His book has sold over 6 million copies as of 2011 and has been widely translated. At the time I was not reading much that brought me outside of my studies, but this book of Toffler's, I did read. His theory -- "too much change in too short a period of time" will change society and probably not for the better, or we are all in for a hell of a surprize -- has been disputed, as a look on the internet will show. At the movie theatres: two stand out: Five Easy Pieces and Patton. Five Easy Pieces was a study of an emotionally distant outcast (Jack Nicholson) who was forced to confront his past failures. Patton starred George C. Scott as one of the American army generals of World War II, the sometimes brilliant, sometimes crazed, George S. Patton.
The songs that stand out for me in 1970: Close To You by the Carpenters, Bridge Over Troubled Water by Simon and Garfunkle and American Woman by the Guess Who.
On May 8th, 1970, The Beatles released their 12th album, Let It Be: it was to be their last one. On December 21st, 1970, Paul McCartney sued his former partners. This and succeeding actions carried on over the next two decades. The relief sought, from the start -- appointment of a receiver and an accounting -- was ultimately granted.
"They [The Beatles] achieved mainstream success in the United Kingdom in late 1962, with their first single, "Love Me Do". Gaining international popularity over the course of the next year, they toured extensively until 1966, then retreated to the recording studio until their break-up in 1970. Each then found success in independent musical careers. Lennon was murdered outside his home in New York City in 1980, and Harrison died of cancer in 2001."
Two other big events involving rock stars in 1970, were: Jimi Hendrix's death in London of drug related complications, and Janis Joplin's death in Los Angeles, in her hotel room, from an overdose of heroin.