Within 10 days of their arrival at Germany the Wordsworths decided to separate from their companions. We know more about Coleridge's stay in Germany (he stayed until July, 1799); but, as for the Wordsworths, we know little of their travels in Germany. As mentioned they had arrived in September, 1798, and it would appear they were quite prepared to leave before the year was out, but a severe winter on the continent encumbered travelers. The Wordsworths were to spend a number of weeks at Goslar. There, at Goslar, few "books were accessible, and the result was a period of great activity in composition."32 Upon the winter breaking up the Wordsworths were on the move again and were to eventually find their way to the coast and then back to England, arriving there, it is thought, in April of 1799.33

It is well, now, to consider events on the continent. Napoleon had managed to slip back from Egypt (autumn of 1799). France was then to make him First Consul (dictator) and the little general re-energized her. Italy was then taken which led to the "Second Coalition" (England, Austria, and Russia) to break up; with this, England was once again left, alone, to deal with France. Indeed, for a few months during the winter of 1800-01, there was formed a league against England; the league consisted of Prussia, Sweden, Denmark and Russia. This "was caused partly by the whim of the Czar Paul [and] partly by two feelings then prevalent in the Courts of Europe, fear of France and jealousy of English naval power."34 With Nelson's capture of the Danish fleet at Copenhagen in April, 1801, this league against England shortly came to an end.

Once in England, in April of 1799, William and Dorothy, having apparently no particular plan in mind, headed north to Stockton-on-Tees, six miles from Darlington to a farm run by Tom Hutchinson, Mary's brother; Mary was staying there. That October, at William's invitation, Coleridge was to arrive at the Hutchinson farm. Plans were soon laid for a trip west, to the Lake District, to the countryside known by Wordsworth in his youth. "From Temple Sowerby they made their way to Bampton, from Bampton along Hawes Water to Windermere and Hawkshead."35 From Hawkshead, Wordsworth and Coleridge wondered to Rydal and then to Grasmere. (See map.) At Grasmere they discovered, on the coaching road descending from Ambleside into Grasmere, a cottage for rent, formally an inn, "The Dove and Olive Bough." Wordsworth, then and there, made the determination that should be his new home.36 Having left Coleridge earlier in his travels, Wordsworth returned to the Stockton farm to tell Dorothy of his find.37 Travelling mostly by foot in December, Dorothy and William made their way to Grasmere, arriving there on the 20th. They then moved into Dove Cottage; a place that was to be their home for better than eight years.

Catherine Macdonald Maclean of University College, Cardiff, in her book on Dorthy Wordsworth, takes up the subject of Dove Cottage, Professor Maclean:
"The cottage, which was only a few feet off the road, stood above the lake. Behind it were the towering masses of Nab Scar. The orchard itself was but a slip of the mountain, enclosed and cultivated. It sloped upwards from the house so that from the top of it they could look right over the roof and see the lake. They had a view of the church and Helm Crag and more than two-thirds of the vale. Dorothy instantly built in her imagination a seat and a summer hut in this lofty and gracious place. She clothed the front of the cottage with honey-suckle and roses.38 ...
Dorothy found that much had to be done before the cottage would be comfortable. One of the rooms upstairs smoked like a furnace; some of the doors had to be mended; most of the rooms needed painting and papering; there was endless sewing to be done. ...
Soon the cottage was made neat and comfortable within-doors. To Dorothy it seemed to have only two serious disadvantages. It was very near the road, and it was so built that sounds passed very distinctly from one part of the house to another."39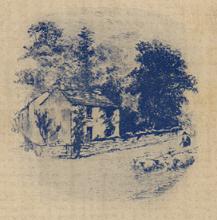 A more contemporary description of Dove Cottage is that which was given by de Quincey in his reminiscences. He was to first view it when he met the Wordsworths in August of 1807. De Quincey, incidently, was to become intimately acquainted with Dove Cottage, as, after the Wordsworths left it in 1808, it was to become his home for a period of time.
"A little semi-vestibule between the two doors prefaced the entrance into what might be considered the principal room of the cottage. It was an oblong square, not above eight and a half feet high, sixteen feet long, and twelve broad; very prettily wainscoted from the floor to the ceiling with dark polished oak, slightly embellished with carving. One window there was -- a perfect and unpretending cottage window, with little diamond panes, embowered at almost every season of the year with roses; and, in the summer and autumn, with a profusion of jasmine and other fragrant shrubs. From the exuberant luxuriance of the vegetation around it, and from the dark hue of the wainscoting, this window, though tolerably large, did not furnish a very powerful light to one who entered from the open air."40
De Quincey was to also give us a glimpse into Wordsworth's diminutive studio as was located upstairs in Dove Cottage. "I was ushered up a little flight of stairs, fourteen in all, to a little drawing-room, or whatever the reader chooses to call it." In it, like most living rooms of the day, there was to be found a fireplace. This upstairs room, itself, "was not fully seven feet six inches, and, in other respects, pretty nearly of the same dimensions as the rustic hall below. There was, however, in a small recess, a library of perhaps three hundred volumes, which seemed to consecrate the room as the poet's study and composing room; and such occasionally it was."41

The taking up of his residence at Dove Cottage heralded a new stage in Wordsworth's poetry writing. It was to be during these days at Dove Cottage that Wordsworth was to write some of his most charming poems of flowers, birds, and butterflies. On April 6th, 1800, Coleridge arrived at Dove Cottage. He had come back from Germany arriving some months after the Wordsworths (July, 1799). By this time Coleridge's family problems were becoming more serious; and, it seems, when the heat was on, one of the places to which Coleridge would run, was, of course, the Wordsworth's; who, always welcomed him and were to make little or no reference to his problems, the principal one being, of course, Coleridge's long standing opium habit. The main reason Coleridge was to spend some time with the Wordsworths, that spring of 1800, was to assist Wordsworth in the putting together of the 2nd edition of Lyrical Ballads.42 So, too, at Dove Cottage, there was to be found William's brother, John, who was then there for a visit. So, too, Mary Hutchinson was there for a period of time.43 By May 4th, Coleridge left the Lake District in order to see the publishers at Bristol. After Bristol, Coleridge went back to his family, still, I believe at Nether Stowey. Things were patched up sufficiently, such that, on June 29th, Coleridge arrived in the Lake District with his family -- Sara (seven months pregnant with Derwent) and four year old Hartley. On July 23rd, the Coleridges were to take up residence at Greta Hall, Keswick, locate some thirteen miles or so from Grasmere. (See map.)