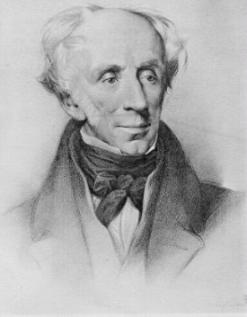 As we have now seen, William Wordsworth was to certainly have his critics, mostly, his fellow writers who were interested in selling their articles to the papers. Generally, though, those in political power and the common people that were to follow along, especially in his later years, all, were to honour Wordsworth. The railway, something that Wordsworth had resisted, at least in respect to the Lake District, was eventually to "run to Windermere, and enthusiasts poured all over his garden."94 In 1839, Wordsworth was granted a honourary degree by Oxford, Doctor in Civil Law. With Southey's death, Wordsworth was offered the Laureateship, which, while he at first declined, he was to accept with assurances from the Lord Chamberlain that it was to be but an honour bestowed for past services and that it was not expected he should render any services in the future.
At Wordsworth's age fifty-four, in 1824, the romantic world that he had know was fully behind him. Signs of the new modern age were now about him. New industries were envisioned: railway, gas, steamship, iron, and coal; companies were being organized for them all, most legitimate but not all. London then experienced a bull market which ran from summer 1824 to autumn 1825. Speculators elbowed in with dreams for sale; a credit crunch and, in turn, an economic disaster followed. In 1827, the first allied peace keeping mission, with Admiral Sir Edward Codrington in charge, sailed into Navrino Bay, Turkey, and on the 20th of October 1827 the Battle of Navrino insued, which while lasting only four hours, took the lives of 8,000 Turks and Egyptians. The allies lost only 178 men. This battle was to be the last of the great sea battles between the square sailed fighting ships. In 1830, there was to be another general election in Britain. The Duke's government was swept away and Earl Charles Grey (1764-1845) came in. It was his task to frighten, persuade and cajole the King, the Lords and the borough-owners into giving up their power; he had only to point to the European continent. In 1832 the Great Reform Bill was introduced into parliament, and, upon its passing, power was taken from the landed aristocracy and immediately taken up by the political jobbers.
In September of 1830, Wordsworth made his fourth tour of Scotland during which he was to pay a visit to his literary friend at Abbotsford. Again, I should think, Wordsworth and Scott would commiserate with one another, nodding their heads, expressing their horror of all reform: civil, political or religious. It was to be the last meeting: in 1832 Scott died. Dorothy, the lady, as de Quincey was to observe, who paced by Wordsworth's "side continually through sylvan and mountain tracks, in Highland glens," the lady who "first couched his eye to the sense of beauty" and "humanized him by the gentler charities, and engrafted, with her delicate female touch" and whose graces were to subdue Wordsworth's "ruder growths of his nature"95 -- Dorothy, was now ill. Her illness started in 1829; an illness that was to last many years. All along, Mary Wordsworth was to take loving care of Dorothy.96 In 1834, Wordsworth was to hear of the deaths of two old friends: Coleridge and Lamb. Three years later, as we mentioned earlier, Wordsworth was to make his last continental tour with his friend Crabb Robinson, including Italy, there to visit the graves of Keats and Shelley. In 1843, Southey died and was buried at Keswick. He had been the Poet Laureate of England since 1813, and with his death, the English government immediately pressed the honour upon Wordsworth. Then there were two events of great importance to Wordsworth's life, which involved his daughter for whom he had a great love: the one in 1841 and the other 1847. I can do no better then to set forth the description given by Edith Morley:
"The poet was not enthusiastic about the proposal that his beloved Dora should wed a middle-aged widower who was also a Roman Catholic and without means. But when he found that her heart was in it, the only stipulation he made was that Quillinan should be in a position to support her. When, four years later, that natural proviso was not met, the poet made the couple an allowance out of his own small income, and the wedding took place in 1841. By that time Dora's precarious health was already undermined, and she survived her marriage for less than six years, which were chequered by constantly recurring illness. She died in July 1847 [but 43 years of age], and Wordsworth never recovered from the shock. It is pitiful to read in letters to and from Crabb Robinson, and in his journals, of the old man's bursts of grief, his silences, and his inability to settle to any occupation."97
Wordsworth remained vigorous through his later years. At 60 years of age, Dorothy was to write, "he still the crack skater on Rydal Lake, and, as to climbing of mountains, the hardiest and the youngest are yet hardly a match for him." Dorothy was also to write, "In comparison I can perceive no failure, and his imagination seems as vigorous as in youth."98 However trouble with his eyes limited him and his output of poems dropped accordingly.

William Wordsworth was to die at eighty years of age. Wordsworth -- though I dare say the authorities would have readily agreed to place his remains with the rest of the literary lights in the Poets Corner of Westminster Abby -- was buried, appropriately, in the churchyard of Grasmere.