We have seen where in June of 1794 where Coleridge and Southey had first met through the acquaintance of mutual friends. Coleridge had come over to Oxford on a visit from Cambridge and upon meeting, the two became fast friends. The intended visit of a couple of days turned into a visit of a couple of weeks as plans were laid for a pantisocracy. On parting the two determined that they would soon meet up again. Coleridge was to make a tour with his Cambridge friends to Wales, the object being to recruit a few new pantisocrats. Southey, with the same object, left for his native Bristol. By August, the two had met up at Bristol, and Southey was soon making the rounds in order to introduce his new Cambridge friend.8 One of the households visited was that of the Fricker family. This family was headed up by a widow who ran a dress shop in Bristol and consisted of three very attractive older girls, a younger girl and a younger boy.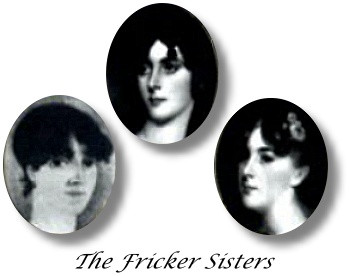 Southey was already courting one of the Fricker sisters, Edith (1774-1837) and his friend Robert Lovell (1770-96) had, just that year, 1794, married, Mary (b.1771). The oldest, Sarah (1770-1845), and Coleridge were almost immediately attracted to one another; a match which Southey was to actively promote. The Fricker sisters were to be the ideal mates envisioned in a pantisocracy. Things were very pleasantly falling into place. Bristol was to be from where the pantisocratic plans were to be finalized and from where the founding members would board a sailing ship for America. An essential beginning was to find some money: none of these young people had any: maybe they could publish certain of their writings, maybe their poetry, maybe a play. In any event, though it would seem he had now formed the attention to make the Bristol area his home base, Coleridge was obliged to leave Bristol in order to take care of certain outstanding matters. So, we would have seen at the first of September in 1794, Coleridge leaving Bristol "to a flutter of Fricker handkerchiefs and the republican salutes of his fellow Pantisocrats."9 He was headed back to his studies at Cambridge via London. Once back in Cambridge a "period of frenetic indecision"10 was to ensue. He had made commitments to Southey and to Sarah Fricker, but once away from them he was not so sure he should follow through.
More than one of the pantisocrats were to have doubts about whether the envisioned community would ever come into being. Coleridge had his doubts; but really it was Southey who was the first to come out with it, and suggested, instead of going off to America, maybe they could find a farm in Wales and try to establish a community there. But Southey was to soon give up on the idea of pantisocracy all together. The plans of these young men did not much impress Southey's family; it was thought that Robert should go to the ministry, or, if not that, then he should read for the bar. In the meantime, it was suggested, that Robert should take a little time to think about things; he should go to Portugal and have an extended visit with an uncle. Southey agreed; he gave up his ideas of pantisocracy. This decision, however, did not entail giving up his idea of marrying Edith Fricker. The marriage of Robert Southey and Edith Fricker took place in November of 1795, with considerable secrecy, in the parish church of the Fricker family, St Mary Redcliff, Bristol; immediately after the ceremony Southey departed for Lisbon, alone. But I run ahead of my story.
Last we saw Coleridge, he had left Bristol in August of 1794 to go to Cambridge via London. Coleridge might have well carried on with his studies; but throughout the balance of the year (1794) and into the next, he was to spend as much time in London as anywhere else. It was during this time, it is speculated, that Coleridge was to first meet Wordsworth, in London; there thus began one of the most noteworthy literary collaborations, ever. Throughout these months letters were exchanged with Southey, and Coleridge was to learn that his fellow pantisocrat had lost his enthusiasm in respect to the plans that they had made to live together in a egalitarian colony. Coleridge returned to Bristol: he wanted to face Southey, and, I think, he needed to be with Sarah Fricker.11 When, he made his way back to Bristol, I do not know, likely in the early spring of 1795. The personalities of Coleridge and Southey were just too different and their friendship, a deteriorating one as can be seen through their correspondence that previous winter, came pretty much to an end as their arguments became "increasingly fierce and personalised."12
"For Coleridge this was a profound shock. He had lost the friend whom he had come to regard as his 'Sheet Anchor.' He wrote with sudden hysteria of Southey's "catalogue of lies," and his low, dirty, gutter-grubbing" compromise with the world. In fact it was this intense emotional clinging, as well as his 'indolence,' which finally repelled Southey and convinced him that Pantisocratic partnership -- even farming in Wales -- would never work."13
That October, the 4th, 1795, Coleridge married Sarah Fricker at the church of St Mary Redcliff, Bristol. Robert Southey was not present; nor was any of Coleridge's family, indeed, a year was to pass before Coleridge brought his wife to visit his family at Ottery.14 That fall they spent their first happy months in a cottage at Clevedon not far from their family and friends, just west of Bristol. In time, Coleridge was to make his excuses to Sarah on how he would have to spend time away from her (it was to become a regular scene between the two of them) as he had pressing literary business, elsewhere. Initially this literary business was to be conducted in Bristol, however, Coleridge did travel about, often giving talks -- making a little money there, a little money here. In such a way he was to come into contact with Tom Poole (1765-1837) who lived at Nether Stowey, a community just south of Bristol. Poole was a literary enthusiast who had inherited from his father a successful tannery business at Nether Stowey. Poole was a well respected member of the community.15 Poole was charmed by Coleridge.16 Hearing, I suppose, that the accommodations at Clevedon, a small cottage, was not now to Coleridge's liking, Poole proposed that he could lend to Coleridge and Sarah a cottage just beyond his garden gate. The invitation was taken up, and the Coleridges moved to Nether Stowey. This was to occur in December of 1796. Prior to that, during September of 1796, Sarah was to be delivered of her first child, a son, Hartley. With this event, given that their wives were sisters, it is seen that Southey and Coleridge were to partially makeup.

By this time, the close of 1796, the dreams of the pantisocrats had come to an end. They had resolved to pass their lives like regular people without troubling themselves any further about moving away to live on a collective commune. Brailsford in his work in the area was to make reference to this most famous literary tale:
"It is a tale which every student of literature has delighted to read, how Coleridge and Southey, bent on founding their Pantisocracy, on the banks of the Susquehana, came to Bristol to charter a ship, and whilst they waited, dimly aware that they lacked the funds for the adventure, anchored themselves in English homes by marrying the Fricker sisters."17