Sir George Prevost
(1767-1816):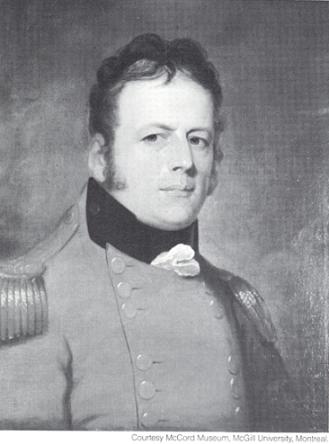 Prevost was born to a Swiss family in Geneva.1 His father was a British army officer who served under Wolfe at Quebec in 1759. The son, our subject, George Prevost, was commissioned an ensign in his father's regiment in 1779. When the Napoleonic Wars got under way in 1793, Prevost was well positioned in the army. (Two things he had going for him were that his father was a veteran army officer and his maternal grandfather was a rich banker.) He saw active service in the West Indies. In 1794 he was promoted lieutenant-colonel in the 60th Foot. In 1798, Prevost was made a Brigadier-General and appointed Lieutenant-Governor of St Lucia, "where his fluency in French and conciliatory administration won him the respect of the French planters."2 In 1802, he was chosen Governor of Dominica. "In 1803 he fought against the French to retain possession of that island and to recapture St Lucia. Promoted major-general on 1 Jan. 1805, he obtained leave to visit England, where he was placed in command of the Portsmouth district and created a baronet."3 Prevost might have continued on, in what one would think was a comfortable life in England.4 An event, however, was to intervene in Prevost's career which occurred off the coast of America, called the "Chesapeake Incident."
On June 22nd, 1807, the 50-gun, British frigate, Leopard, had demanded the right to examine the crew of the U.S.S. Chesapeake, 38 guns, for the purpose of impressing British deserters alleged to be on board. The versions of this meeting are different depending on whether it is an American or an Englishman who is telling the story. One version is that the Leopard hailed the Chesapeake to come up into the wind as she was going to be boarded. The Chesapeake refused. With that, the Leopard poured three broadsides into the American ship, rendering her helpless. Another version is that Captain Humphreys "sent over an officer with his admiral's order and requested permission to search for deserters. The American Commodore Barron rejected the request and Capt. Humphreys, after repeated hailing, first directed that a shot be fired across her bows and then that several shots should be fired into her. Ten minutes later the Chesapeake surrendered ..."5 After this event, the Leopard returned to Halifax with her four prisoners where they were dealt with and punished as deserters (two of them died in the gruesome process). The "Chesapeake Incident" spread in America, and with it, talk of war.
Exactly how Prevost was called out and given his promotion to become the Lieutenant-Governor of Nova Scotia, are details I do not possess. Clearly though, the British administration were of the view that what was needed at Halifax was a younger man with military experience. Wentworth did not fit the bill, Prevost did. On April the 7th, 1808, Prevost came into Halifax Harbour. He brought with him 3,000 soldiers, consisting of three Regiments. Wentworth had no advance warning of Prevost's appointment. There was a notice contained in a communique to Wentworth, however, it came in a ship some 18 days after Prevost's arrival.
Within the week of Prevost's arrival, the Council met on April 13th. At the meeting were Wentworth, Prevost, Blowers, Croke and others; and, after having seen Prevost take the oaths and sign the rolls, Wentworth gave the chairman's chair to Prevost. Prevost served in this post until 1811.
The transition of power having come about smoothly, Prevost immediately went to work. He was a military man and it was necessary to get a better fix on a potential enemy, the United States. What better way then to send a spy. This spy was John Howe, whose son Joe was to become in later years one of Nova Scotia's most famous politicians. John Howe was to go to Washington, Norfolk and New York.6 (Six years later Washington was to be sacked by the British.) Prevost also went about fixing the fortifications in and around Halifax which had been left to slip. Apparently, Prevost was told in London before he sailed for Halifax that there was nothing special that London could do for the retiring governor, Wentworth, and that he should get the province to pay him a pension. On May 30th, Prevost wrote Castlereagh to advise that he had "managed to get the House, not without difficulty, to vote a pension to Sir John Wentworth of £500 per annum during his lifetime according to His Majesty's instructions."7
On July 7th, 1808, Lord Castlereagh wrote Prevost "to hold the troops he had accompanied to North America in readiness for distance service."8 On December 6th, Prevost sailed with his troops. He arrived at Barbados 23 days later. The British then proceeded in a successful campaign to capture Martinique. On April 15th, 1809, Prevost with his troops arrived back at Halifax.
Prevost seemed to have an eye on what was in the best interest of Nova Scotia during his three years as its governor. For example he wrote the authorities in London that coal mines should be opened up in Nova Scotia. We quote from Beamish Murdoch's work:
"1811. January 19. Sir George Prevost transmitted to the Earl of Liverpool a petition from merchants and others, of Halifax, praying that the king would permit the coal mines in Nova Scotia to be opened and worked under such regulations as it might be advisable to establish. He tells the minister that there is evidence of coal abounding in this province, and that in parts of it, veins of coal were partially wrought by the proprietors of the soil whereon they are found, for their supply of fuel and their neighbours, notwithstanding the restraining clause inserted in all grants to prevent such practice; and he recommends that the petition be acceded to by the crown. (Some of the early grants only reserved mines of gold and silver.)"9
In 1811, Prevost was assigned a new duty. He was to become the Governor of Canada. War was now very close with the United States and it was thought that additional military strength and experience was necessary as it was expected that the Americans would initiate a land attack against Upper and Lower Canada. On August 25th, 1811, Prevost, his family and his household staff sailed on the Frigate, H.M.S. Melampus, 36 guns, in company with the 16-gun, HMS Rattler. Within two months, on October 16th, Nova Scotia's new governor arrived, General, Sir John Coape Sherbrooke "with his lady and family," after 37 days passage from Portsmouth.
I leave it to others to tell of Prevost's career in Canada. It is enough to say that he was in charge through the campaigns of the War of 1812 which stretched from Detroit to Kingston. It seems to me that the British had extraordinary success along these inland fronts against the Americans, many of whom thought Canada was to be easily won. However, Prevost made enemies which brought stories back to London especially about the reasons for his defeat at the Battle of Plattsburgh in 1814. At the end of the war, which end came along within a few months of Plattsburgh, Prevost was surprised at his recall to England. In August of 1815, a naval court of inquiry found that the failure at Plattsburgh was caused principally because of Prevost's urging the British naval squadron of Lake Champlain into action before they were ready and not giving the promised help from the land forces at the time the navy entered Plattsburgh Bay. Prevost requested a military court martial so that he might vindicate himself. A time was fixed for it, January 12th, 1816, however, Prevost health slipped and he died before the court martial was to convene.
It seems unfortunate that one's reputation has always rested on the last battle fought. That Prevost -- though the full story did not come out -- may well have miscued at Plattsburgh; it seems a shame that the British defeat at Plattsburgh should colour all of his career. For most all of it, George Prevost was entirely successful. He was in charge during a number of successful battles both in Upper Canada and earlier in the West Indies. In civil administration, it seems, during his three year governorship of Nova Scotia, he was equally successful.
_______________________________
NOTES:

1 See Reginald V. Harris' short biographical sketch on Prevost, in Charles Inglis, Missionary, Loyalist, Bishop (Toronto: General Board of Religious Education, 1937) at p. 174.

2 Dictionary of Canadian Biography Online at http://www.biographi.ca/EN/index.html : 3/16/2005 As often referred to in these pages simply as DCB.

3 DCB.

4 Prevost, according to the DCB, married, on May 19th, 1789, Catherine Anne Phipps. The pair had five children.

5 http://www.cronab.demon.co.uk/INTRO.HTM -- in its description of the Leopard

7 Calendar Nova Scotia, 1802-1815, PANS, 1936. We see where on September 7th, 1808, the government responded to Messrs. Robt. Letson & Son, Sadlers and Harness Makers, advising that the current Lt Governor (Prevost) will "assume no liability for the debt which was the subject of their memorial." It is suggested "that they apply to Sir John Wentworth that he include their demand in his unsettled accounts." (Calendar Nova Scotia, 1802-1815.

8 Murdoch, vol. 3, p. 284.

9 Murdoch, vol. 3, p. 304.