Memoirs, Or Shadows Of What Has Been


By Peter Landry

TOC



Chapter 50: Y2K and the "Stinky Peanut", 1999
On January 1st of 1999, a new and powerful currency entered into the commerce of the world: the euro. This occurred because certain of the old European countries had come together as a union under a treaty struck earlier in the decade. The euro replaced such currencies, as for example: the French franc, the Italian lira, the German mark and the Dutch guilder. Though the UK had signed up, but it kept its currency, the pound.
This was the year where anyone who used computers (by then, most everybody), heard of "The Melissa Worm." Whatever it was, it was not a worm (a standalone program) but rather a virus. And though I am well out of my league, a virus depends on existing computer code that it latched onto, such as Microsoft Word. I have not heard of it since, so, presumably, the big outfits with big programs straighten things out; though, spreading viruses still exist. The code was let loose by a fellow in New Jersey. He was tracked down, and though it is claimed that The Melissa Worm caused damages by disrupting personal computers and computer networks in business and government, its author only received a fine of $5,000 and a twenty month prison term (Wikipedia).
Other noteworthy matters of 1999: the Columbine High School massacre on April 20th at Colorado, where two teenagers shot to death twelve students and 1 teacher, after which they killed themselves. On June 12th, Texas Governor George W. Bush announced he will seek the Republican Party nomination for President. On July 16th, off the coast of Martha's Vineyard, a plane, piloted by John F. Kennedy Jr. crashed into the sea, killing him, his wife and his sister-in-law. There are two events recalled which unfolded on December 31st: the US turned over complete administration of the Panama Canal to the Panamanian Government, as it had agreed to do in 1977; and, Boris Yeltsin resigned as President of Russia, leaving Prime Minister Vladimir Putin as its President, a position which he was to occupy for many years to come. The two notable persons who died in 1999: the English pop singer, Dusty Springfield (b. 1939); and an English jurist known by any student of the English law, Lord Denning (b. 1899).
As the year closed there seem to have been a lot of fuss made about what might happen to computers as the year 1999 turned into 2000. It was known as the Millennium bug, or the Y2K bug. The talk of this was all the rage. It seems that in previous years, programmers took a shortcut. Instead of allowing for four-digit years, they represented the years with only two digits; thus making the year 2000 indistinguishable from 1900. Likely the big outfits that used computers checked the code on their computers and took corrective action. There were others, however, who chewed their finger nails as the new millennium neared. I do not remember that there was any kind of a widespread problem as January 1st, 2000 came on the scene.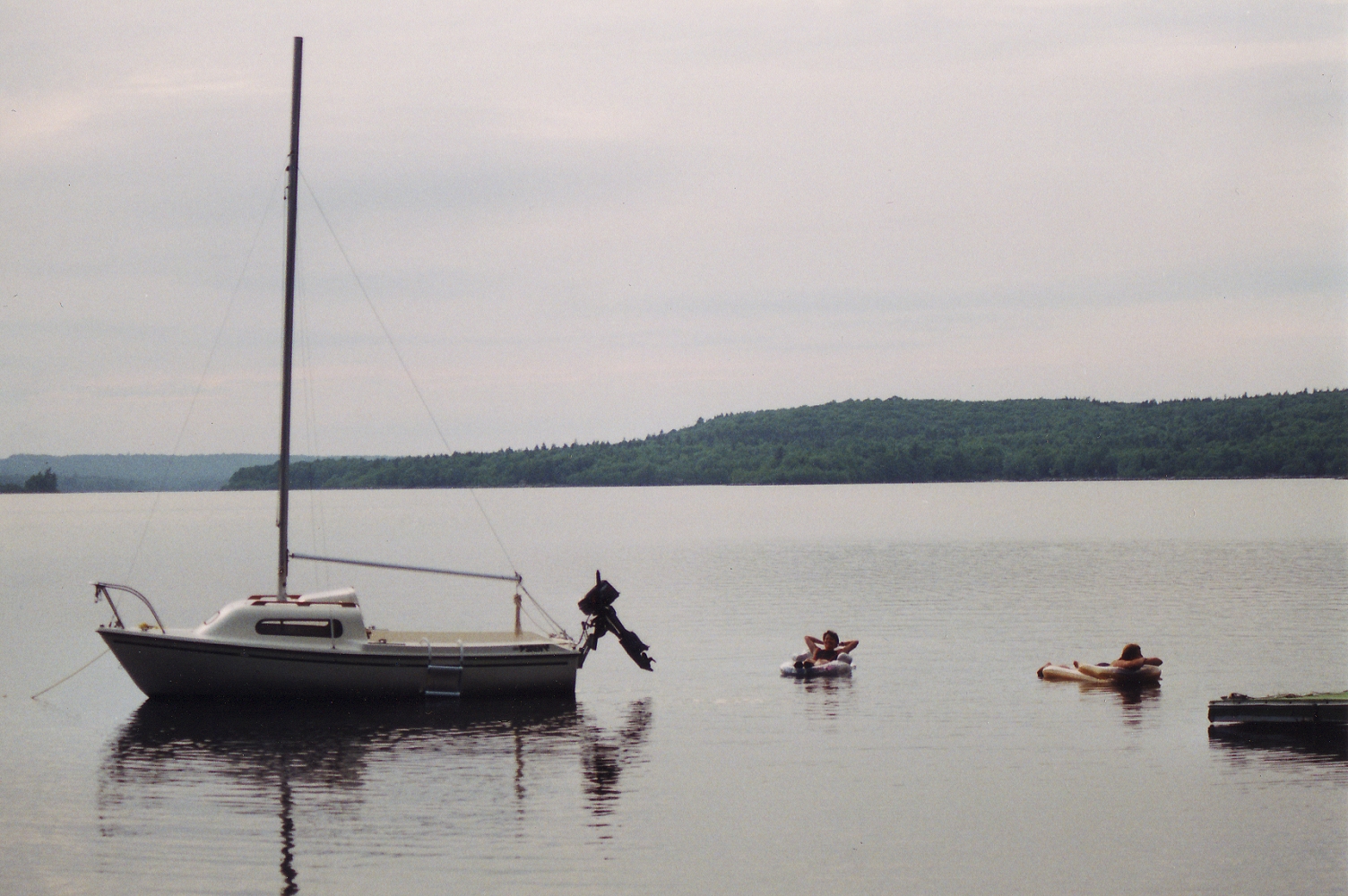 A cottage is one thing (we acquired one the previous year), but somehow I went back to my sailing days of twenty years earlier. In 1999, I thought we might combine the two - why not a smaller day sailer for the lake. I bought the "Stinky Peanut," trailer and all, and launched it at the cottage. The matter did not work out. But first, let me explain the adopted name. It was an older gentleman in Dartmouth who advertised his sailboat for sail; I went; the price was right; I bought. After trailering it to the cottage we examined the mast. Once put on its end, old decayed peanuts came tumbling out of the foot of the hollow mast. I image the vendor had kept the boat in his yard for awhile. He also apparently like to feed the squirrels in his back yard. As for the squirrels, - as squirrels will do - they prepared for the winter and found the open end of the mast stretched horizontally along the deck in it storage position; they loaded it up with peanuts, which stayed there, I suspect for a number of seasons. The "Stinky Peanut" come to no good end and I sold it by the next season. It had a drop keel which I had raised up while moored off the cottage front. I should have dropped it, but that proved to be a problem as I did not have a lot of depth at the mooring. One day a wind came up and the boat went turtle. On hauling it ashore, another problem came along. We put a hole in the hull. It had fetched up on an errant rock by the shore. So, Margo and I found a boat repair shop at a yard handy Lunenburg (an adventure, in itself) and had the boat fixed up. After all of this - the "Stinky Peanut" never did feel stable for me. (In my earlier boating days I had a larger boat, the "L&L," with a fixed keel; she was as stable as any sea worthy boat.) Well, there is no use going into the technical features of a sailing boat; the simple fact is that I sold the "Stinky Peanut" and accepted that my days of owning a sailboat, were over. One might find a few pictures of our adventures with the "Stinky Peanut."
We went off to Cuba in 1999, where Peter gave away his daughter, Kara, to Chris MacDonald; the marriage turned out, from all appearances, to be a good match. Also, in our travels, we went for a tour of the Western Isles of Scotland, with Roger and Paula Churhill, I intend in the future to dig out the pictures I have on these two events and give them a spread.
The top songs for 1999:
"Believe" By Cher
"Livin' la Vida Loca" By Ricky Martin
"That Don't Impress Me Much" By Shania Twain
"Smooth" By Santana Rob Thomas
As for the top movies of 1999:
The Talented Mr. Ripley: It starred Matt Damon, Jude Law, Gwyneth Paltrow and Cate Blanchett. The background scenery of Italy is a recommendation in itself: Positano, Anzio, Venice and Rome. It was nominated for several Academy awards.
American Beauty: Kevin Spacey stars as a 42-year-old advertising executive who has a midlife crisis when he becomes infatuated with his teenage daughter's best friend. Annette Bening co-stars as Lester's materialistic wife. The film won Best Picture, Best Director, Best Actor (for Spacey), Best Original Screenplay, and Best Cinematography. It was nominated for and won many other awards and honors, "mainly for the direction, writing, and acting."
The Cider House Rules: The movie is of the WWII-era and tells of a youth, who lives in a Maine orphanage run by a doctor (Michael Caine) who performs illegal abortions. The movie won two Academy Awards: the Academy Award for Best Screenplay and Best Supporting Actor (Caine).
CLASSICAL:
Liszt Hungarian Rhapsody No.2: Liszt originally wrote this for solo piano, but it comes to life in this orchestral version.