Memoirs, Or Shadows Of What Has Been


By Peter Landry

TOC



Chapter Fourteen: Bathurst & Dana's Birth, 1963-4

On April 22nd, 1963, Lester Pearson became the 14th Prime Minister of Canada. He had won the Nobel Peace Prize in 1957 for his involvement with the United Nations Emergency Force and his efforts to resolve the Suez Canal Crisis. He was the Prime Minister to April of 1968. On June 26th, John F. Kennedy gave his 'Ich bin ein Berliner' speech in West Berlin. On August 28th, Martin Luther King, Jr. delivered his 'I Have A Dream' speech at Washington on the steps of the Lincoln Memorial to an audience of at least 250,000. Coca-Cola first introduced its slogan: "Things Go Better With Coke." Harvey Ball, an American commercial artist, came up with the ubiquitous smiley face symbol.
In March of 1963, I was transferred from Truro to be the Assistant Manager of the Zellers store at Bathurst, New Brunswick. Like most all of its stores that I worked in, the location of the one at Bathurst was downtown. None of these downtown locations exist any more. Zellers, deserting the downtown locations, have turned themselves into Big Box Stores located at the edges of the communities where they could build big and have lots of parking about.
To get to my new position, I drove my Austen Mini from Truro to Bathurst, a distance of about 200 miles. Now, like most, the Zellers store at Bathurst had a stock room manager. I cannot think of his name at this time, but he was a congenial French fellow. (Bathurst and the shores leading from there in both directions contain a lot of French families.) It must have been that he was to meet me just outside of Bathurst and drove with me the last few miles to Bathurst. As we drove along a peculiar smell was in the air and stronger. I asked my traveling companion, "What is that smell?' His answer, "The smell of money." Bathurst had a paper making mill; one soon becomes accustomed to the smell.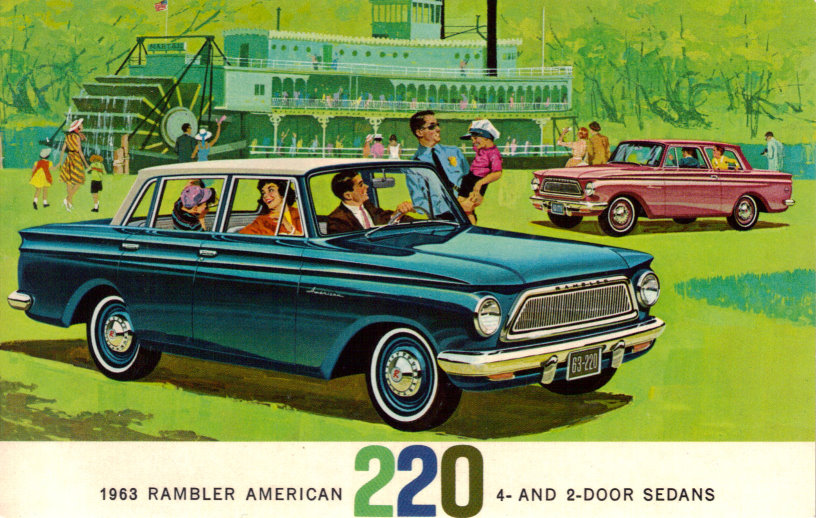 The drive up to Bathurst was about the last time I drove the Mini; it had served me well. I bought a new American Rambler 220, a car better suited to my growing family. The colour was more like the one in the background of the picture to the left. It was a two door, but when the kids were young, I preferred the two door. I should also add that the kids were simply put in the back unrestrained in any way. These days it is considered criminal if you do not belt kids in.
Once I found a place to live I would return to bring Louise, Lisa and Kara to their new home at Bathurst. This I did in reasonably short order. Our new residence was on St. Peter's Avenue just across the bridge, to the left, in West Bathurst. It was the over part, in an over and under duplex.
I remember fishing on the Nepisiguit River with some friends. The Nepisiguit is a major river in New Brunswick. Its source lies deep inland and enters the sea at Bathurst, which is situated on the Bay of Chaleur. One does not have to get too far upriver from Bathurst before experiencing nature in all its rugged beauty. Several water falls are to be found along the Nepisiguit, including Indian Falls, Nepisiguit Falls and Pabineau Falls. Many had been captured for hydroelectric power generation.
The event that is most vivid in my memory is the assassination of John F. Kennedy and the subsequent events. I was, like so many young people of the time, fascinated with Kennedy and his administration. His death came as a shock. The store at Bathurst, then, was a two floor operation. It was a Friday. I was on the lower floor near my small office. I was doing some counter work, wiring transistor radios to a pegboard mounted on a counter end. I had one turned on as part of the display: The news came over it: Bulletin.
On 22nd November, 1963, Friday, at 12:30 p.m. at Dallas, Texas, President John F. Kennedy while parading through the down town in his open Lincoln convertible, was shot by a sniper. He most certainly died when the second shot tore his head wide open; that part, however, was not immediately released. Now, we would have been two hours ahead, so I heard the news around 3:00 o'clock. The working day for me was over: I went to my office and stayed glued to the radio there until quiting time. All the news coverage for the next four days was devoted to the assassination, its aftermath, the procession of the horse-drawn casket to the Capitol Rotunda, and the funeral of President Kennedy. Two days after Kennedy's assassination, a Sunday, the store was open (they never were back then), not to the public, but just for staff so that they could get their Christmas shopping done with an extra discount being extended. Another shock: Lee Harvey Oswald, the alleged assassin, was shot dead by Jack Ruby in Dallas, live, on national television.
Another big event, about three months later, was the birth of my third daughter, Dana, on March 8th, 1964. I am not sure I was at Bathurst at that time as I had just been transferred to Fredericton to become the Assistant Manager of the largest Zellers store in the Maritimes. This move meant to me that my next move would be to my own store. (My retail career was nicely progressing.) I remember going to the hospital at Bathurst, driving over from Fredericton, and going into Louise's hospital room. She had a tear in her eye; she thought it was time she delivered a boy for me. I assured her that three little girls suited me, to a "T"; and it did; but her family and/or French background led her to believe we had to have a boy. After this event, Louise went on the pill and there were to be no more little ones.
The movies of 1963: The Great Escape being a film about Allied POWs and how they devised a plan to escape from a Nazi prison camp. It starred Steve McQueen and James Garner. Then there was Alfred Hitchcock's heart-pounding work, The Birds, starring Rod Taylor and Jessica Tandy. A movie that I really enjoyed was, Tom Jones, being a rousing adaptation of Henry Fielding's classic, starring Albert Finney and Susannah York. The real big movie of the year which received a lot of hype was Cleopatra starring Elizabeth Taylor, Richard Burton, Rex Harrison, Roddy McDowall and Martin Landau. The movie chronicled the struggles of Cleopatra VII, the young Queen of Egypt, as she went about resisting the imperialist ambitions of Rome by any means in her power. Though it was the highest grossing film of 1963, earning US $26 million, it cost $44 million to make.
The big songs: I Want to Hold Your Hand and I Saw Her Standing There were released, marking the beginning of Beatlemania. It was in 1963, that a Twelve year old, Stevie Wonder released his first album. Others: It's My Party by Leslie Gore, Those Lazy Crazy Days of Summer by Nat King Cole, Ring Of Fire by Johnny Cash and A Summer Song by Chad & Jeremy.