Memoirs, Or Shadows Of What Has Been


By Peter Landry

TOC



Chapter Twelve, Love & Marriage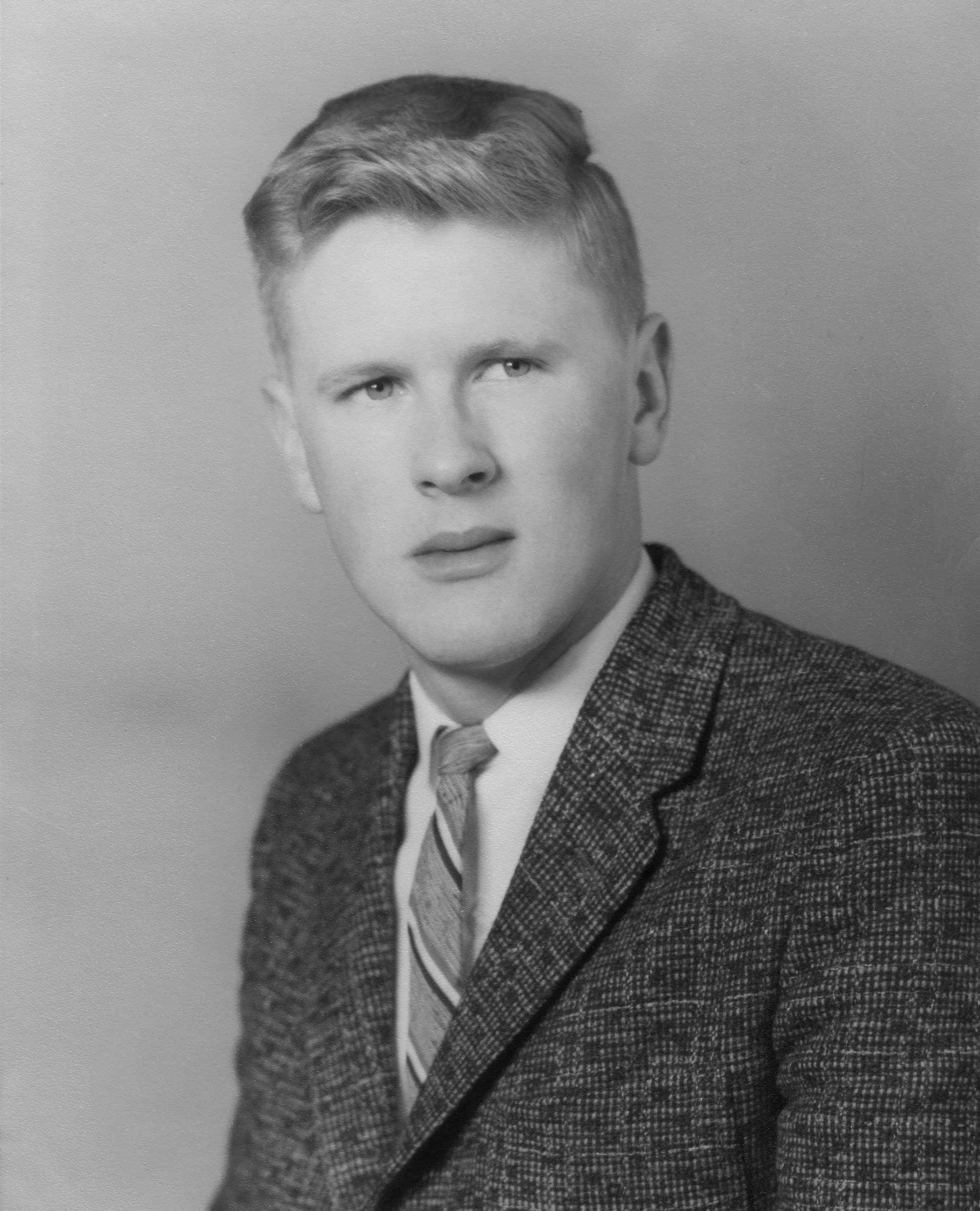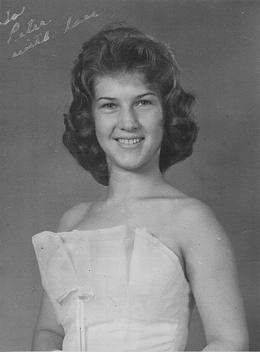 In an earlier chapter I mentioned that I first laid my eyes on Louise, Louise Theriault, when I transferred into Saint Patrick's in September of 1956; I was 15, she 14. We were in the same class of grade nines (there had to be at least 6 grade nines at St. Pat's). It was the Roman Catholic high school. (There was only one municipal public school system in Halifax, but back then, within the system, there were RC schools and Protestant schools.) Grade nine was not a high school grade, only grades 10 through to 12 were high school grades. Grade nine was the top grade in junior high. The classes right through to grade nine and including grade nine were "co-ed" -- boys and girls together; in grades 10, 11 and 12 they keep the sexes separate and apart. For some reason, and at some point, the grade nines around the city were sent to be taught in the high schools. The Protestant High School, the competition, was Queen Elizabeth High School. Generally, because of the religious segregation, the RC kids hung around with one an other; and the Protestants did likewise.
Louise came from another junior high closer to her home in the northwestern end of the city. The Theriault family lived on 17 Huron Street and consisted of three girls and one boy, the youngest. Louise had an older sister, Gerrie, and a younger sister, Denise. The three girls were close enough in age, such that they hung out with one another; and, at least for Gerrie and Louise, together with their respective boy friends [Kingsly Lewis (King) and yours truly].
Up to the time I met Louise, I never had a girl friend; and really not much interested in having one. Through the years when in high school, Louise and I went "steady," though at one point we decided to not to go steady so to allow one another to get around a little bit -- we were soon back with one another going steady again. Now, we were both young virgins with a Catholic upbringing and while "necking" some times progressed to "petting" we understood the risks of having sex, so a couple of years passed before the inevitable occurred.
As outlined earlier, I went from grade eleven in 1959 to Saint Mary's University. Louise and I were as close as ever. It will be recalled that I joined the UNTDs in 1959 which meant except for the time I was at Stadacona (Halifax) the summer of 1960 was spent away from Halifax. That autumn Louise and I were making up for lost time and in the process Lisa was conceived (I know the day and place of the that delightful event). Well, there did not seem to be any question either from us or our respective families as to what needed to be done; we were married on Decimeter 31st, 1960, in a ceremony held at Saint Catherines on Bayers Road (Louise's family's church).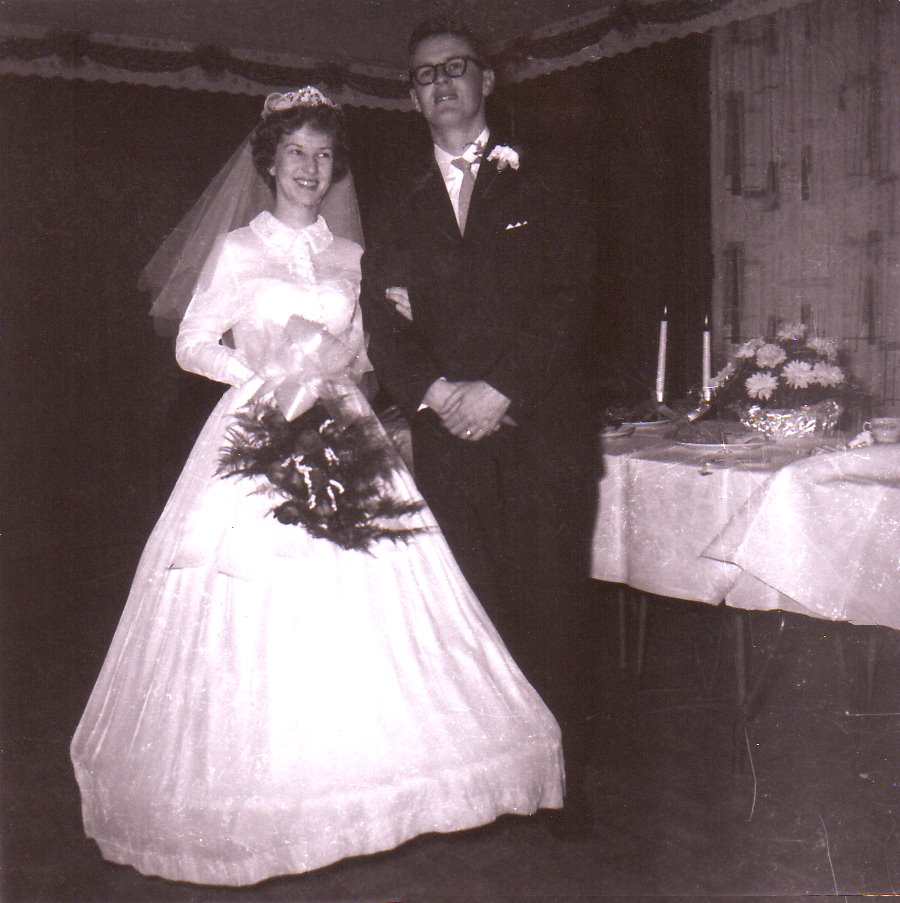 So, there we were as we started our married lives in 1961: no money, no university and no prospects. We first started out in a two room apartment in the upstairs level of Mr and Mrs Theriault's small home. Mr Theriault actually put groceries on the shelves and into our small fridge, so to give us a start. This arrangement lasted but a few weeks as we found a small apartment on Arlington Avenue, next to my brother John's place. There we stayed until August of 1962 when we relocated to Truro.
First thing on the agenda was to get a job. I went on a number of interviews. I joined Zellers. That February, 1961, I started at the Dartmouth store, just in the plaza by the MacDonald Bridge. I grew up knowing of the Zellers stores. They had a presence across Canada with the downtown store at Halifax being one of their best stores, as measured by sales volume. I stayed at the Dartmouth store as a management trainee until I was transferred in August 1962 to Truro to be that store's Assistant Manager. Retailing was to change considerably in the next couple of decades. When I first started with Zellers it was more of a junior department store, a cut above the Woolworth and the Metropolitan stores, a cut below Simpsons and Eatons. There were no Big Box Stores. For example, the S. S. Kresge Company opened its first Kmart store in Garden City, Michigan, only in March of 1962. On July 2, 1962, the first Wal-Mart store opened in Rogers, Arkansas.
My pay as a management trainee at Zellers was the grand total of 75 dollars a week, 69 of which I took home. I received cash in an envelope each week and would, according to my simple budget, give 14 dollars to Louise, 5 for gas and 7 for entertainment for the week. Thus I was left with 43 dollars each week which I tagged as follows: First week for rent; second week the balance of the rent ($75); the third week I set aside the 43 dollars (I believe I used an envelope system) 7 for insurance, 10 savings, 15 electricity & phone, & 11 for the car payment ($54 a month); and the forth week, the 43 dollars went to finish off the car payment.
Buying a car was not at the top of my list, but within a month I bought one. It was an Austin Mini. I was of the view that one had to save up for a car before buying one. That thought changed when I was introduced to the notion of a "consumer loan." I got one at the Bank of Nova Scotia. So, there I was, driving around in my own Little car. A side note to make, is this: that when I paid for it and the keys were handed to me, I did not have a drivers license; I had to get my brother John to come with me so that we could get my new car home. Passing my driver's test was no problem and soon I was whistling around town in my pale green Mini (a little greener then the one here depicted). Here is the scoop on the Mini: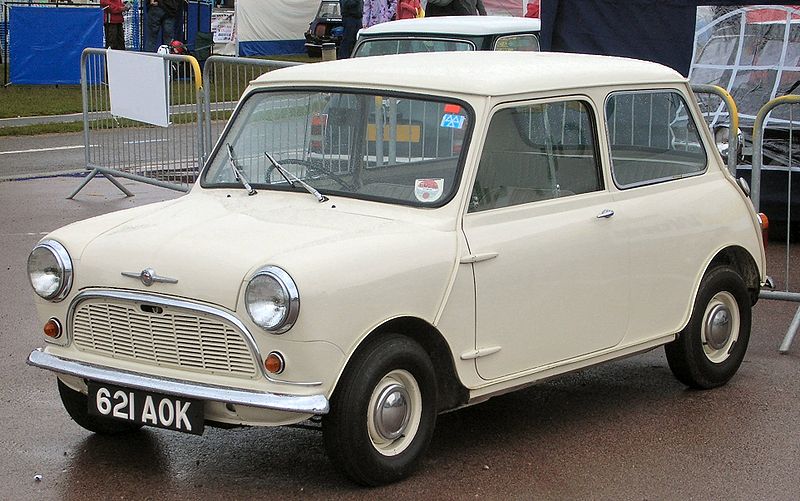 "The Mini is a small car that was made by the British Motor Corporation (BMC) and its successors from 1959 until 2011. The original is considered a British icon of the 1960s ... its space-saving front-wheel-drive layout (which allowed 80% of the area of the car's floorpan to be used for passengers and luggage) influenced a generation of car-makers. The vehicle is in some ways considered the British equivalent to its German contemporary, the Volkswagen Beetle, which enjoyed similar popularity in North America. In 1999 the Mini was voted the second most influential car of the 20th Century, behind the Ford Model T. ... The Mini Cooper and Cooper "S" were sportier versions that were successful as rally cars ... Initially Minis were marketed under the Austin and Morris names ... until Mini became a marque in its own right in 1969."
We might bring our Mini story up to date. Production of the classic Mini ceased in 2000. It was then that the the new owner of the brand (BMW) brought out a successor to the Mini, the "BMW MINI" or the "New MINI". It is much different car than the original Mini. "It is around 58 centimetres (23 in) longer, 50 centimetres (20 in) wider, 7 centimetres (2.8 in) higher, and weighs around 1,144 kg (2,522 lb) rather than 650 kg (1,433 lb)."
In giving details of the Mini, mention was made of the Volkswagen Beetle. My friend King Lewis had a Beetle, a black one. The simple fact is, that flat out, the Beetle could not get by too many cars, but it could when up against a conventional Mini. The situation was different if one had a Mini Cooper. I did not buy a Mini Cooper, I had but a regular one. I found in the paper that someone was selling a "Cooper Kit" which would change a regular Mini into a Mini "Cooper." Both King and I were quite keen on the conversion, so I bought the kit, found a mechanic, who was equally keen. And thus, we put a wolf's heart into my sheepish Mini. The kit, best I remember, consisted of a shaved head, two U2 carburetors and an extract exhaust manifold. The car's performance was upped by a considerable degree. More than one Beetle driver was considerably surprised when we both pulled away from a stop sign.
As for the songs at this time: The Lion Sleeps Tonight by The Tokens, Runaway by Del Shannon and Hello Mary Lou by Ricky Nelson. Then there was Patsy Cline's Crazy. Incidentally, it was in March of 1963, in Tennessee, when Cline was killed in a plane crash along with fellow performers Hawkshaw Hawkins, Cowboy Copas and Cline's manager and pilot Randy Hughes.