Memoirs, Or Shadows Of What Has Been


By Peter Landry

TOC



Chapter Five, 1946-50 & Early School Years

[TOC]

1946

Though I shall be dealing with the years 1946 to 1949 in connection with my memories of Hackett's Cove, I now do a bit of a background sweep of these years. As indicated I had no memory of any event up to the time of the Halifax Explosion of 1945. In fact, I have little memory of the balance of the 1940s.

On March 5th, in his speech at Westminster College, in Fulton, Missouri, Winston Churchill observed that an iron curtain had descended across the European Continent. In Japan a small company, the Tokyo Telecommunications Engineering was started up with about 20 employees; it eventually changed its name to Sony. In July of 1946, Nuclear testing at Bikini Atoll in the Pacific was undertaken by the Americans. Within four days of that, bikini swimsuits were to be seen (what there was of them) at a Parisian fashion show. Late that year, Frank Capra's It's a Wonderful Life, featuring James Stewart and Donna Reed was released in New York. In the department stores a new line of plastic dishes and containers came out, it was called Tupperware.

One of the last of the few Great Banks Schooners remaining, the Bluenose, got itself caught up on a Haitian reef and sunk on January 28, 1946. She was the pride of Nova Scotia; built at Lunenburg in 1921. Though she was a celebrated racing ship and hard-working fishing vessel, after the war she was sold off as a freighter in the West Indies.

1947

Though it had long administered the country, England stepped aside as India claimed for itself, sovereign independence. It had a mixed population of Hindus, Muslims, Sikhs, Buddhists, Jains, etc. In the wake of the Holocaust, the United Nations agreed to create the state of Israel from British-run Palestine. The Marshall Plan for the economic rehabilitation of Europe marked the first major United States offensive in the "Cold War." Jackie Robinson integrated baseball. On February 21st, at a meeting of the Optical Society of America, in New York City, Edwin Land demonstrated the first "instant camera," his Polaroid Land Camera. That July, the British Royal Family announced that Princess Elizabeth was engaged to Lieutenant Philip Mountbatten. So too, in that month the ship, Exodus sailed from France to Palestine with 4,500 Jewish people on board. On November 29th, the United Nations General Assembly voted to partition Palestine between Arab and Jewish regions, which resulted in the creation of the State of Israel. Back at London, that November, Elizabeth and Philip were married at Westminster Abbey.

While Elizabeth and Philip were exchanging their vows in London, at Washington the "Red Scare" was having full effect. The U.S. House of Representatives voted 346 to 17 to approve citations of Contempt of Congress against the so-called Hollywood 10. Ten men were indited on charges that they supported communist ideals and their support was reflected in their work in the movie business. The ten men refused to co-operate with the House of Un-American Activities Committee. The ten men were blacklisted by the Hollywood movie studios the following day and suffered the inability to make a living in their chosen fields.

Cambridge University (U.K.), in 1947, began to admit women as full students. The most popular songs that came out that year were "The Old Lamp-Lighter" by Sammy Kaye and "Smoke! Smoke! Smoke! (That Cigarette)" either by Tex Williams or Phil Harris.

1948

It was in this year that David Ben Gurion declared Israel's independence, touching off war with Arab neighbors. The "Cold War" was fully underway. That June, the Soviet Union began the Berlin Blockade, cutting that part of Berlin off from the protecting allies. The United States instituted a vast airlift to keep Berlin supplied with food and fuel.

It was in 1948 that the territory of Canada was increased: On July 22nd, the Dominion of Newfoundland voted in a referendum to join Canada. On March 31st of the following year the former British colony joined Canada as its 10th province.

Oh! Yes, it was in 1948 that the Kinsey Report came out, Sexual Behavior in the Human Male; followed up in 1953 with Sexual Behavior in the Human Female. The production of these scholarly works was a corroborative process headed up by Dr. Alfred Kinsey. Up to this time the subject of sex, even scholarly research into the subject, was taboo. Kinsey and his researchers, after interviewing thousands of people, concluded: "that women were less sexually active than men in all aspects of sexual life but that they were still more sexual than traditional views allowed. ... that women and men are more alike in the biology of their sexuality ... and that both men's and women's sexuality seemed shaped, not merely repressed, by social and cultural forces." I should mention, now, that the subject of one's sexually was a subject totally absent from my mind for a good many years. That there were girls about me and that they were different (it was years before I could figure out or delightfully observe the differences) was something I knew but gave the matter very little thought.

Songs in 1948: Nat King Cole's "Nature Boy" and "Buttons and Bows" sung by Dinah Shore. The song, "Buttons and Bows" was used in the film, The Paleface, which starred Bob Hope and Jane Russell, and which won the Academy Award for Best Original Song.

1949

On February 1st, rationing of clothes ended in Britain. In May the National Chinese forces led by Chiang Kai-shek retreated from mainland China to Formosa. In August the Soviet Union tested its first atomic bomb, code named "Joe 1". Its design imitated the American plutonium bomb that was dropped on Nagasaki in 1945.

In 1949 George Orwell saw his work, Nineteen Eighty-Four, published. It described a world 35 years in the future, a totalitarian state which would arise out of the socialistic theories then being implemented in a number of countries. The world that Orwell saw coming was to be a dystopian world. A world of perpetual war and pervasive government surveillance. Many of its terms and concepts, such as Big Brother, doublethink, thoughtcrime, Newspeak, and Memory hole, have become contemporary vernacular.

That June, the first television western, Hopalong Cassidy, aired on NBC. In July, the de Havilland Comet, the worlds first Jet-Powered Airliner, made its first flight.

The VW "Bug" first appeared in 1949. A Dutch businessman brought a 1948 model to New York. He could not convince one dealer to bring the German car into America. Only two 1949 models were sold in America that year. The Volkswagen chairman, Heinrich Nordhoff concluded that the car had no future in the U.S.

Songs in 1949: "All I Want for Christmas (Is My Two Front Teeth)," originally recorded by Spike Jones & His City Slickers. "(Ghost) Riders in the Sky: A Cowboy Legend" sung by Burl Ives. "Ghost Riders" tells a folk tale of a cowboy who has "a vision of red-eyed, steel-hooved cattle thundering across the sky, being chased by the spirits of damned cowboys. One warns him that if he does not change his ways, he will be doomed to join them, forever 'trying to catch the Devil's herd across these endless skies.'" Then there was "That Lucky Old Sun" sung by Frankie Laine. One description was that "its lyrics contrast the toil and intense hardship of the singer's life with the obliviousness of the natural world." And then there was "Mule Train" which I remember very well, as Frankie Laine belted out the song. It is a cowboy's song, the singer is a wagon driver who spurs on his team of mules as "he recites the mail-order goods he is delivering to far-flung customers."


The Early School Years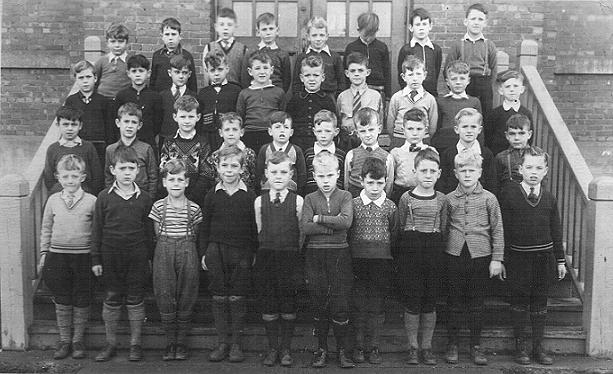 Group School Picture Oxford St, 1948. I am the one in the first row 2nd from right



To start things off, I should say, that on December 5th, 1944, my sister, Linda was born. No longer, from that point on, was I the youngest. At the tender age of 5 and a 1/2 I was to leave the continual care of my mother and go to school. It was September, 1946, and it was time for me to step further out in the community. I was to go to Oxford Street school which was a couple blocks north then a few blocks east of our location on Quinpool Road. Back then, the family car was not generally used to ferry children around. On my first day of school I was walked to school by my mother -- and I remember this. Linda, my 18 month old sister was in tow, a stroller of some sort. We did not quite make the school, when my mother declared that I might find the balance of the way for myself (I am sure the school was in visual range). I recollect she had an excuse; it seems she wanted to get my sister home as soon as possible; but maybe it was just that she thought it best that I should make my entry into school as a big boy on my own.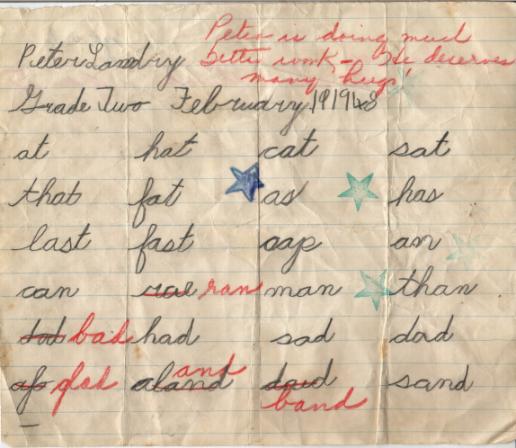 There was no such thing, that I recall, as kindergarten back then. I started in grade one and carried on into grade two at Oxford Street School. Oxford Street School was located more to the north end of the city. I came from a Catholic family. Though my family was not too devoted to religion, we did attend for mass on Sundays at Saint Thomas Aquinas Church. Indeed, on May 15th, 1948, I received my First Holy Communion at this church; Ernest Sweeney, its pastor, presided over the ceremony. This church was more to the south end, and a public school was located a few blocks away from it, Saint Thomas Aquinas School. I am not sure why I started out at Oxford Street School and spent my first two years there? But, in 1948, having graded to grade three, I was transferred to Saint Thomas Aquinas School. I started there that September.
Now I come to one of the more painful experiences in life. The teachers at Saint Thomas Aquinas School did not believe I measured up and I repeated grade three. I concluded that there was something wrong with me. I was invited to sit closer to the blackboard and eye glasses were fitted. Though I wear glasses to this day for visual acuity, I do not think that it was my sight that held me back; there were certain areas such as reading, that I just could not get the hang of. In June of 1950, I received a certificate, that showed that I had "successfully completed the course prescribed by the Council of Public Instruction for grade three and is entitled to promotion to grade four." OK, so I just needed a little more work at the beginning. But that was not the end of my early academic difficulties: I was also obliged to repeat grade six. I do not know exactly what my difficulties were? Motor skills? (Do not think so.) Social interactions? (Maybe, but not likely.) Emotional behaviors? (Do not think so.) Test scores? (Probably more this than anything else, but why could I not get my early thinking straight?) The experience had no bad effect on me -- I am glad to report. It did leave me, I think, with a life long drive to get to the bottom of things, to work hard at whatever I was tackling.
I am happy to report things improved thereafter. My marks got better, and, I did reasonably well straight through to the end of High School; though I was never an outstanding member of any class. On writing of these earlier scholastic experiences, I determined to carry out a little research. Retention can be a traumatic experience that follows children into adulthood. In my case, I think it was a good thing; I simply was drilled in the essentials, over and over again. Likely the debate continues, but in the last little while educational leaders have come out strongly against "social promotion," the practice of passing students on to the next grade whether or not they are ready. Certainly it doesn't seem right to expect a child to move to harder material before he or she has mastered the basics.