Memoirs, Or Shadows Of What Has Been


By Peter Landry

TOC



Chapter One, Family and Birth

[TOC]

But weeks away from my seventieth birthday, I come now to writing my memoirs, as transfigured as things are when examined through the mists of memory. I write of the incidents in my life, of the persons I have known.

The subject of our memoir was born at Halifax, Nova Scotia in 1941. More of this at a later point. As a start I might list out my ancestors, as I have done -- wishing to discover titled beings with fortunes and holding high ranks in their societies. But not much need be said about them, for, alas, they were but a series of peasants, farmers and fishermen.

Both of my parents were born and raised in Cape Breton. My father, Joseph Tousaint Landry was born at Arichat in 1898; my mother, Agnes Marie was born a Morrison who came from Glace Bay; he came from a long line of Frenchmen; she from a line of Scots.


Father

The members of my father's family are listed in the 1901 and the 1911 census. There they were, all eleven of them, headed up by Paul (1838-1920) and Celina (1858-1956). The family had relocated from Arichat to Sydney at some point before 1901.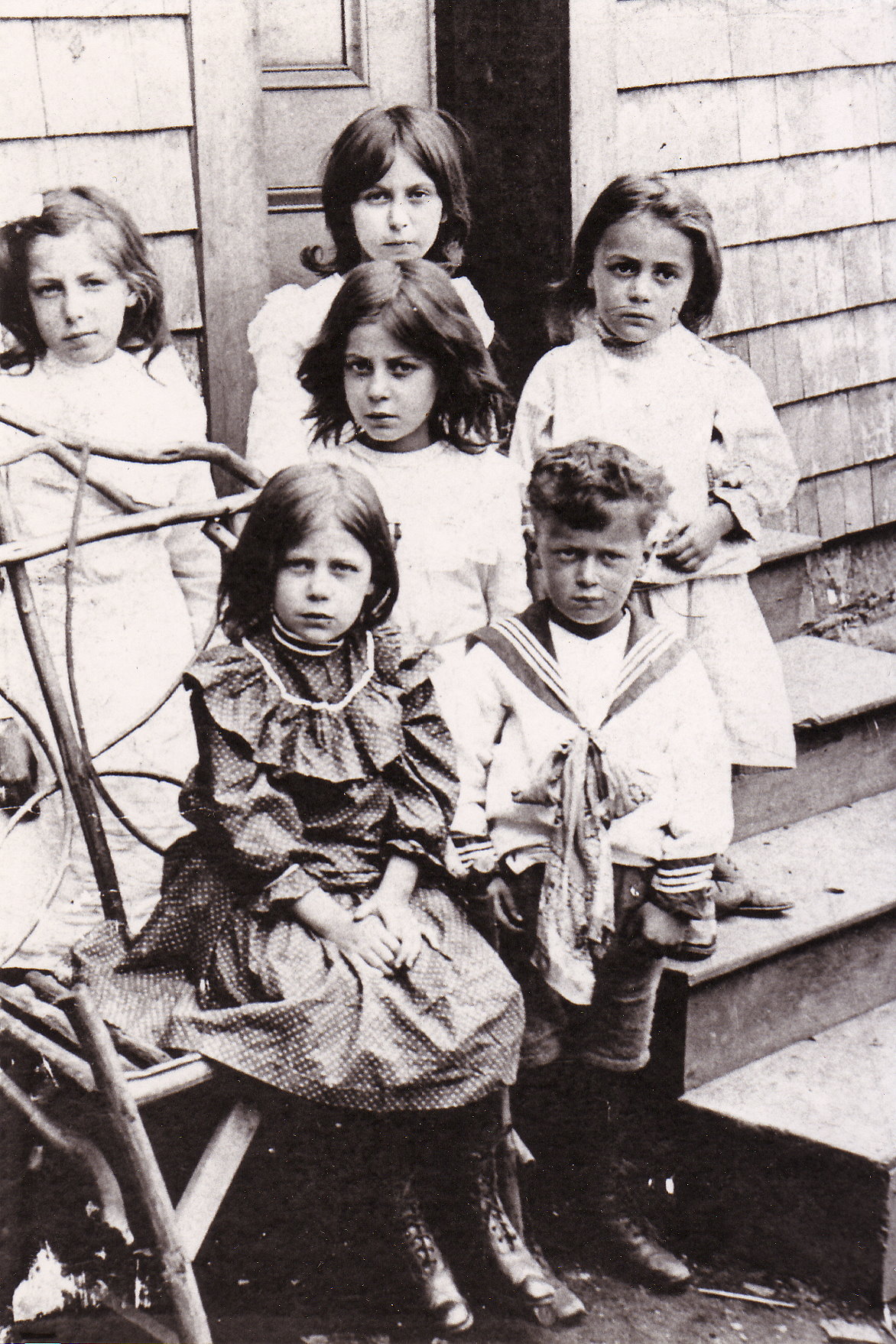 The picture to the left is the only picture I have of my father as a child. There he is in his sailor suit. (Click to enlarge) This was probably taken at Sydney in 1902-03 -- not sure. Given that Doc was born in October of 1898, that would make him -- What? Four or Five years of age. The five girls were likely his sisters. I cannot identify who is who. The candidates would be: Lillie (Doc's twin), Alice (b.1895), and Emily and Mithilda (Tilly, another set of twins, b.1892).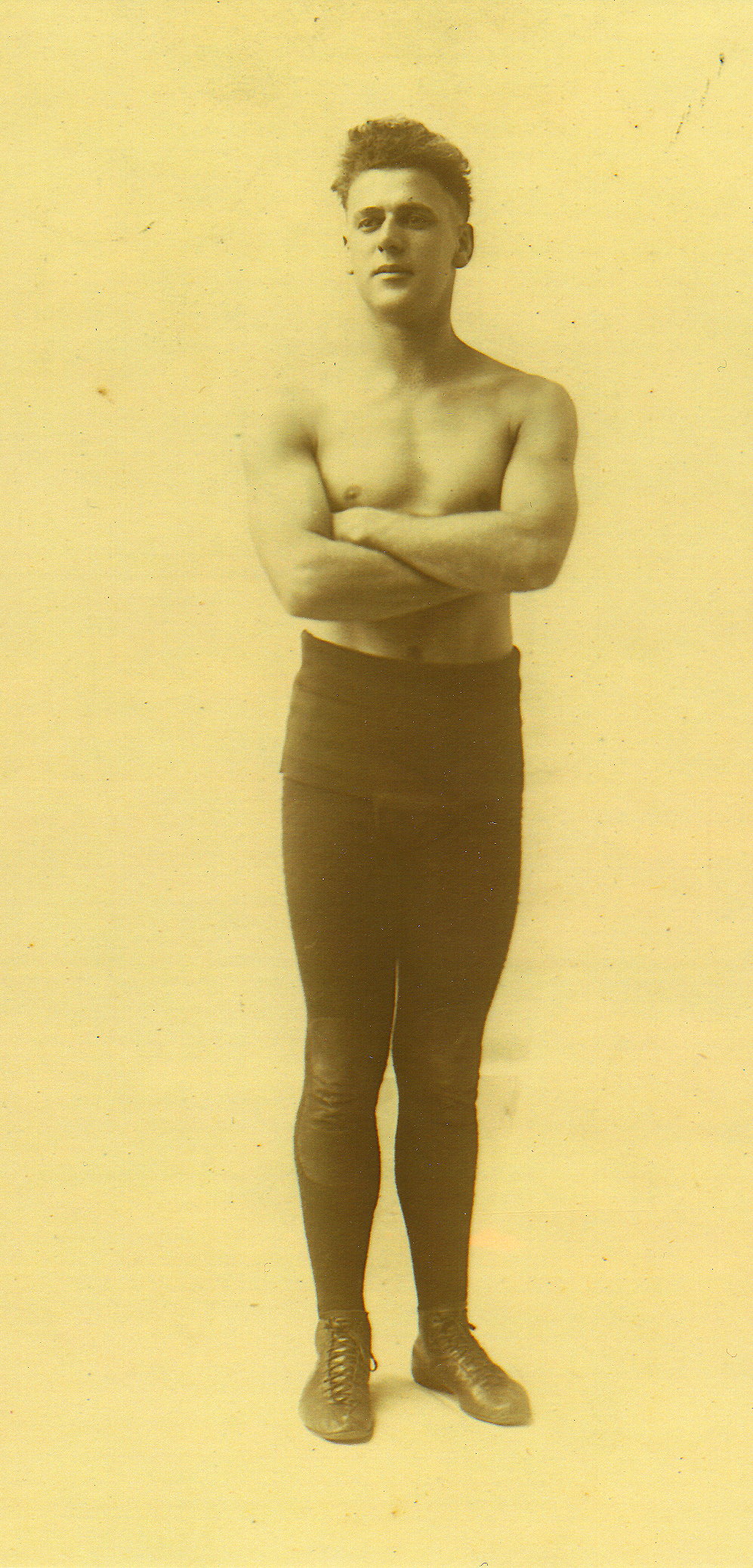 I believe it was during World War One (1914-19), when my father's family moved to Halifax; my grandfather looking for employment which Halifax was always ready to supply in times of war. Other than that I know little of my father's early life; he never spoke much about it.
He developed into a poly-sportsman. (See Newspaper clipping of 1926.) As a young man at Halifax, he boxed, he wrestled, and he sculled on the Northwest Arm. Further, as can be deduced from the few papers he left behind, he, as a young man, did a substantial amount of travelling. His travels brought him to such distant places as in the British Isles [Edinburgh and Brighton (1926)] and to Los Angeles and Spokane (he had a brother who had located there). In the fall of 1926, "Doc" (he received a chiropractic diploma while he was in Spokane) was back on the east coast; Providence, Rhode Island where he was the coach of the hockey team at Providence College. He did not stay, I think because of a disagreement with the school's administration. That fall he was hired as a referee by the Canadian American Hockey League, a professional league that had just been started up in 1926. (See letter #1 and letter #2.) For whatever reason, I do not believe this turned into long term employment.
At Halifax, whether before or after his travels, I am not sure, "Doc" opened up a men's clothing store on Barrington Street. (See Letterhead.) In time, he opened up an office to practice his skills as a chiropractor. (See Bill-head.) He was popular with people and was soon into municipal politics; he became an elected member of the Halifax Municipal Council. This all occurred before my birth. At some point he became an employee of the Municipal School Board as the Director of Physical Education. That was a position he held when I was born, and one he held throughout the balance of his working life. He did, however, keep up his practice as a chiropractor with an in-home office (on Quinpool Road). His patients thinned out over the years, but every once and awhile, a person, such as Mrs York, arrived at the front door and was ushered into the front room which later became the dining room. I remember his table, his pads, his heat machines and hand vibrators; and too, I remember mother declaring to all to be quiet as Dad had a patient.
My father was health conscious, which might be determined from his training and his love of physical sports. Though he coached teams (hockey), I have not discovered that he was much into team-play himself. His health concerns extended to his diet, especially in his younger years; not so much observable when I came along. He did not like spices, peppers, or hot sauces and none was ever on our table. As a young man he was a vegetarian, but he did not stay a vegetarian, as our table, as I remember, except for the missing spices, was a meat and potatoes table. He exclusively did all of the grocery shopping, I am sure it was done to assist my mother but also because of his views on what was healthy food and what was not. I do not remember that he did any preaching about the subject. He was a life long abstainer when it came to tobacco and alcohol.

Mother
Mary Ann Campbell (1871-c.1929) married Angus Donald Morrison (1861-1932). Mary Ann was from Big Pond, Cape Breton. Angus and Mary Ann Morrison had nine children. The two oldest of this union were boys, Dan Joe and Malcolm. (They didn't get a chance to get much beyond boyhood, as they both died as a result of WWI.) These boys were, of course, Aggie's two older brothers. Next in line were three daughters: Mary Elizabeth (I knew her as Aunt Mimmie), Anne, and Agnes. John was next, and then the next three were girls; these last three died in infancy.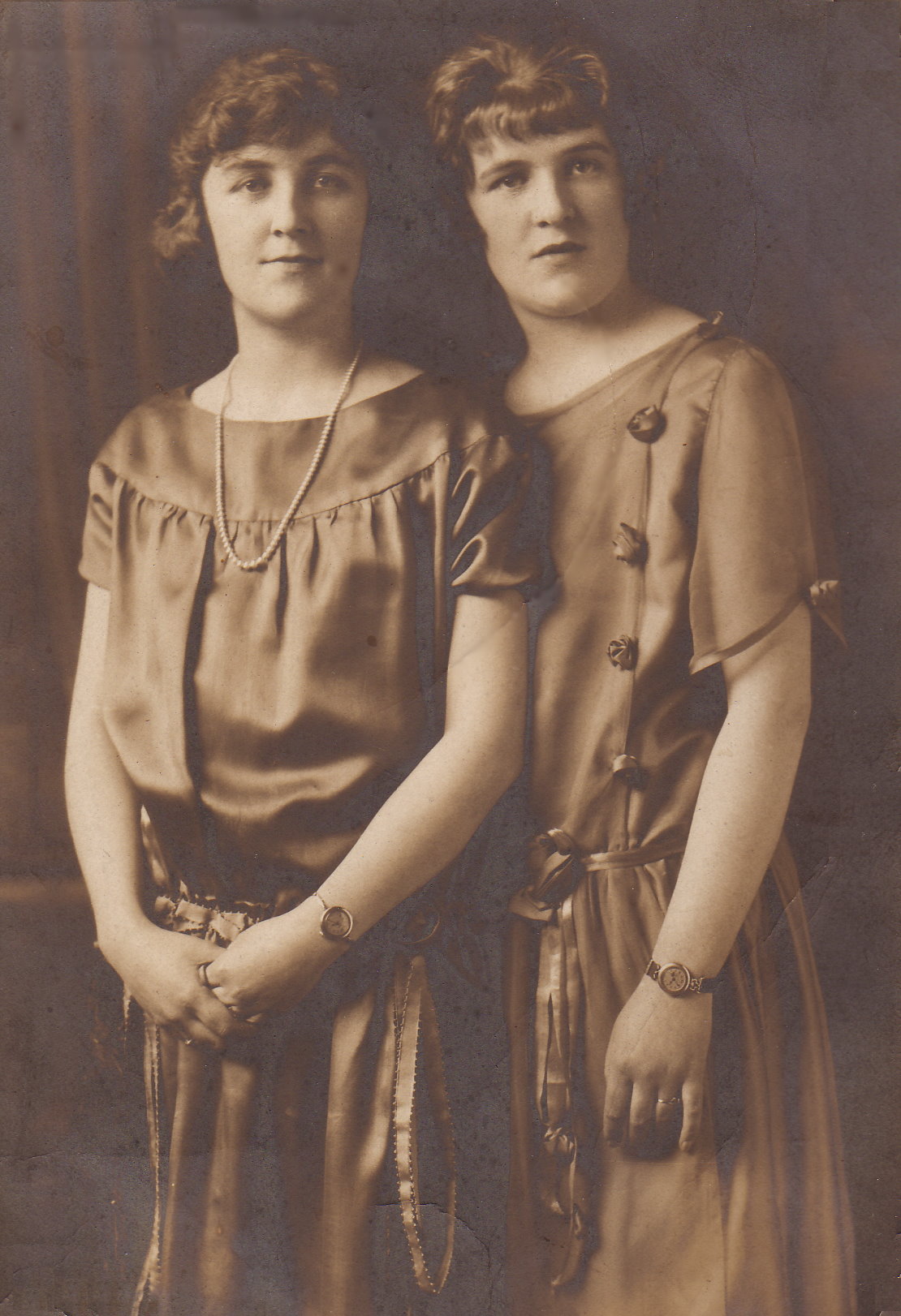 Aggie was born at Glace Bay on July 18th, 1905. I know little of her childhood. When but a young woman, in 1924, she and her sister Anne went off to Boston, there to work at a hospital. I think she was fresh from school. Her sister, Ann (4 years older than Aggie), had been one of the "girls of the exchange." Indeed, Annie, as she was known, was to rise up to be "the head operator of the Glace Bay telephone exchange"; a position she left in order to take up her "nursing duties" in Boston. The hospital treated the girls as disposable help. They were put on continuous clean up duty; they lasted but five months. Annie became sick and their father went down and brought the two of them back to Glace Bay. (Pictured are Annie & Aggie, my mother, Aggie to the right.)
How long Aggie stayed at Glace Bay, after being brought home from Boston -- I cannot say. In the fall of 1926, she was to be found at Detroit; her older sister, Mary, or as we knew her, Mimmie, had married and moved there with her husband, Bill McNamara. While in Michigan, Aggie worked for a period of time for the Dodge brothers. (There exists a letter addressed to her and signed by one of the brothers.) Her stay at Detroit was not much longer than her earlier stay at Boston; she was soon homeward bound.
It was on Plummer Ave, Glace Bay, during the summer of 1927, that Agnes Marie Morrison met a debonair gentleman, fresh from California who had been seen driving around town in a very posh yellow convertible. Agnes Marie had just been called home from Detroit as her mother had suffered from a stroke. And Doc had just set up a chiropractic practise in Glace Bay. Mother had reminisced much about this first meeting. He followed her and one of her female cousins into a movie house ("some old western"); she and her cousin left during the movie in the dark; leaving him behind. Well, it seems it took a week to track her down as he didn't know her name, but track her down he did, and met her once again at a dance, and the rest, as they say, is history.
Aggie and Doc were married on June 26th, 1928, at Glace Bay, St. Anne's Church (it was destroyed by fire, in 1982). As for the wedding: Mary E. MacDonald (she married a Porier and outlived Aggie) was the maid of honour and Alfred Landry, "nephew of the groom," was the best man. A breakfast was served after the wedding mass at the home of Mr. and Mrs. Morrison on Hillside Ave. That day "Dr. and Mrs Landry left on a motor tour to the Annapolis Valley. They will also visit friends in Halifax before returning." (Newspaper clipping.)
Doc and Aggie may have returned to Glace Bay, but they did not settle there; it seems they settled at Halifax. In less than nine months, my sister Lila was born (February 7th, 1929).
[There is a story to be told about Lila's birth. My father, a person who experienced the depression of the twenties, was always ready to take advantage of a bargain. It is to be remember that the purchase of medical services was a private concern. Doc knew William Young, a fellow chiropractor. William and his wife "Lila" operated the Ideal Maternity Home located south of Halifax at place called East Chester. Now, my parents may well have been living at Halifax, or travelled the distance from Glace Bay -- I do not know. What is known is that Lila was born at the Ideal Maternity Home. Something that was held from her for years, as the Ideal Maternity Home, in the years after her birth, ran into certain reputational difficulties. (Search term, "Butterbox Babies.")]
By the time of my eldest brother's birth (Joe) in 1930, the growing family was settled at Halifax. Through the years three more children were born: Paul ("Pal"), 1931; John, 1934; and Nancy, 1937. After my birth in 1941, one more came along, my sister Linda, 1944.