"I shall want these vessels to be of the very best description, and to pass a thorough inspection and examination of the Admiralty. I want a plain and comfortable boat, not the least unnecessary expense for show. I prefer plain work in the cabin, and it will save a large amount in the cost."35
The Britannia, the first of the Cunard steamers ready to go, was launched at Glasgow on February 5th, 1840. Her maiden voyage was between Liverpool and Halifax. She left on July 4th and arrived on July 17th. Up to this time, mail for the colonies was put on a packet which sailed from Falmouth (the "Falmouth Packet"). Liverpool was an up and rising shipping centre, and, being located on the western side of England, cut time away from the transatlantic passage.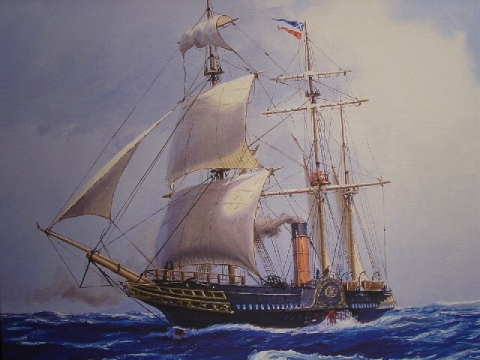 The Britannia was 207 feet long with a beam of 34 feet. She was a two-decker with one red funnel amidships and huge paddle wheels. She had a square stern, a clipper bow and a bronze figurehead. She was bark-rigged: fore and aft sails on the mizzenmast and squared rigged on the main and fore masts. She could carry 600 tons of coal to feed the three furnaces making steam that would drive her along at 8 1/2 knots. She carried ninety-three crew members and sixty passengers, including, on her maiden voyage: Cunard, his seventeen year old daughter, Anne, and her sixteen year old friend, Laura Haliburton (who in time married Anne's brother, William.)36
Halifax was not the terminus for the Britannia, it was Boston, though Cunard tried to convince the authorities that it should be Halifax. His idea was that he could transport the mail from England by a smaller steam vessel running from Halifax to Boston, leaving the larger Britannia to make an immediate run back to England.
The Britannia left Boston on August 3rd, 1840. She arrived at Halifax next day. She stayed at Halifax only as long as it took: to take off the mail bags, for the disembarkment of passengers, refuel, embark passengers, and to take aboard the mail bags. Then it was off to England, so to meet Cunard's contractual obligation to arrive at a scheduled time. At this time, Cunard's smaller steamship, the Unicorn, was employed in running the mail and passengers from Halifax to Quebec.
By the end of January, 1841, all four of Cunard's transatlantic steamers were in service, service to and from Europe, Boston and Halifax. There were competitors but fortune did not smile down on them as it did on Cunard. One competitor had but two steamships and one was lost at sea and could not recover from the loss. Another had its finances dry up. Not that Cunard did not have his reverses. After having the advantage a securing his business for three years running, Cunard, in 1843, experienced the loss of one of his steamers: the Columbia. She went aground on a ledge (Devil's Limb) near Seal Island on the southwestern point of peninsular Nova Scotia. The ship carried 85 passengers and 73 crew; there was no loss of life but the ship was wrecked. Vessels were sent down from Halifax by Cunard himself and the cargo of the Columbia -- timber, machinery and other goods, and, of course the mail bags -- were brought up to Halifax.37 The loss of the Columbia did not help those who promoted Halifax to be the principal port for the British mail. "One of the New York papers, the Herald -- the port of New York was also looking for business -- observed that maybe international steamers should avoid Nova Scotia, it being "450 miles of rock, ledge, shoals and fog."
"When the new Cunard schedule started in 1848, Halifax had the best overseas communication in America with two steamers a week, one coming and one going alternately to Boston and New York. In addition, Cunard had extended the Halifax-Bermuda packet service to the West Indies and had replaced the sailing packets with steamers. They ran once a month, bringing passengers bound for Europe up from the islands and from South America to connect with the Atlantic steamers."38
Before passing on, a few words about the Cunard Line: it continued as a private company owned by the Cunard family and others. It went public in 1880. In the succeeding years some very famous liners were launched by Cunard, including: Campania (1893), Lucania (1893), Lusitania (1907), Mauretania (1907) and Queen Mary (1934). In 1934, the Cunard Line amalgamated with its old rival, the White Star Line to become Cunard-White Star. By then no Cunard family member was active in the running of the company, indeed, not since 1922.