No. 01, - John Franklin's Early Life & "The Battle at Copenhagen"

John Franklin was born at Spilsby, Lincolnshire, England, on April 16th, 1786, the fourth son of nine children. In the background of his childhood there was continual news from Europe of the Napoleonic Wars which were then (1793-1815) raging on. So it was, beginning at his age seven, he would have heard of the glorious naval fleets of Great Britain. Nelson, the great British naval hero, established his reputation beginning in 1798. It was in that year that Nelson's Mediterranean fleet destroyed the French fleet at the Battle of the Nile. "Few victories," Green wrote, "in history have produced more effective results than the battle of the Nile."7 All of England knew of this glorious naval battle, and John Franklin, as a twelve year old boy was bound to know of it. It likely lit a spark in the young boy's heart, as it did for many, to be a member of the British Royal Navy. Though his father resisted John's entreaties that he should join the navy, the father eventually gave in. By March 11th, 1801, the fifteen year old John, was aboard HMS Polyphemus located at Yarmouth, not too far from his home. "The British fleet sailed from Yarmouth on March 12th under Sir Hyde Parker, with Nelson as his second in command." The fleet then proceeded, on April 2nd, to wreck the Danish fleet and bombard Copenhagen.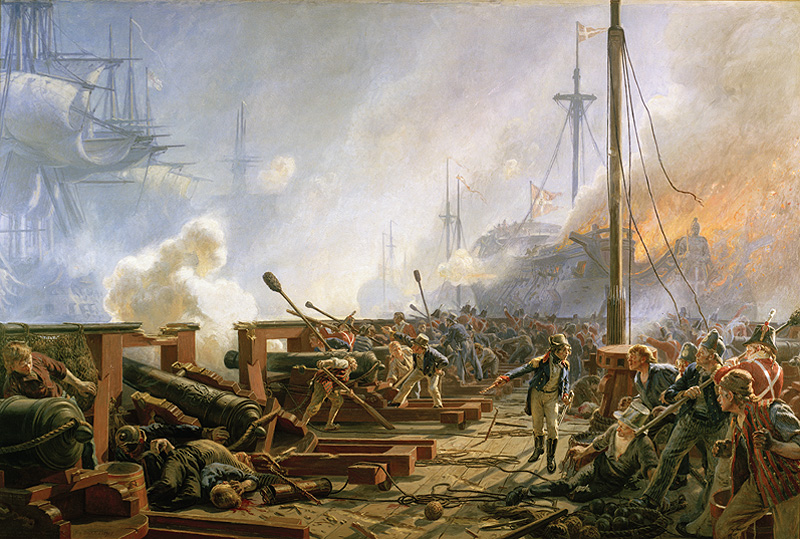 As for The Battle at Copenhagen, it was a "murderous" one. On the British side: there was 350 killed and 850 wounded. As for the Danes: 1,600 to 1,800 killed and wounded, 2,000 were made prisoners, 12 ships captured, two ships sunk, and one ship exploded. And so, the fifteen year old, John Franklin "... who passed with such startling abruptness from the sleepy peace of a Lincolnshire country town to to the thunder and slaughter of the dreadful day of Copenhagen can hardly have had many parallels."8
On returning to England from Copenhagen, still just a midshipman, Franklin was appointed to serve on the HMS Investigator. After spending a few months with his family, Franklin went aboard the Investigator and was off to explore the other side of the world. The captain of the Investigator, Captain Flinders, was married to Franklin's aunt; he apparently took a particular interest in the young Franklin and it was during this time, while exploring the coasts of Australia, that he became an accomplished navigator and handler of large square rigged sailing ships.
Rotten timbers in the Investigator forced her to put an end to her explorations. She put in at Sydney where it was determined that the ship was too far gone to effect repairs. Officers and crew boarded a smaller ship, the Porpoise and so to return to England. However, fate intervined and she became a wreck on a island of sand in the Pacific. Eventually the men were saved and many headed back to Austrailia where they (including Franklin) were spread amongst a fleet of merchant ships which were returning to England.